Welcome to the download page for The Funny Font Book! I hope you and your child enjoy exploring the world of letters and fonts.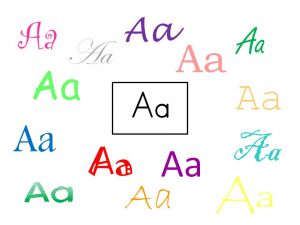 Click to download: The Funny Font Book
(Update: If you downloaded the book and found an error on the "C" page, it has been fixed. So sorry!)

Want to know when other printables or preschool activities are added?
Subscribe via email or RSS Feed.
Materials Needed To Complete The Book:
Note: This printable is provided to you free of charge. While I am providing this material to you free of charge, there are a few things that I would ask from you in regards to the resources found here.
You are more than welcome to:
Save the files on your computer and print off copies for yourself (or classroom) whenever you would like.
Link directly to my site (or blog) to share my files with others. Please do not link directly to the PDF file.
I would ask that you DO NOT:
Host any of my files on your own or other sites.
Alter or sell any of my file. The intention behind the files is to provide them free of charge to others.
Sell files to make a profit ~ i.e. print them off, laminate them and sell them to others.
Transmit or store any resources on any other website or other form of electronic retrieval system.
Thank you in advance for respecting my policies!