I love to go to homeschool conferences. I love the encouragement, feeding my brain, and gleaning tips from other homeschool moms. They are like breath of fresh air and I always walk away feeling refreshed and energized in our homeschool journey.
But sometimes, a trip is more trouble than it's worth….Packing everybody up. Paying for hotels, meals, gas, and more. Distractions in sessions. If you don't take your kids, getting a babysitter….and so many more headaches.
What if…
What if I told you that you can hear from some well-respected homeschool speakers from the comfort of your recliner and your comfy pants? It's true. Such a magical thing actually exists!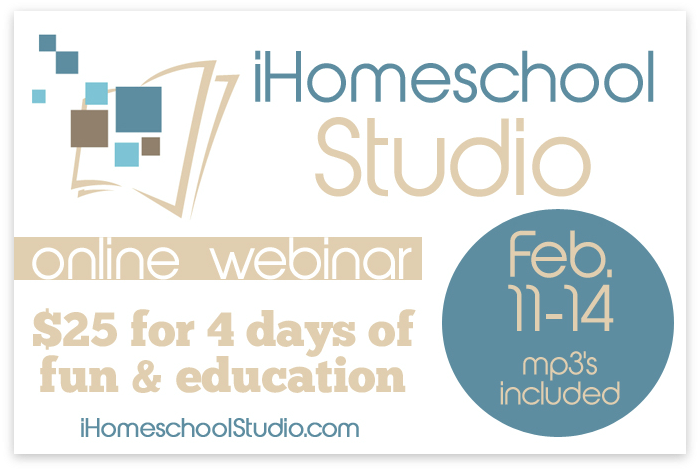 iHomeschool Network is proud to present the iHomeschool Studio, an online homeschool conference.
For only $25, you can attend 24 live sessions from the comfort of your home. That's $1 per session, by the way. Outrageous price! I couldn't even gas up my van for a trip to the local homeschool conference for that price.
Not only is the price ridiculously low for what you get, they are throwing in mp3's of the sessions so you can listen to them over and over again, or catch a session you might have missed!
iHomeschool Studio Topics
Sessions range from organizing and frugal homeschooling to personality and learning styles. iHomeschool Studio will offer help with intense kids, high school students, and lazy kids. Although they'll cover academics like science, music, and geography, they'll also delve into matters of the heart as they help you instill a love of Christian missions in your children and build positive character traits all while maintaining the spark in your marriage. There is something for everyone!
iHomeschool Studio Speakers & Sessions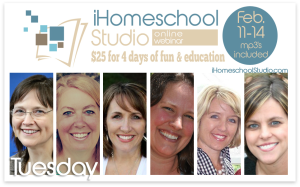 Tuesday, February 11, 2014
Kathy Kuhl: Homeschooling a Child with Learning Challenges
Terri Johnson: Facing the Giant – Homeschooling Through High School
Kendra Fletcher: Organization for a Peaceful Home
Jen Lilienstein: Why Personality Type Matters in Learning
Monica Irvine: Manners Matter & Mean Success
Colleen Kessler: Managing Intense Kids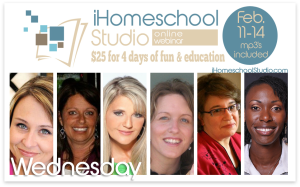 Wednesday, February 12, 2014
Sarah Pinnix: Cultivate a Heart for Missions While Weeding Out the Guilt
Wendy Rondina: Creativity Builds Character
Jeannie Fulbright: If I Could Do it Over: What I learned as I traveled along the homeschool journey, but wish I knew at the very start.
Mary Prather: Teaching Music In Your Homeschool – Made Easy!
Debra Bell: Hard-Wired to Learn: Your Child's Brain and God's Design
Sade Tagbo: Overcoming the Mommy Anger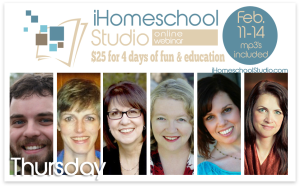 Thursday, February 13, 2014
Tyler Hogan: Loving Geography—Even If You Can't Fold a Map!
Jennifer Janes: Time Management for the Special Needs Mom (And Every Other Mom!)
Kim Kautzer: The Lazy Student: What's a Mom to Do?
Lynn Schott: Budget Basics for Kids and Teens
Leah Nieman: Guiding our Kids through Social Media
Heidi St. John: The Busy Homeschool Mom's Guide to Romance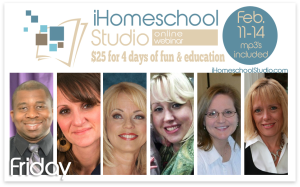 Friday, February 14, 2014
Devin Dabney: You Are Not Alone: Collaborative Homeschooling
Karen DeBeus: Discover the Joy in Letting God Lead Your Homeschool
Vicki Dincher: Science and Math: End the Struggle!
Jamerrill Stewart: Affording the Homeschool Life
Cindy West: Loving Living Math
Melanie Wilson: How to Guide the Gift in Your Child
Sign up now!
Doesn't it look fabulous?!? Purchase your tickets today!