Confession: I've been hoarding my favorite pumpkin spice flavored treats to savor long after they are pushed aside by gingerbread and peppermint. If it were up to me, pumpkin spice coffee creamer would be available year-round. If, like me, you are a pumpkin spice lover and want to savor it a little bit longer, these Pumpkin Spice Thumbprint Peanut Butter Cookies are for you. You'll get no judgement from me if you make these and hide them until the kids go to bed. Chances are, I'll probably be hiding mine, too.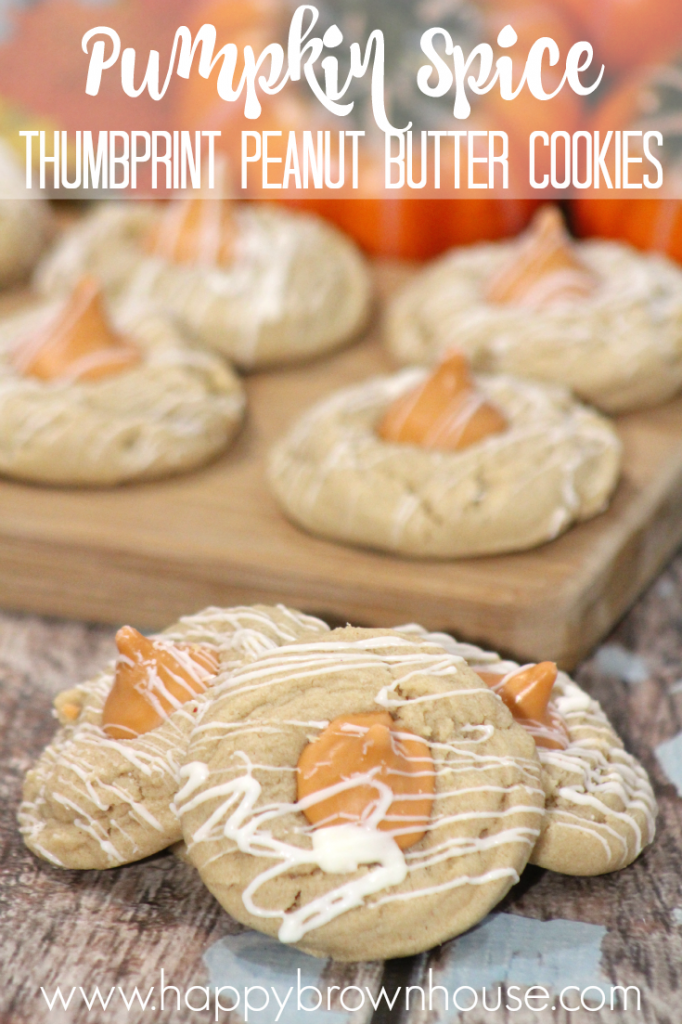 Ingredients:
1 cup creamy peanut butter
1 cup sugar
1 egg, room temperature
1 bag of Hershey's Kisses Pumpkin Spice flavor
1/2 bag white chocolate melting wafers (you can always melt more if you need more.)
Directions:
Preheat oven to 350 degrees and line a cookie sheet with parchment paper or a silicone baking mat.
Combine peanut butter, sugar and egg in a bowl. Mix well to blend all ingredients.
Place the dough in the refrigerator for 2 hours to chill.
Using a cookie scoop, form balls out of the peanut butter dough.
Drop the dough balls onto the parchment lined cookie sheets.
Bake at 350 degrees for 6-8 minutes. While they are baking, unwrap Hershey's Kisses and set aside.
Remove the cookies from the oven and immediately place the Hershey's Kisses in the center of each cookie.
Allow the cookies to cool sightly while on the cookie sheet.
Transfer the cookies to a wire rack to cool completely.
After the cookies have cooled, melt white chocolate wafers. Take a fork, dip it in, and drizzle the white chocolate over the cookies.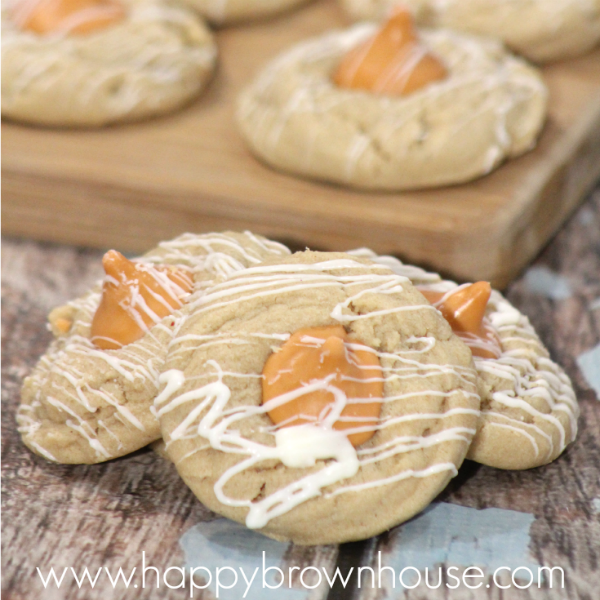 This recipe can be made and modified a little depending on the results you want. If you want the traditional Peanut Butter Blossoms, just use regular chocolate Hershey's Kisses and leave off the white chocolate drizzle. You can also roll the peanut butter dough balls in a little sugar before placing them on the baking sheet–this is always the job my boys want to do. Or, play around with the chocolate pieces! We've done Hershey's Kisses in several flavors, Reese's Peanut Butter Cups, Rolos, mini chocolate chips, and more! The possibilities are endless. Basically, if it tastes well with peanut butter, we've tried it. Of course, if you'd like just a plain peanut butter cookie, you can just leave out the candy. See, these cookies are versatile, baby!
This recipes also freezes well. If you are preparing for a cookie swap ahead of time, or do a lot of holiday baking, these can be scooped out into dough balls and frozen on a cookie sheet before transferring to a freezer bag. Then, when it's time to bake, just place them on the pan (still frozen) and pop them in the oven, making sure to add a minute or two to the baking time. Easy!