Friday night I cracked open my laptop and my teacher's manual for the next school year. With my feet propped up, I started planning. I know...so nerdy of me to plan on a Friday night. However, I was setting up my YouTube playlists and I was just so excited to get started! When I shared on my personal Facebook page what I had done on my Friday night, I got several questions about YouTube playlists and how I use them in our Homeschool. Instead of typing the same thing over and over, I thought I'd share it here on the blog. Chances are, someone else will find this helpful, too!
Why Use YouTube Playlists?
YouTube is so much more than goofy people doing goofy things. While there is plenty of that available on YouTube, there is also a large group of really great videos just begging to be used in the classroom!
Using a playlist keeps out some of the junk. Seriously. I tried to search for a video with my son and I was disappointed at some of the results that popped up. I NEVER watch videos with the kids without previewing them first. A playlist is an easy way to bookmark good videos.
YouTube videos are a great way to give young children a visual frame of reference for a variety of topics. If they've never seen a team of sled dogs racing across the snow, there's a video available at your fingertips. In educational terms, we call this building schema. It's a quick and easy way to introduce them to things visually.
YouTube videos are a way to take a field trip....virtually! We can't hop onto a plane and visit all the places we are learning about, but we can find video and go there in our minds.
Technology is just plain fun. Kids love it and it captures their attention. Enough said.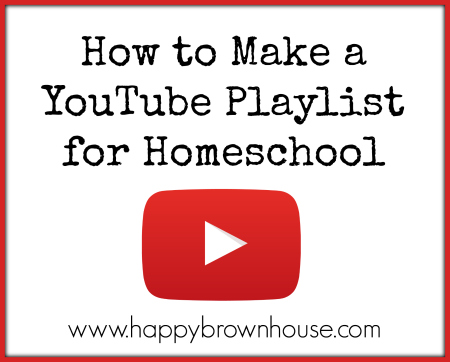 How to Make a YouTube Playlist:
It's super simple! A blog post about using YouTube wouldn't be complete without an actual YouTube video, so I made one for you to walk you through the steps and help you build your own!

My YouTube Playlists:
Want to see my playlists in action? I have several YouTube Playlists for My Father's World homeschool curriculum.
As always, if you have any questions, let me know in the comments!
Tell me: Have you ever made a YouTube playlist?