Have you ever thought about how much stuff it requires to clean up a baby from getting sick in the car? Or even worse, a diaper blowout of epic proportions? As a mom of three kids, one of whom is a baby with a rare food allergy that affects the GI tract, I have many, many times. One of my favorite mom hacks is packing a special Baby Emergency Car Kit to help me feel more prepared for anything that is thrown my way. This is one of my favorite baby care tips because you just never know when you'll need something for a baby emergency.
Disclosure: This post is sponsored by Pampers and I am being compensated to write this post. I was not required to post anything positive. I write with integrity and only share about things we truly use and love.
Having a child with FPIES, a rare food allergy that affects the GI tract and cannot be tested for through traditional allergy testing, has been a challenging thing with our newest baby. The only way we can find her allergy trigger foods is through a food trial, which can get messy in more ways than one. While I have always tried to be a prepared mom, the amount of items I need to have access to during a food reaction have required some thinking and planning ahead. My daughter recently had a vomiting episode in the car and I had to update our Baby Emergency Car Kit with some clean clothes, so I did a quick check to make sure everything was in order and to share these tips with you.
Why do you need a Baby Emergency Car Kit?
If you think you won't ever have an emergency arise while you are out and about with your baby, then you are either...
A) living under a rock.
B) a magical unicorn mom who won the perfect baby lottery.
Y'all. I just can't even begin to tell you the crazy stories that happen to our family on a daily basis. Our entire life is one giant messy story. And once upon a time, I was a first time mom on my first long roadtrip with my first baby, who, unfortunately, was on an antibiotic that was upsetting his tummy in the very worst way.
That trip was the one where my father ran outside to greet us and I asked him to show me to the bathtub before saying anything else.
That trip was the one where I ran out of a restaurant carrying my baby as his diaper explosion ran down my shirt while my husband paid the bill before hurrying to help me. He literally gave me the shirt off his back that day.
That trip was when I realized that I needed to keep a kit of supplies in the van at all times.
It's also the trip where we cut up a shower curtain liner to line the car seat because we knew that the first diaper would ruin a two day road trip home.
Take it from me. You need to prepare. Just a little. The Baby Emergency Car Kit is an extra layer of protection on top of the Ultimate Diaper Bag Essentials Checklist.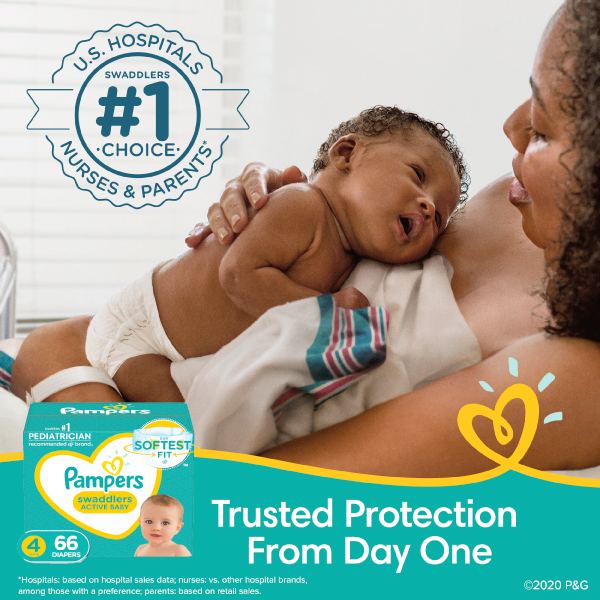 Important Items to Put In a Baby Emergency Car Kit
Diapers: I'm pretty sure you can never have too many diapers. Never. We rely on Pampers Swaddlers because they are so soft and super, super absorbent which helps pull away moisture from your baby's skin to keep them dry, clean, and comfortable. Pampers recently became the #1 pediatrician recommended brand and I sure know why. They have been my absolute favorite diapers for all three of my babies.
Baby Wipes: These can be used for so much more than a dirty diaper. I use them for any and everything. I'm pretty sure even after my kids are grown I will still be carrying wipes in my van.
Portable diaper changing pad: I use this all the time, even inside our house.
Diaper Cream: You never know when you will have to smear a little diaper cream to help clear up some irritation or diaper rash.
Change of clothes for baby: I try to choose options that can be layered, so that I don't get stuck with a fuzzy fleece outfit in the wrong season. Also, be sure to change this out each time your child outgrows a size. Once I went rummaging for a change of clothes for my older son to change into after a spill and found a tiny pair of underwear from when he was a toddler. Not cool.
Change of clothes for Mom or Dad: As a food allergy mom, I never know when I might have to stay at the hospital overnight or clean up from being vomited on. It's a glamorous job, but someone's got to do it. Once again, I go for comfort and things that can be layered. A pair of comfy yoga pants and a t-shirt go a long way. I almost always have a sweatshirt or light jacket with me, so I know I will always have a top layer if needed. If you are worried about needing some shoes, throw a pair of low profile canvas sneakers or a pair of flip flops in because they are both small and compact. I am almost always in versatile, comfortable shoes, so I didn't feel the need to add them for my kit.
Beach Towel: This is one of those items that I learned to always carry with me even before I was a mom, but it has come to the rescue several times. You never know when someone will have a spill that needs cleaning or a baby that will need to be stripped down to their diaper to get them cleaned up. In the past year, I've used it more to cover up while holding my daughter while she is having a food reaction that is causing projectile vomiting. I will spread the towel out across my body and hold my baby. It is just one more layer of protection from a mess.
Blanket: This is kind of the same thing as the beach towel, but blankets can be used for so much more than just covering up for warmth!
Customize Your Items: You may have other things that you need on a regular basis for your baby, so really think about all the possible things you might need and customize your own emergency car kit for your baby's needs. For example, you may want to include a list of emergency contacts and phone numbers. Or, you could add a letter from your doctor to the emergency room with instructions on how to treat your child in an emergency if they have special medical needs.
I try to keep our kit somewhat small because I store it in the van all year long. For me, my main goal with the emergency kit is to have enough to get my baby cleaned up and on our way home or to the hospital. I am not packing every single thing I will ever need in my baby's lifetime. That's not just not feasible, but I can pack just enough to get us home. Sometimes the needs change a little based on seasons/stages of your children as well. I have a lot of other things tucked into extra compartments in my van.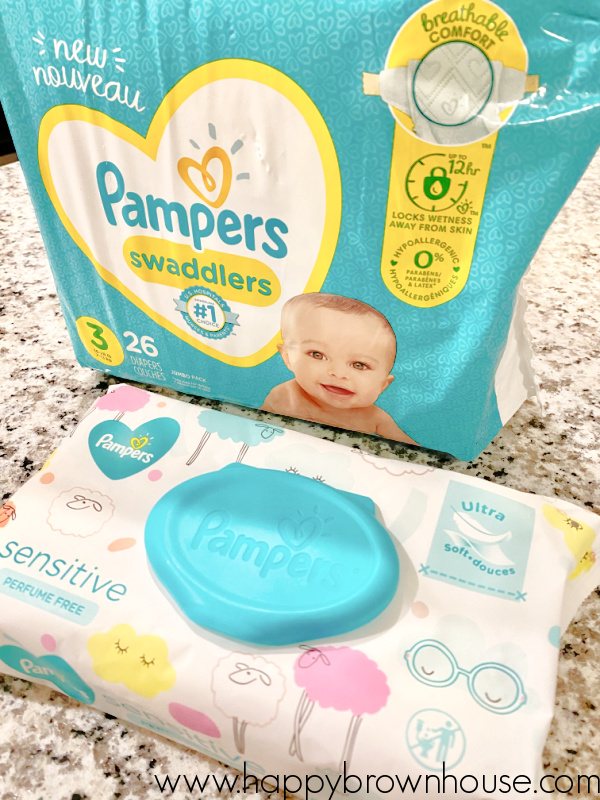 Should you put medicine or food in a Baby Emergency Car Kit?
One important thing to remember about the Baby Emergency Car Kit is that it will be sitting in your car all the time, which can see extreme temperature changes depending on your location. Some medicine or food will be unaffected by temperature changes, while others will be ruined if they get too hot or cold. Either way, you will want to keep this in mind for any medicine or food you think about adding to your Baby Emergency Kit. For example, our daughter's emergency Epi-pen and asthma inhaler cannot sit in the car indefinitely, so I have chosen to keep it in the diaper bag that stays with us all the time instead of leaving it in the car. However, a dissolvable pill would probably be ok. Medicine is definitely a personal choice item you will have to make a decision about if you want to include it.
If you want to add food items, stick to things that are shelf-stable and will not be ruined by temperature changes. Little baby finger food snacks like "puffs" or "melties" (not the yogurt kind that actually melt) that dissolve in a baby's mouth when learning to pick up food and feed themselves would be fine. Baby puree pouches or jars would depend on the item and how extreme your temperatures are in your location. If you include formula in your emergency kit, make sure you include a cup or bottle that you will need for your baby to drink from. A sealed bottle of water would also be a really good idea.
How should you store a Baby Emergency Car Kit?
While the container doesn't really matter, I like to put it in something sturdy with a lid. You can choose a box or a bag depending on your needs. I also really like placing the emergency kit in the hidden storage space in my minivan if possible, but it's a little bit harder to get to the items in there because there's always something in the way. My plastic tote is bigger than a shoebox size, but not too big. It fits in the back of my van or in between the seats underneath baby's car seat.
Stock up and Pamper Yourself or a Friend
Pampers has a diaper promotion in stores that would be a perfect opportunity to snag the supplies needed to make your own Baby Emergency Car Kit and then pamper yourself as a reward for being a prepared mom. I shopped at Ingles and got enough diapers and wipes for the house and a smaller pack for the Baby Emergency Car Kit.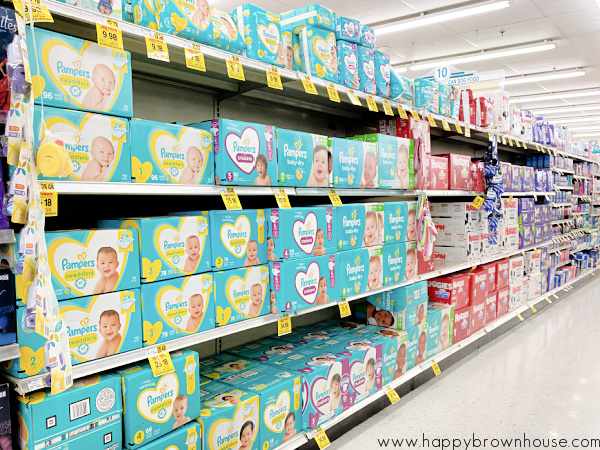 To get the deal, Buy $40 in Pampers products (diapers and/or wipes) in one transaction and Get a $10 e-gift card to a retailer of your choice. The retailers include: Bath & Body Works, iTunes, Restaurant.com, Snapfish, Starbucks, Spafinder, or Yankee Candle.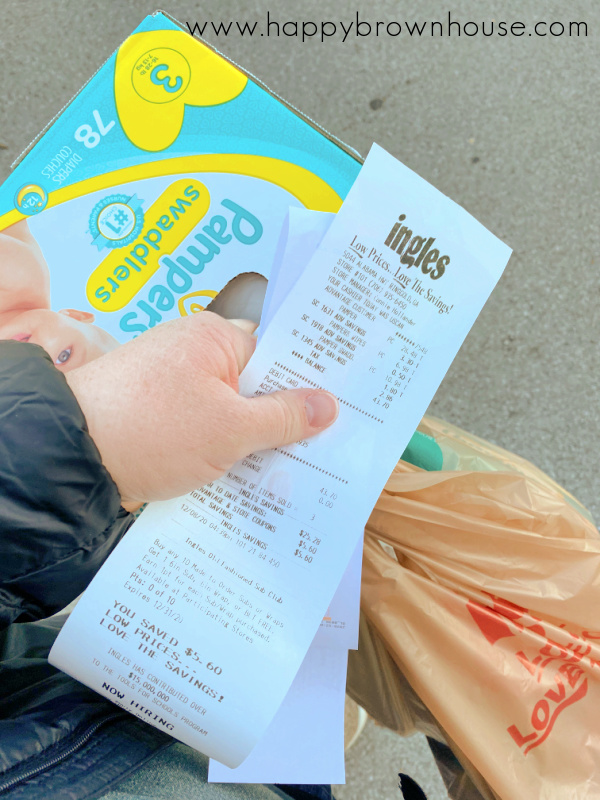 When you have finished purchasing your diapers, head over to the Pampers Gift Card website and request your digital gift card by filling out the form and following the instructions to upload your receipt.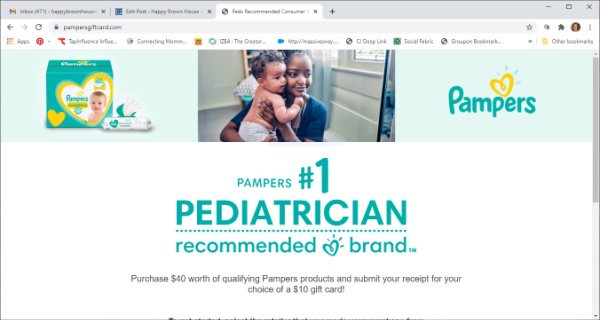 There's a dropdown menu to help you find your store and upload your receipt.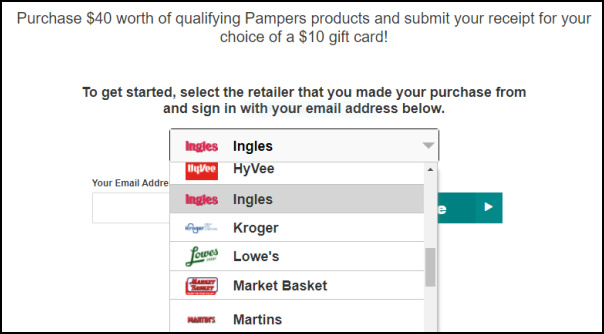 After they verify your receipt, they'll send you an email with a gift card and you can either take a moment to pamper yourself or pass it on and pamper a friend. Super easy! I love finding great deals like that.
More Baby Care Tips & Tricks