Description
This Kite Counting Math Busy Bag for preschoolers and kindergartners is a fun way to practice counting, identifying numbers, and one-to-one correspondence. This busy bag for preschoolers is easy to put together with a little felt and hot glue. Use the corresponding Kite Counting Math Busy Bag Number Cards for kids to identify numbers and practice counting kite bows. Differentiate this activity by using different number cards for the level of your child or student.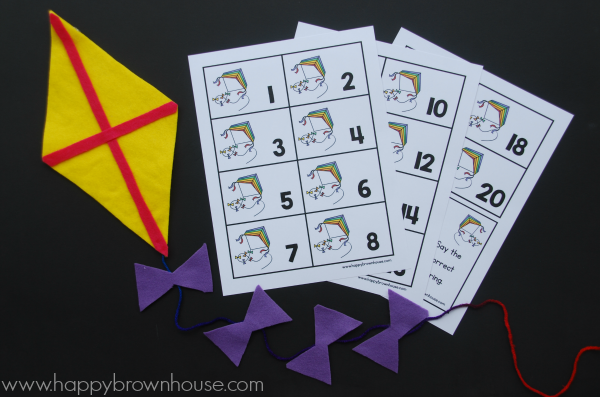 To see the full instructions for making this activity and game variations, please see the Kite Counting Math Busy Bag post to see how to set up the entire activity.
Children's counting skills will soar with this fun kite activity. Children will identify numbers and place the correct number of bows on the kite string. As children count the bows, they are working on one-to-one correspondence.
What's included:
This digital file contains number cards 1-20, busy bag label, and instructions for children to use in the Kite Counting Math Busy Bag.
---
Please note that this is a digital file, so no physical product will be mailed to you. Per my terms of use, there are no refunds on digital products and when purchasing a product or requesting a free download, your email address will be added to my email list (Happy Brown House).
After your purchase is complete, your order (download link) will be available for immediate download on the completed order page. If you miss it, you will receive a confirmation email from me which will also contain the link for your download. If you somehow miss that one too, all your products/downloads (free and paid) will be in your account (found in the "my account" tab on my website under the "shop" tab).