My oldest son has an incredible ability to remember facts. I'm constantly amazed at how much he can remember and recall. He loves to soak up knowledge from nonfiction and informational books and fact cards. Truth be told, he's a bit of a fact junkie. He loves to try to stump us with new facts all the time. Just today I stood in the middle of the aquarium using my smart phone to verify something random he told me about duck oil glands. By the way, he was totally right.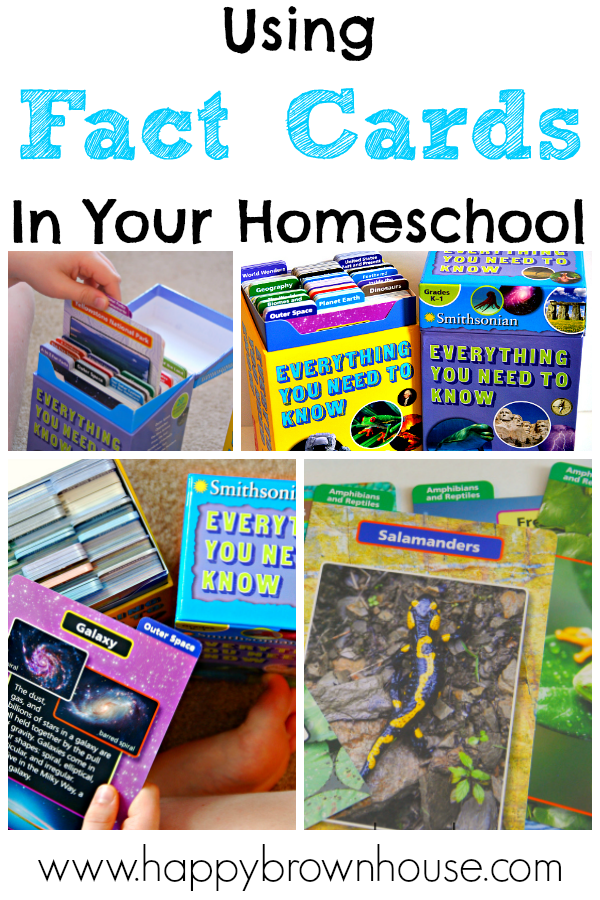 Disclosure: I received this product for free and was compensated for my time. As always, my opinions are honest and I was not required to post a positive review.
Because of my son's intense thirst for knowledge, I was thrilled to get my hands on the Smithsonian Everything You Need to Know Fact Cards from Silver Dolphin Books. These big, beautiful fact cards have become a staple to our homeschool day.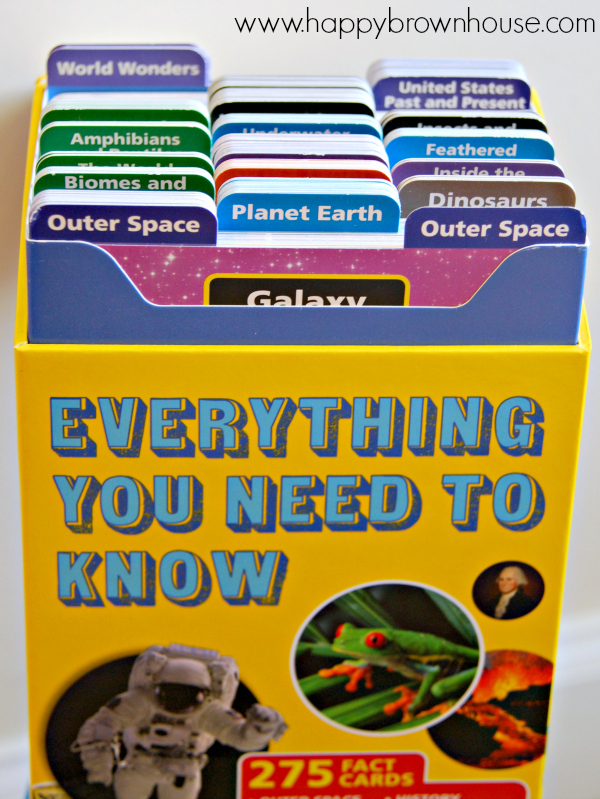 Unlike traditional flash cards, these fact cards, developed in collaboration with the Smithsonian Institution, are loaded with information and aren't designed for speedy knowledge drills. Instead, they are meant to be read, studied, and the knowledge soaked in, not just regurgitated. So, technically, they aren't really flash cards at all in the traditional sense. Each set has over 15 categories, with 275 cards in each box!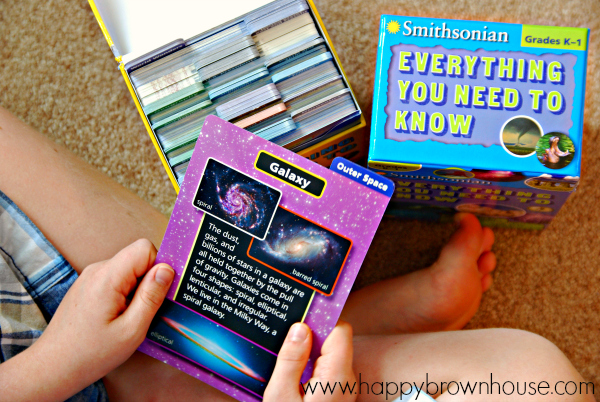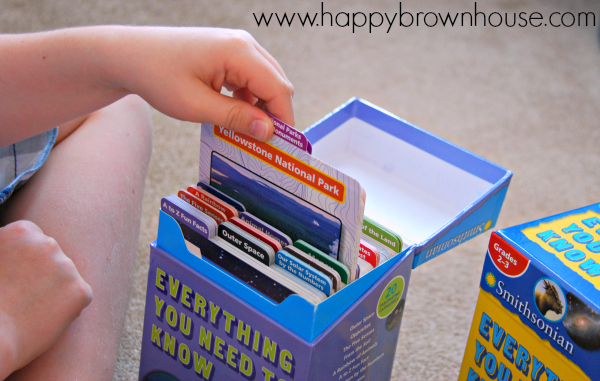 Why I like the Smithsonian Everything You Need To Know Fact Cards
The tabbed fact cards are larger than traditional flash cards. This makes them easy to hold and manipulate for little hands. Plus, there's more room for big pictures.
Double-sided--There's a large, beautiful picture on the front and an easy-to-read paragraph on the back.
Grade level appropriate--The easy-to-read paragraph is on target for kids. They explain information in perfect language for each grade. We have both the Grades K-1 set and the Grades 2-3 set and I noticed a difference in the amount of information and wording on each set. As a former teacher of these grades, I think they are right on target. (I've already pre-ordered the Grades 4-5 set!)
Real-Life Pictures--I love anything that uses real photographs of objects. This is so important for kids to see real images of things they might find in their surroundings. I love cute clipart just as much as the next person, but my work with English Language Learners opened my eyes to the importance of using real photographs as often as possible. The pictures on these cards are big, bright, and beautiful!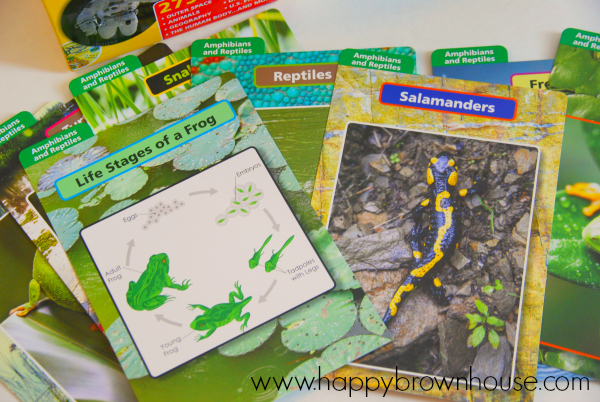 How We Use Fact Cards In Our Homeschool
We use a "Book Basket" in our homeschool day. During Book Basket time, the kids are free to read and look at pictures of things we're learning for atleast 20 minutes. I usually stock this basket with interesting books that go along with our current study, fact books, and other interesting material that I think they will like. After getting the Smithsonian Everything You Need To Know Fact Cards, I added these to the Book Basket. Sometimes I assign a topic based on our study, and other times I let Jonah choose. I often find Jonah on the floor with a stack of cards spread out in front of him.
Another thing I like to do with the fact cards is to pair them with a hands-on activity. For example, Jonah wanted to look at the dinosaur fact cards and I had him match up the plastic dinosaur toys with the correct card. He loved this! With lots of themed toys and manipulatives (my favorite are the TOOBS), this is a fun way extend the learning and make it hands-on.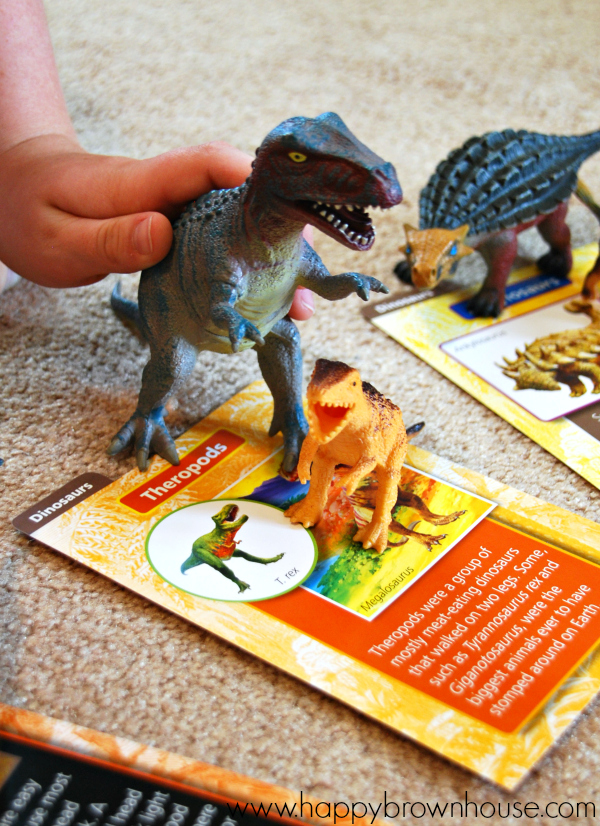 More Ideas for Using the Smithsonian Everything You Need To Know Fact Cards
Going on a long car ride? Take a stack for a screen-free activity. This is perfect for schooling on the road, or car schooling, as many like to call it.
Read a card at meals and discuss it as a family. This is a great way to get the whole family involved.
Fact of the Day--read a fact each day during your daily calendar time or at the beginning of each school day.
Stump Daddy (or Mommy, Grandparents, etc.)--Help your child learn a fact and share it with someone to try to stump them.
Bulletin Board/Display--Studying a certain topic? Display the set to engage your child, increase vocabulary, and look at colorful photos.
Find places mentioned on the fact cards on the map--landmarks, states/capitals, continents, etc.
The possibilities for the Smithsonian Everything You Need to Know Fact Cards are endless. I'm sure I'll come up with more ideas as we work our way through the cards. These fact cards from Silver Dolphin are perfect for families, whether you homeschool or send your children to a traditional school setting. There are so many ways these cards can be used!
Win Your Own Set of Everything You Need To Know Cards
If you live in the US, head over and enter for your chance to win! Winners choose either a K/1st OR 2nd/3rd grade set.
Stay up to date with all of the amazing products Silver Dolphin is creating by following them on your favorite social media site — Facebook, Pinterest, Twitter, Instagram, and the Silver Dolphin Blog.
I'd love to hear from you! How would you use these cards in your home? I'm always looking for great ideas!