These Groundhogs Day Activities and Books for Kids are perfect Groundhogs Day. Will the groundhog see his shadow or not? Kids can do these groundhog activities, read the books, and make predictions about whether or not we'll have six more weeks of winter. The best part about these activities and books? No need to worry about more snow.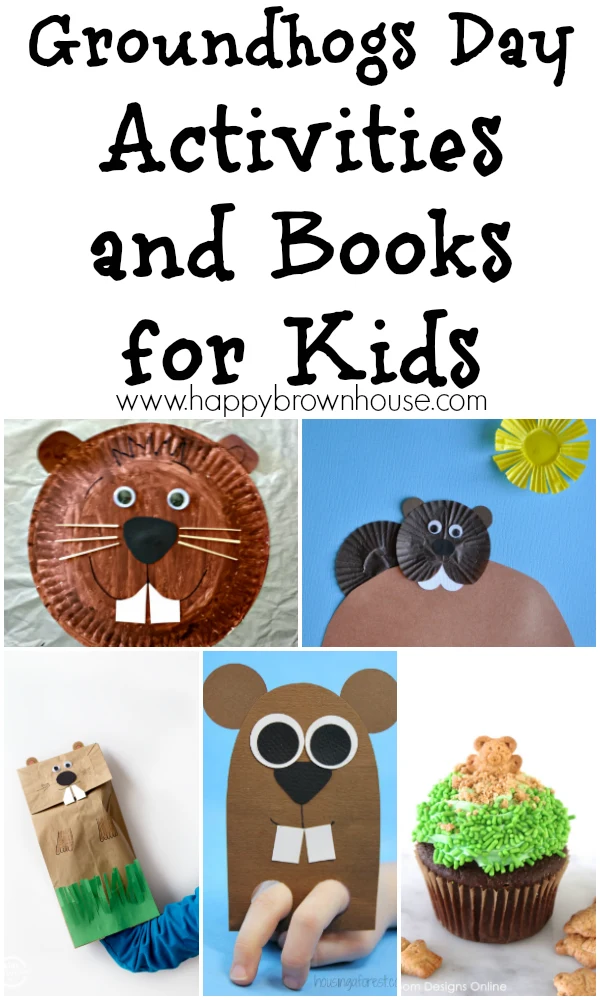 Groundhogs Day Crafts and Activities for Kids
Make a shadow puppet theater and explore shadows. | Inner Child Fun
Make a groundhog paper plate craft. | Crafty Morning
Make a groundhog finger puppet. | Housing a Forest
Kids can pretend to be groundhogs with these groundhog masks. | Pinning with Purpose
Use cupcake liners to make this Cupcake Liner Groundhog Day Craft. | I Heart Crafty Things
Like footprint keepsakes? Make this Groundhog Footprint Craft. | Play With Me
This Groundhog Play Set is so adorable. | About Family Crafts
Have extra toilet paper rolls sitting around for crafts? Make this Groundhogs Day Toilet Paper Roll Craft. | Crafty Morning
Kids will love the hidden picture in this 100 Chart Groundhog Mystery Picture activity. | Classroom Freebies
Print off these Groundhog Day Shadow Matching Cards and work on visual discrimination. | Totschooling
Make an easy Groundhog Paper Bag Puppet. | Kids Activities Blog
Make a groundhog themed breakfast with these Groundhog Pancakes. They're adorable. | The Joys of Boys
Continue the groundhog themed food with these Groundhog Day Cupcakes. | Bloom Designs Online
Groundhogs Day Books for Kids
Grumpy Groundhog
Groundhog Gets a Say
Groundhog Weather School: Fun Facts About Weather and Groundhogs
Gregory's Shadow
Groundhog's Runaway Shadow
Groundhog's Dilemma
Groundhog Day
Geoffrey Groundhog Predicts the Weather
Groundhog Day Suit
The Groundhog Day Book of Facts and Fun
Ten Grouchy Groundhogs
It's Groundhog Day
Groundhog Day!: Shadow or No Shadow
Groundhog Day Activity Book for Kids: Mazes, Coloring and Puzzles for Kids 4 – 8
Valentine on Groundhog Day
Go to Sleep, Groundhog!
Punxsutawney Phyllis
Groundhog Day (Sammy the Bird Book)
Mr. Grazeson Groundhog And The Wily Fox Trick
Before Groundhog Day
Substitute Groundhog
A Greyhound, a Groundhog
Sunshine
Gretchen Groundhog, It's Your Day!
Hey ! Grumpy Groundhog
Grandma and the Groundhog
Groundhog Day-Time For Kids Reader (Grade K)
Groundhog Day For Children
Groundhogs
My Favorite Animal: Groundhogs
Groundhogs (Curious Kids Press)
Kids Explore-Groundhogs
Groundhogs