I love to plant flowers and add a little color to our front porch every year. It adds a welcoming curb appeal to our house, but it also lifts my spirits to have beauty around us every day. Taking care of potted plants is a great experience for kids and it helps them have a bit of ownership to their surroundings. One way I add a bit more color to our front porch is letting the kids paint flower pots with bright colors. Plus, it gives me an extra activity to keep them entertained! And, these adorable kid-painted flower pots make great homemade gifts.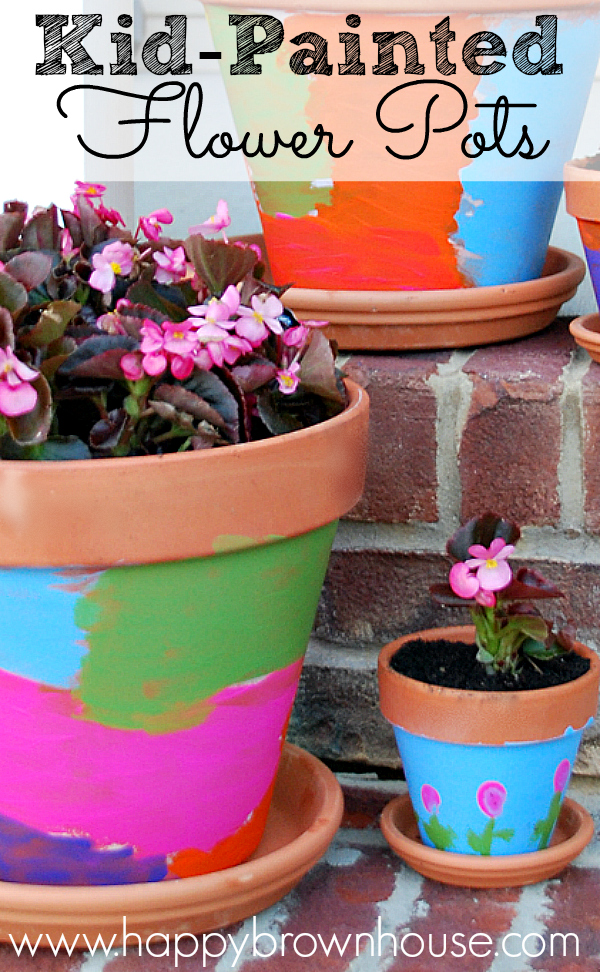 Materials Needed for Kid-Painted Flower Pots
Clay Flower Pots
Acrylic Paint
Paintbrushes
Disposable container for paint (paper plate, recycled containers, etc.)
Potting Soil
Flowers or seeds
Newspaper to protect your surface
Optional: Clear Craft Sealer Spray or Mod Podge
Making Kid-Painted Flower Pots
Using the newspaper to protect your surface, squirt paint onto a paper plate. Hand the kids a paintbrush and let them go! I love the unique look of each one of our kid-painted flower pots.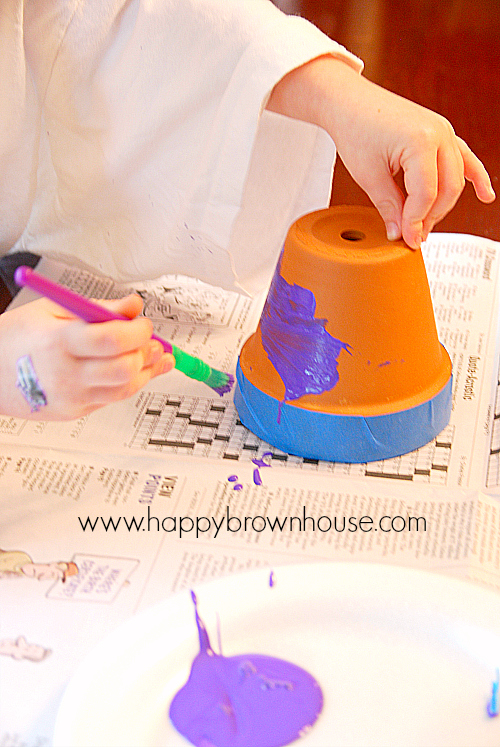 When the kids are done painting, let the flower pots dry. If you want to try to preserve these for longer, I suggest spraying the clear craft sealer spray or a painting a layer of Mod Podge on the flower pots. Ours have held up for several years in the summer sun before fading by sealing them.
To finish them off and display them, fill them with potting soil, small plants ready for transfer, or seeds. Don't forget to water them!
Now, they're ready for gifts or your porch. These make perfect homemade Mother's Day gifts from kids and grandparents are sure to love them. We've even given these as teacher gifts. Kids are always so proud to give handmade gifts.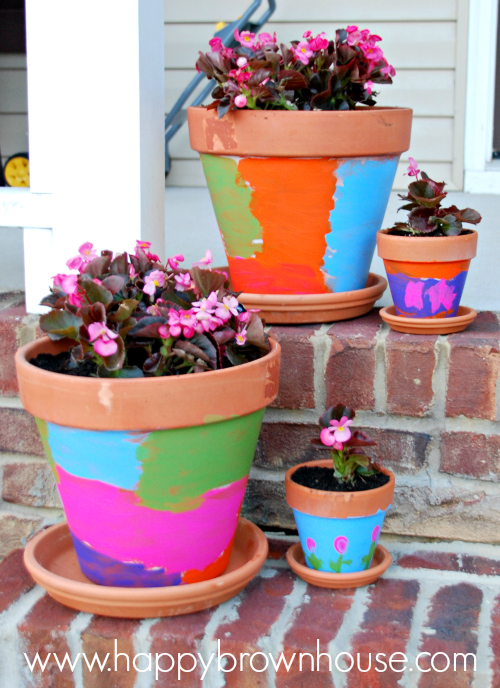 Want more ideas for gardening with kids? Here's 6 Garden-themed Activities for Kids.
Be sure to follow my Homemade Gifts Pinterest Board, too.
Follow Sara @ Happy Brown House's board Homemade Gifts on Pinterest.