I love thumbprint art. I also love teaching Jonah about God's Word. Combine the two and you make this Mommy very happy.
The folks at Tommy Nelson went and made it even easier for me (and you!) to accomplish both at the same time!
Printoons are unique characters made with your fingerprints. Printoons
are a fun way to use fingerprint art to teach your little ones Biblical stories and God's Word. I first heard about Printoons
while at The Relevant Conference, but have since seen them in my local Lifeway and online. I purchased all three Activity Packs as a present for Jonah while at Relevant. Even though Jonah isn't quite ready for all of the activities yet for the Activity Pack's recommended age of 5, we still had lots of fingerprint fun!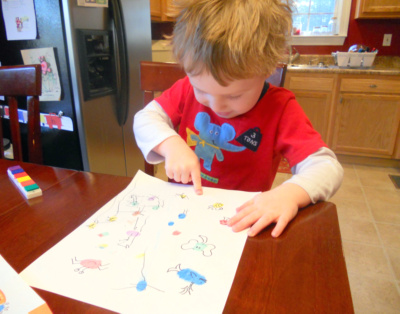 The activity Packs include everything you need to get started, including a rainbow colored ink pad and marker. There are step-by-step instructions and practice ideas for making Printoons characters for the coordinating Bible story. (So far there are only three available Bible Story packs--Nativity
, David and Goliath
, and Noah's Ark
) The Activity Packs include the Bible Story, mazes, games, etc. to use with your fingerprints. They are a lot of fun! We used the Nativity pack's "Countdown to Christmas" during the month of December to help Jonah visualize how many days until Christmas. He loved it!
During our Printoons time, Jonah finally began drawing people...something he hadn't tried to do before. It's worked wonders with his confidence level and desire to draw. By only having to add the "features" to each fingerprint, it eliminated enough of the drawing steps for Jonah to feel comfortable creating.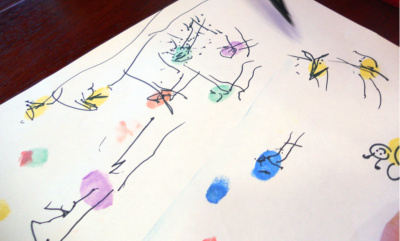 Here is just one of the many pages we filled up with our Printoons...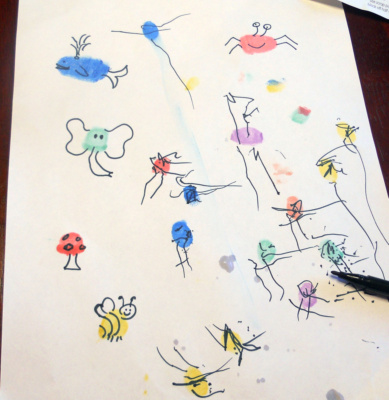 Doesn't it look like fun?!?!
Now, fingerprint art isn't anything new to me. I used to use it in my Kindergarten classroom when I was teaching. Thanks to Tommy Nelson, I've seen fingerprint art in a new way with an Eternal purpose!
Here are a few other Fingerprint Art Resources to help you get started (I even found a Princess & Dinosaur Printoons Activity Pack!):
(If you're viewing in a blog reader or email subscription, you'll have to click through to see the widget)
Do you have any fun Fingerprint/Handprint/Footprint Crafts you'd like to share? Leave a link in the comments!