Playdough is so much more than just squishy-gooey fun for little fingers. Playing with playdough is beneficial to developing and strengthening fine motor skills. Essentially, playing with playdough can directly impact your little one's writing skills! (I know, I know, it can be messy. With a few guidelines, you can let your little one squish playdough to their heart's content.)
Playdough Guidelines At Our House:
Always at the table!
Use a placemat
If you purposefully throw it on the floor, we put your playdough away.
I have found that little ones don't really have the dexterity to sculpt playdough into complex shapes and can get frustrated. One of the things they can do really well though is make "snakes" and roll a "ball". Using these two things, we can harness the educational power of playdough through playdough mats!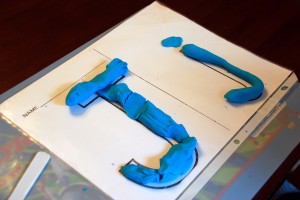 Playdough Mat Ideas:
Letter Outlines (Here's a great printable from Homeschool Creations!)
Number Outlines (Another printable from Homeschool Creations)
Shape Outlines
Child's Name
Counting Sets
Simple addition or subtraction facts (also known as "Number Sentences" in Kindergarten)
Spelling Words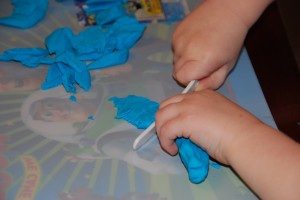 Other Playdough Activities We Like:
Cookie Cutters of all kinds
Practicing cutting with a plastic knife
Practicing cutting with child-safe scissors (with lots of supervision!)
Here is a little trick to help extend the life of your Playdough Mats: Slide the playdough mat into a plastic page protector. This will prevent the playdough from sticking to your playdough mat paper and will make it easy to wipe clean. Also, did you know that you can write on page protectors with a dry-erase marker and wipe it clean? Aha! Now our playdough mats are multi-purpose!
Playdough Mat Resources:
That should be a great starting point for you with making playdough time a powerful learning tool!