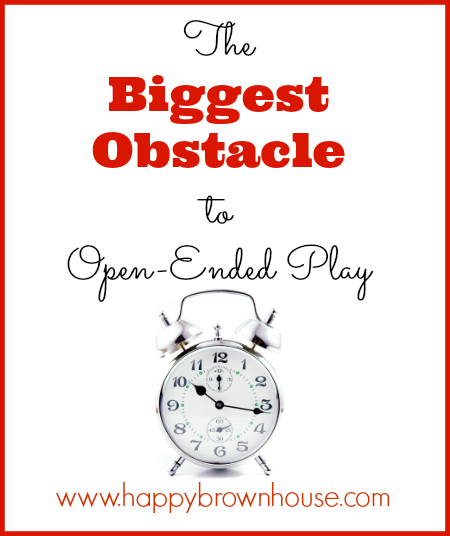 One of the biggest obstacles to open-ended play is time. Too often, a child's day is too scheduled to allow them the time to immerse themselves in make-believe. With the hurry and the rush, rush, rushing to and fro for activities, kids barely have time to read a book and snuggle before bed, let alone build a block castle, have a knight storm the gates to kill the dragon, and save the princess. The next day we rinse and repeat. This is something that we all struggle with whether you work outside of the home or not, me included.
Open-ended play requires time—to create, to discover, to converse. When we allow children to have time to explore play without expectations, we are giving them a gift. The freedom to play invites children to enter in the world of make-believe and creativity. It's a magical world where they make the rules and write the storyline. When we cut this short or cut it out all together, we stifle creativity, problem-solving, decision making, and more.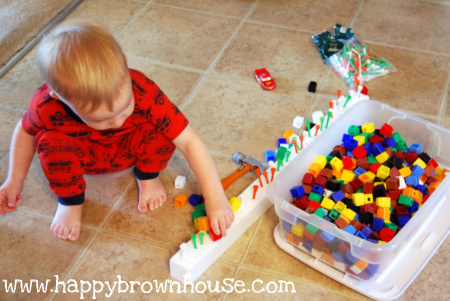 Kindergarten used to be full of block centers, dress-up, and housekeeping areas. Then someone "smart" decided children needed to be "learning more" at a younger age, so we sent those things to preschool, Kindergarten became First grade, and we experienced a cultural shift. The pressure on young students (and their teachers!) to perform and compete with test scores has skyrocketed over the past decade or so is tremendous. Personally, I think these demands are NOT developmentally appropriate, and will possibly come back to bite us…or maybe they already have.
Knowing that, I think it is even more important that we, as parents, make sure to give our children the freedom to play by removing the obstacle of limited time.
Will you join me? Let's make a pledge to give our kids the freedom to play!

This post is a part of the series, 31 Days of Open-Ended Play. Be sure to read all the posts in the series for more great ideas for encouraging learning and creativity through open-ended play.