Valentines's Day Learning Activities are in the air and I can't think of a better way to celebrate than working on some Valentine's Day Fine Motor Skills Activities. The fine motor skills activities in today's post are the Top 10 Valentine's Day Fine Motor Skills Activities that caught my eye and we're planning on doing at our house. I've already shown the list to the boys and they are excited!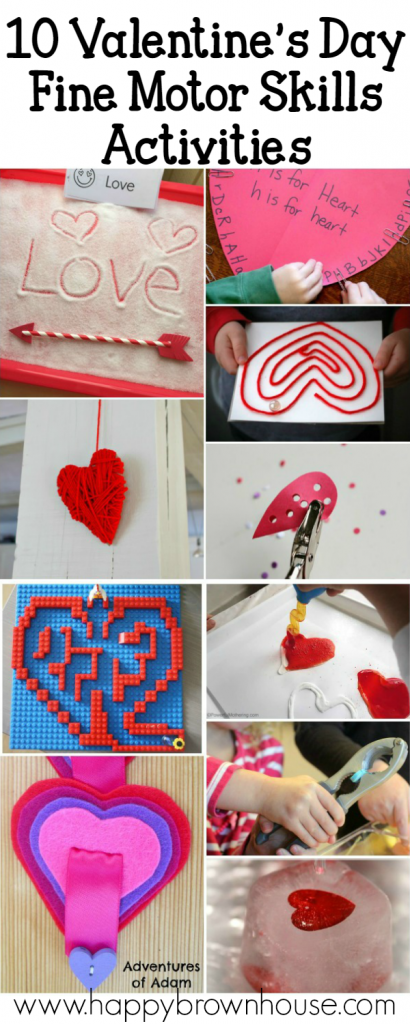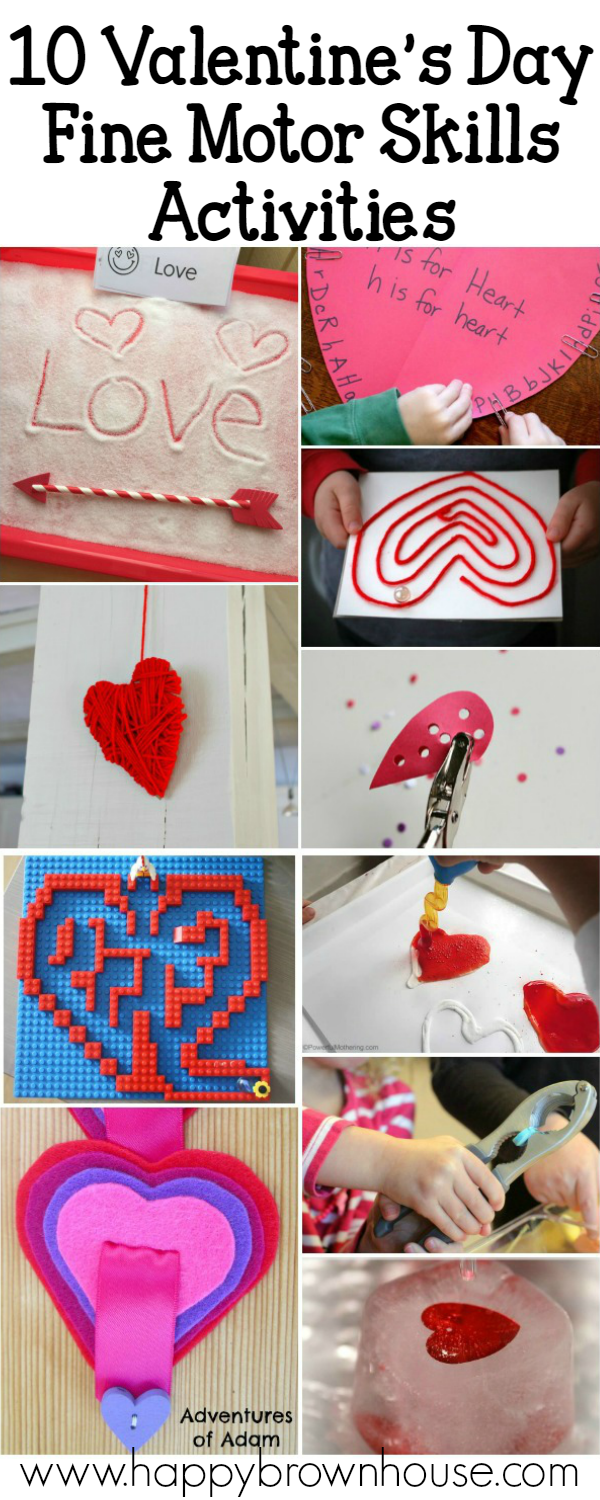 Top 10 Valentine's Day Fine Motor Skills Activities
This Heart Lego Marble Maze Building Challenge for Kids from Little Bins for Little Hands is a fabulous way to fill up an afternoon. Not only will the kids be using Legos for fine motor skills, they'll also be working on STEAM learning!
The Fizzing Hearts activity from Powerful Mothering mixes science and fine motor skills in an irresistible way! Kids will love to see the fizzing hearts as they manipulate the droppers.
Use a little felt and ribbon to make this Threading Love Hearts Busy Bag with The Adventures of Adam.
I love this Candy Heart Breaking Fine Motor Activity! Kids will love crushing the candy hearts. Later, you could use the broken candy pieces to make Valentine Candy Bark.
Melt a Frozen Heart with Playground Parkbench. This frozen ice cube activity will have little scientists wondering how the ice melts and recue the heart.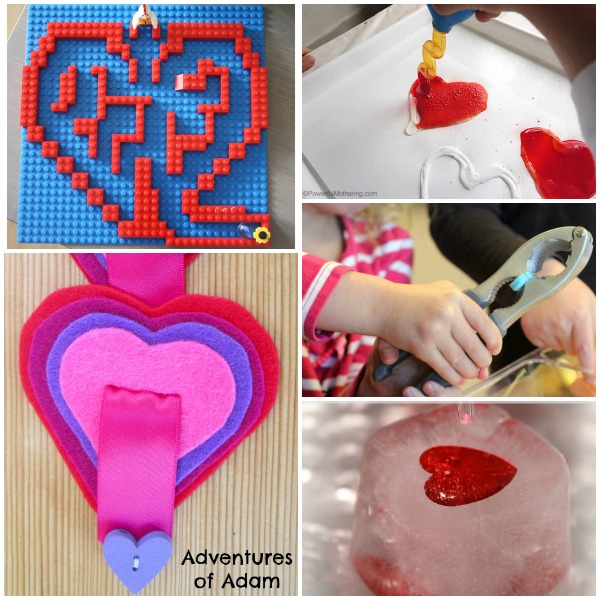 I can't wait to make this Find the Letter on the Heart from Hands On As We Grow to help my preschooler practice using paper clips and identifying letters.
Practice writing and making hearts with this Valentine Salt Tray from Lalymom. Kids will love writing with Cupid's arrow!
This Yarn-Wrapped Heart Craft from How Wee Learn is great for fine motor skills, plus the end result would make a beautiful gift.
Strengthen little hands while making these Hole Punched Hearts from No Time for Flashcards,
I can't resist this Way to My Heart Marble Maze from The Inspired Treehouse.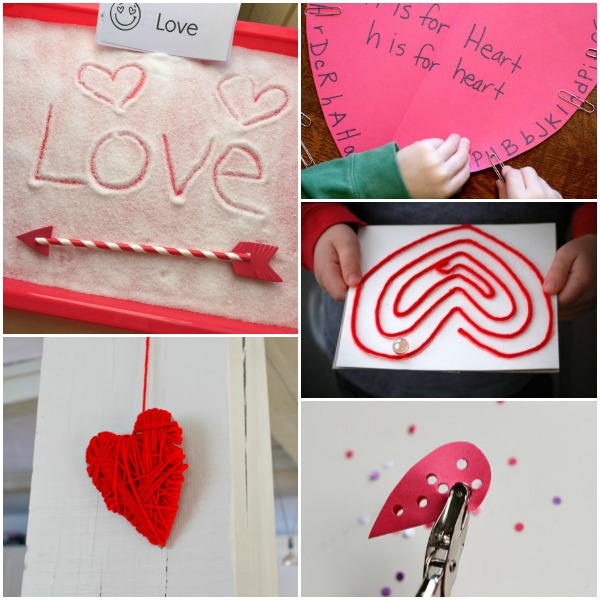 More Valentine's Day Ideas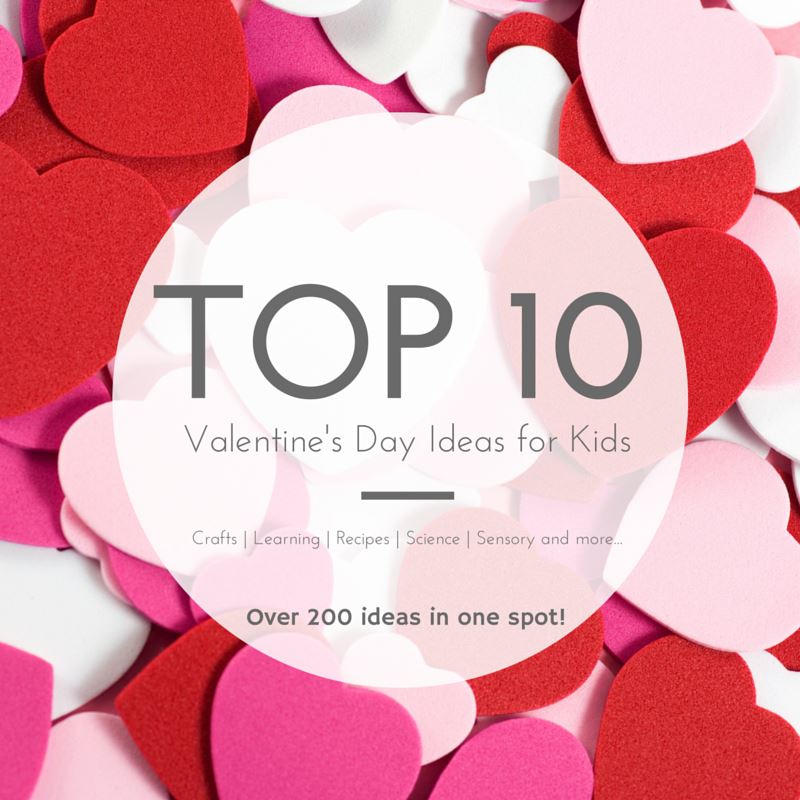 Want more Valentine's Day Ideas? I've teamed up with some blogging friends to bring you our Top 10 favorite ideas each month. See the rest of the lists and prepare for Valentine's Day!
Top 10 Valentines Play Dough Recipes from Craftulate
Top 10 Valentine Desserts Kids Can Make from Study at Home Mama
Top 10 Free Printable Valentines from Our Whimsical Days
Top 10 Nature-inspired Valentines from OutdoorsMom

Top 10 Valentine's Day Fine Motor Skills Activities from Happy Brown House
Top 10 Valentine's Day Dinner Dates with Kids from Our Good Life
Top 10 Valentine's Day Books for Kids from Sunny Day Family
Top 10 Valentine's Day Printables for Preschool from Living Life and Learning
Top 10 Eco Friendly Valentine's Day Crafts from Nemcsok Farms
Top 10 Valentine Keepsake Gifts from Rhythms of Play
Top 10 Valentines Learning Activities for Preschoolers from Crafty Kids at Home
Top 10 Valentine's Day Activities For Toddlers from Adventures of Adam
Top 10 Photo Frame Valentine's Day Gifts from Teach me Mommy
Top 10 Valentine's Day Sensory Activities from Play & Learn Everyday
Top 10 Valentine's Day Treats from The Resourceful Mama
Top 10 Heart Crafts for Preschoolers from Powerful Mothering
Top 10 Valentine Party Games for Preschoolers by Playground Parkbench
Top 10 Valentine's Day Decorations from Witty Hoots
Top 10 Valentine's Day Sensory Bins from Still Playing School
Top 10 Valentine's Day Sensory Bottles from Little Bins for little Hands
Top 10 Candy Experiments for Kids from Lemon Lime Adventures
Top 10 Valentine Sensory Projects from Project Sensory
Top 10 Valentines Food Ideas for Kids from Eats Amazing
Top 10 Free Printable Valentines for Boys from Preschool Powol Packets
Top 10 Valentine Quotes on Love from Creative World of Varya