Learning should be fun, active, and engaging. That's what I love most about this Zip-Line Letters Game. Kid will love zipping letters down the string and making letter sounds in this fun learning activity for kids.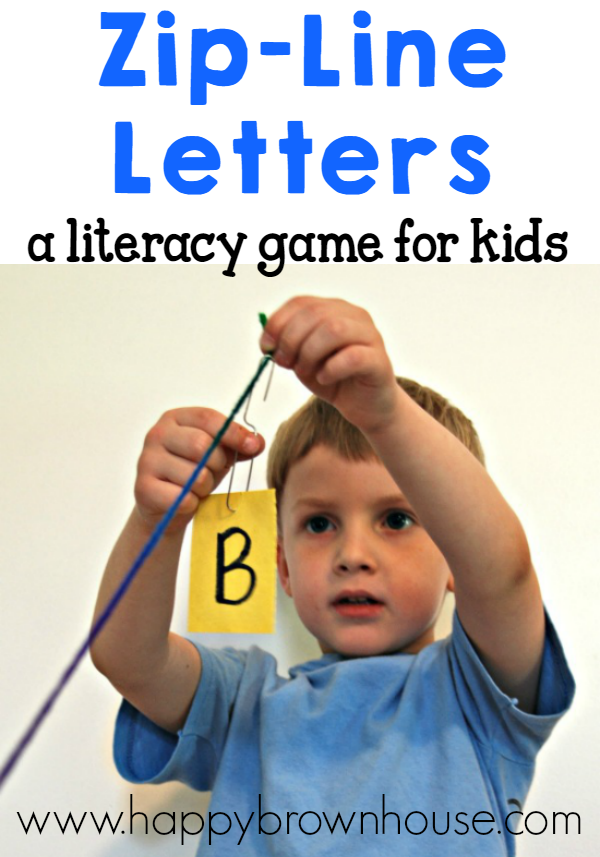 We found this game in the book 100 Fun & Easy Learning Games for Kids (affiliate link). This awesome new book was written by my blogging friends Kim and Amanda over at The Educator's Spin On It, and I highly recommend it for anyone who works with children, specifically in the 3-7 age range! It's a great resource for parents, teachers, and homeschooling parents. The front of the book contains a list of skills that kids should master, and then the book is broken down into chapters on reading, writing, math, science, music/art, and geography. The activities are lots of fun, and are definitely not fluff--each one addresses a skill necessary for early learning success. Each of the games included in the book have 3 variations of the game, so you're essentially getting 300 learning ideas in one resource. It's a great book for adding some fun to your existing homeschool or classroom curriculum, or for use at home as enrichment. I also love the "Community Corner" sections where other moms share their own tips for addressing certain skills. There are some hidden gems in all of those responses to the community learning questions!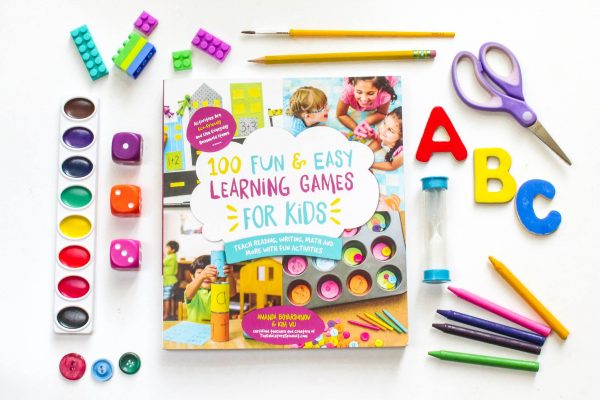 Disclosure: This activity has been reprinted with permission from the publisher from the book 100 FUN & EASY LEARNING GAMES FOR KIDS. I received a free copy from the publisher as a member or the book launch team.
Zip-Line Letters Game
Materials
2" tag board squares (we used construction paper)
Black permanent marker
Paper clips
Tape
15" of yarn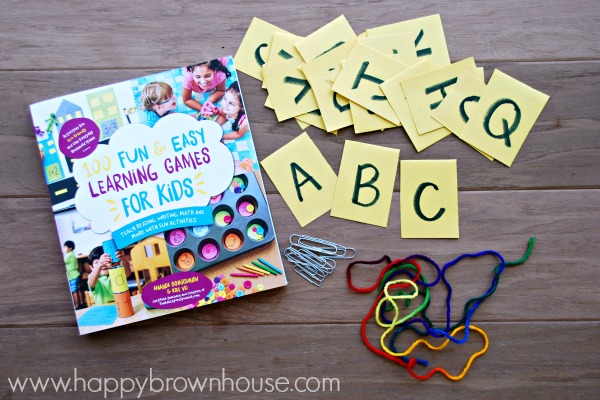 Directions to Make
1. Write one uppercase letter on each tag board square until all the letters have been used.
2. Bend the paper clip to create a hook.
3. Tape the paper clip hook to the back of each letter square, making sure that one half is sticking out of the top of the square. (We just poked the paperclip through the paper square instead because we were running low on paper clips.)
Directions to Play
1. Tie one end of the yarn to a solid stationary object, such as the handle of a closed door. Hold the other end in your hand.
2. Slide a letter card and hook onto the yarn near your hand. Pull the yarn tight.
3. Raise your arm and watch the letter soar.
4. As the letter zips across the room, make its sound. Example: MMMMM or ZZZZZZZZZZZZZZZZZZ!
Game Variations
String the letters on in order or zoom your name.
Put three or more letters together on the zip line to spell a word.
Pictures with beginning word sounds can zip after the letters.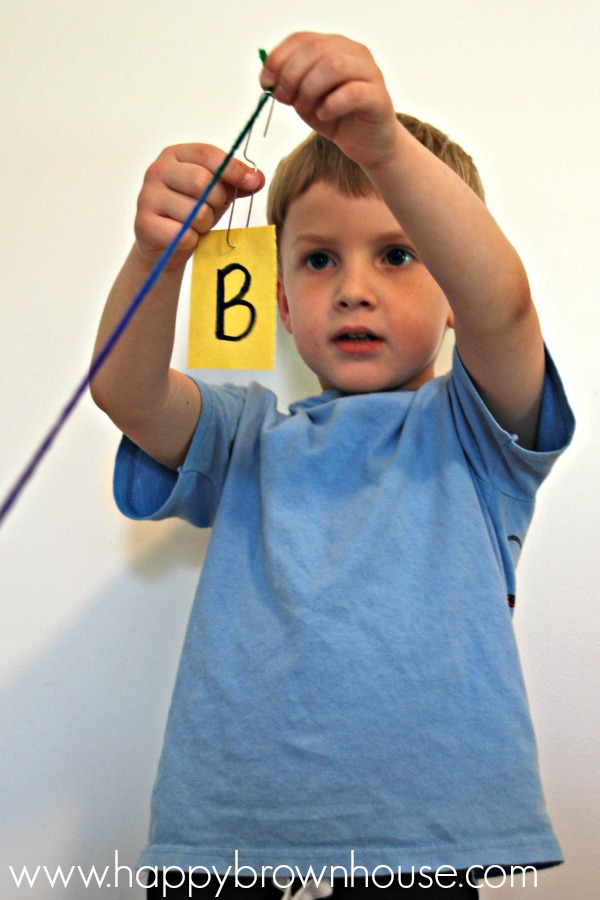 Asher (4 years old) thought this was a fabulously fun letter activity and was excited to send the letters zipping down the string. It was perfect practice for him as he's been practicing letter sounds. He's also looked at the book with me and pointed out activities he wants to try. The book has bright and colorful photographs that just invite you in. You can't help but want to play the games after seeing the pictures.
I hope you check out the book 100 Fun & Easy Learning Games for Kids and get started having fun with your little ones with these fantastic ideas. With 100 games and 3 variations for each game that's a whole lot of fun to be had. It's enough to fill up your calendar with early learning fun!