Graduation is a time to celebrate accomplishments and hard earned diplomas. It's an exciting time in the graduate's life and deserves to be celebrated to the fullest! Well thought out graduation gifts are best, not those hokey books with quotes that will never get opened and will eventually end up in the donate pile. So instead, put a little thought into what to give to graduates that will help the celebrate in style and be useful. I've rounded up some of the 10 Best Graduation Gifts, including what I'm giving my brothers that are both graduating--one from high school and one from college! These graduation gift ideas are sure to please the college graduate in your life!
Disclosure: This post is sponsored by The Motherhood and Church Hill Classics. I was compensated to write this post. #EarnItFrameIt
10 Best College Graduation Gifts
1. Money--Whether they're saving up for a big trip to celebrate their graduation or saving up to move out on their own, college students always appreciate cash! Pinterest is full of creative ways to give the money, too!
2. Prepaid Gift Cards--Whether it's to be used for gas, the movies, or even restaurants, prepaid gift cards are perfect for college graduates that will, most likely, be strapped for cash until they land their first "real world" job.
3. Briefcase--If your graduate is going into the business world, a really nice briefcase would be perfect for their future job. It will send them into the "real world" in style and they will be able to dress the part right from the start. If your graduate is going to be going into teaching, a really nice teacher bag would be great for them, too, since they'll be carrying all those papers to grade and teacher's manuals back and forth from work to home.
4. Housewares--Setting up a new apartment is hard work and a lot of money when starting from scratch. Grab them a set of dishes or an appliance to make setting up their first apartment a breeze.
5. Resume' Supplies--Help your graduate make an impression and start getting their resume' out to prospective jobs with resume' supplies.
6. Business Cards--Along the same lines as the resume' supplies, business cards will help your new graduate make an impression with prospective employers and will help them network easily.
7. Keepsake Box for Tassel--Make them a shadow box with their graduation announcement and tassel, or I've even seen people use the tassel in an ornament. It will be a great memory for years to come
8. Luggage--Whether they're going on a graduation trip or just to have for the future, luggage is a great gift idea for new graduates. You never know when they'll have to take a business trip for their new job.
9. School Memorabilia That Isn't Clothing--these days you can find almost anything with your graduate's school emblem on it. Most likely they have plenty of school t-shirts, but what about a crockpot, cornhole game, or a nice water bottle with their college emblem on it.
10. College Diploma Frames--Church Hill Classics has the most beautiful college diploma frames that can be personalized for your graduate's college. I guarantee your college graduate will hang this in their future office or home for years to come. (Confession: my diploma is not framed, but it should be!)
What I'm Giving My College Graduate
My brother is graduating college from Florida State University this year. He's had a list of accomplishments in his life, but graduating college is probably one of the best. My brother is an Eagle Scout, traveled to Europe to sing with his choir, and is graduating early with a degree in International Studies with an emphasis in Russian. Pretty big accomplishments for sure!
I couldn't be prouder of him and all he's worked for and done over the years. That's why I wanted to get him something that was meaningful and would celebrate his accomplishment while displaying his hard earned diploma. He's worked so hard and invested so much into earning his diploma. After all the time and money spent earning a degree, I would hate for his diploma to end up in a drawer like mine. I got him the Florida State University diploma frame for him and he couldn't be more pleased with it!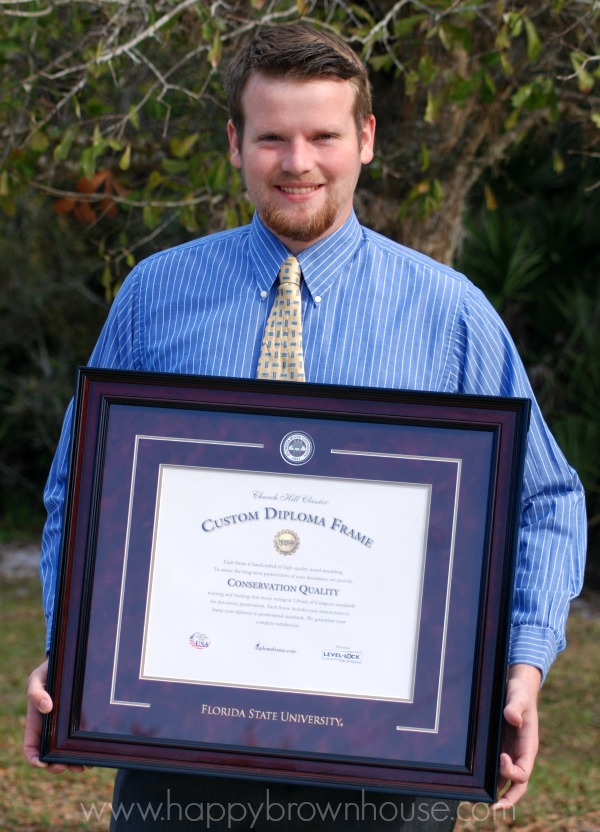 The college diploma frames from Church Hill Classics are beautiful and come in a variety of school emblems. Church Hill Classics is a professional framing company that helps graduates and families preserve and showcase those hard-earned diplomas with officially licensed frames. With all of their diploma frames handcrafted in the USA, Church Hill classics offers an extensive selection of custom frame styles for more than 1,500 colleges and universities.