While my 4 year old can spell and recognize his name, we've recently been working on spelling the names of other family members. I made this Name Puzzle Busy Bag for him to practice spelling and recognizing names with materials I had around the house. He loves puzzles so this was a perfect busy bag for him. To help him recognize the names, I added pictures for everyone in the family and used a different color for each of the names puzzles.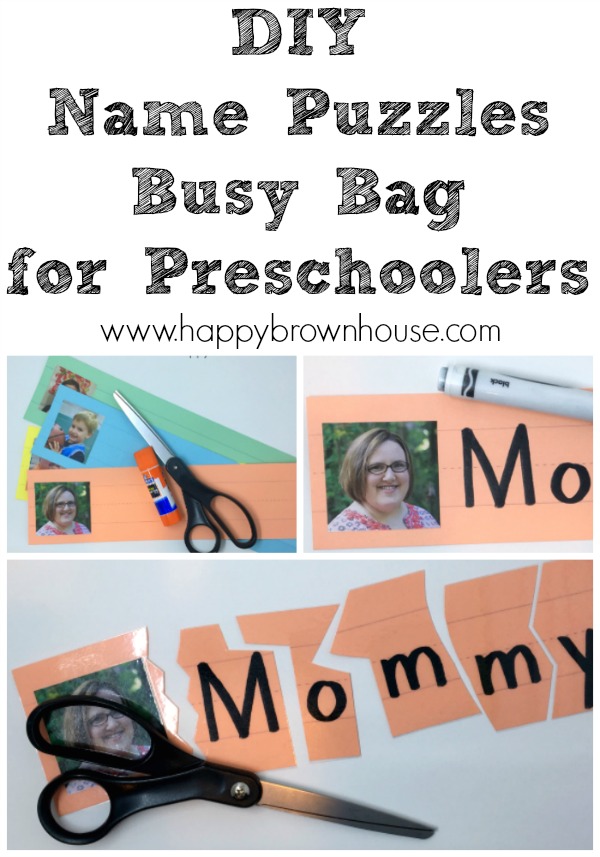 Name Puzzle Busy Bag
Materials: 
Sentence Strips (I've seen these at the Dollar Tree, Walmart, and Target, or you could get them at a school supply store. I had these left over from my teaching days. You could use strips of cardstock or construction paper, too.)
Directions:
Use the marker to write your child's name on the Sentence Strip
. If your child is just learning their name, you could only include their name in the busy bag. I included the names of everyone in the family for our busy bag because my 4 year old is already able to spell his name. I also used a different color for each person and added a pucture for each name puzzle.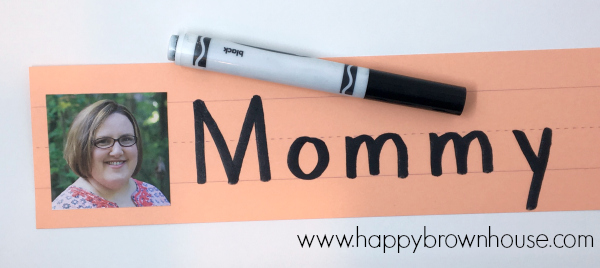 Laminate the name puzzles.
Cut between the letters. You will want to make different "designs" with your scissors for each cut. For example, wavy lines, jagged lines, curved lines, etc.
Place the puzzles in a bag for storage.
When it is time to play with this busy bag, have your child put the puzzles together.
Tip: If they need help, make another strip that has their name on it and leave it intact. Allow them to use it to help them find the next letter. They can use it as a reference, or use it to match up the letters by laying the pieces on top.
Other Ideas for Puzzle Strip Busy Bags:
Putting numbers in order
Sight Words
Simple sentences