Over the past few weeks, we've been studying about worms in science. Jonah has enjoyed learning how worms help the soil by digging tunnels and breaking things down by eating them. And because he's a typical boy, he's been fascinated that dirt is full of worm "waste." We've found some really cute books at our library to go along with our study and wanted to share them with you!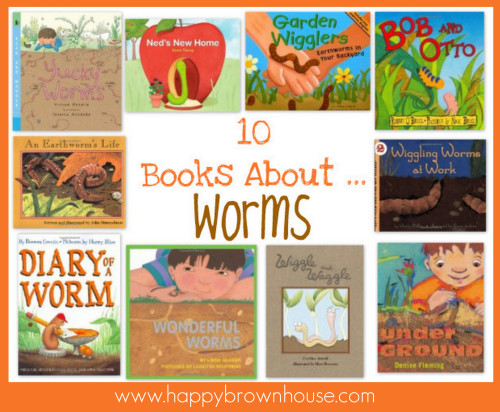 10 Books About Worms
Bob and Otto
~A cute book about two friends that looked pretty much alike and love to do the same things. Then one day everything changed!
Wiggle and Waggle ~A beginner chapter book about to worm friends and their adventures in the garden. This book had Jonah in stitches! He loved it!
Garden Wigglers: Earthworms in Your Backyard
~ Describes the physical characteristics, life cycle, and behavior of earthworms.
Wiggling Worms at Work
~A look at the underground world of worms
Wonderful Worms
~Describes the physical characteristics, behavior, and life cycle of the common earthworm.
Diary of a Worm
~A hilarious look at what life is like to be a worm. Jonah really liked this one, too!
underGROUND
~Take a look underground and see who you might find.
Ned's New Home
~When Ned's home rots, he has to search for a new one. Follow him as he hunts for the perfect place to call home. Such a cute book!
Yucky Worms: Read and Wonder
~A young boy accompanies his grandmother to her backyard garden where, while planting, she digs up a worm. When the boy tells her to "throw it away," the woman teaches him about why worms are beneficial.
An Earthworm's Life
~Looks at the life of an earthworm.
This list of worm books goes perfectly with the worm observation activity in Spell Outloud's Nature Study Printables for Preschoolers.