I find it hard to believe that we are entering our second year of homeschool. How is it possible that I have a First Grader?!?! We loved My Father's World for Kindergarten, so we have chosen to stick with them again for First Grade. We were so excited on "Box Day", the day we received our box of curriculum in the mail.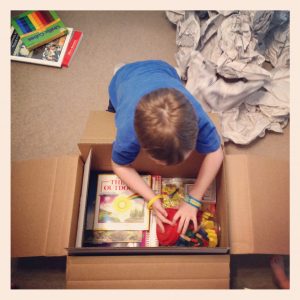 Social Studies
This year Jonah will be focusing on Biblical History. We'll make a Biblical times costume, scrolls, clay pots, and more! Jonah will build a timeline as we study the Bible. A lot of the History will be embedded in his Reading lessons.

Reading
He will be reading through the Bible Reader from My Father's World, which is basically an "easy reader" version of the Bible. So, he will read through Genesis to Revelation, in easy reader form. After he reads, he will write a sentence or two in his Bible Notebook and draw a picture to go with it. The phonics instruction will coincide with his lessons through the Bible reader and Notebook. He will also be making a timeline as we read through the Bible Reader. (I have a feeling that even I'm going to learn something new!)
Reading is Jonah's favorite subject, so we will visit the library often and cuddle up with good books on the couch. Jonah's reading abilities have taken off over the summer, so he will be reading aloud with me more and more.
Math
We will use Math-U-See Alpha. My Father's World also comes with a Math workbook, The Complete Book of Math
, so we will use these together as much as we can. Math is not Jonah's favorite subject, so I will be using games as much as possible with him.
Science
We will be working through three books: Finding Out about Things Outdoors
, Science with Water
, and Science With Plants
. While they are small books that could be read in one sitting, we will focus on each section for a week at a time. Fridays are Exploration Days. We will be doing experiments that are mentioned in our science books and Nature Walks on Fridays. Jonah will be keeping a science journal where he writes about his science exploration and draws to illustrate his learning. He will also journal/draw after Nature Walks.
Art
We will be using Drawing With Children
by Mona Brookes for part of the year. We will also be doing Art Study. We have 20 famous paintings that we will study throughout the year. We'll talk about the artist, notice details, and even try to replicate a few of them. (Once again, I'm going to learn SO much!)
Music
Jonah will continue with the children's choir at church. We will do an in-depth study of Peter and the Wolf (comes with My Father's World Deluxe Package) and we will listen to our classical music from last year. Seeds Family Worship will still be the soundtrack to our days, often. I am trying to find a used piano that is free or very cheap for piano lessons. Until then, we'll just listen to lots of music.
We are looking forward to a fantastic year full of learning!
Linking up with iHomeschool Network's Not-Back-To-School Blog Hop. This week is Curriculum Week!