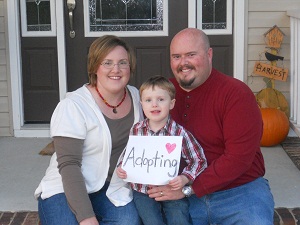 A Little Background...
Ray and I have always known that we would adopt at some point in our life together. It was a personal desire for both of us, before we even knew each other. When we talked about adopting, it was always in the "someday" category. We had our plan---have a couple kids naturally and then adopt. Easy enough, right?
Only it wasn't so easy. After giving birth to Jonah, my body has been weird and unpredictable. We've tried to get pregnant for over 2 years. According to the doctor, there isn't really anything wrong. It just hasn't happened. I've been on an emotional roller coaster the past two years as I've prayed, hoped, and cried out to God just like Hannah for a second pregnancy. Once Jonah started asking for a baby brother or sister, I felt even more pressure .
I've stood on the sidelines and watched as friends have become pregnant and given birth to their blessings. I've rejoiced with them! How could I not rejoice with my friends for their growing families? But in the quiet, my heart yearned. At times, I've struggled with jealousy for their growing belly---followed by guilt over not being thankful for being able to conceive and carry Jonah when so many friends and family have struggled to have one child.
And while this was going on, God was whispering to our hearts about adoption. Walking along side friends and church members that have gone through the process. Watching in amazement as God matched orphans with the perfect family. Being speechless as God poured out blessing after blessing to make adoption possible for our friends. It was almost like watching a preview and getting a glimpse of what could be.
The Real Answer...
Adoption is close to God's heart. No, we don't claim to have access to God's thoughts, but He has modeled it for us. Whenever the Bible speaks about adoption, it always presents this gracious act in a favorable light.
Consider Moses. He was adopted by Pharaoh's daughter (Exodus 2:1-10). This was part of God's plan to save the life of Moses and deliver His people.
And what about Esther? The Bible reminds us that she was adopted by her cousin, Mordecai (Esther 2:15). Who can forget the amazing way that God used Esther to save His children?
In a way, wasn't Jesus also adopted? Joseph was not His biological father. Joseph, an unselfish man of God, was willing to rearrange his entire life in obedience to God in order to be an adoptive father!
The Greatest Adoption Story...
The greatest adoption story in the Bible is the story of our "adoption" into the family of God. Through the precious blood of His son, God is willing to receive us as His adopted sons and daughters.
For he chose us in him before the creation of the world to be holy and blameless in his sight. In love he predestined us for adoption to sonship through Jesus Christ, in accordance with his pleasure and will—to the praise of his glorious grace, which he has freely given us in the One he loves. ~Ephesians 1:4-6

For those who are led by the Spirit of God are the children of God. The Spirit you received does not make you slaves, so that you live in fear again; rather, the Spirit you received brought about your adoption to sonship. And by him we cry, "Abba, Father." ~Romans 8:14-15

I will not leave you as orphans; I will come to you. ~John 14:18

Religion that God our Father accepts as pure and faultless is this: to look after orphans and widows in their distress and to keep oneself from being polluted by the world. ~James 1:27

A father to the fatherless, a defender of widows, is God in his holy dwelling. ~Psalm 68:5