Disclosure: I received this product for free to review. I was compensated for my time in reviewing the product and writing our experience. All opinions are my own and honest; a positive review was not required. No affiliate links are present.

As a former early childhood educator turned homeschool mom, I'm always on the look out for quality educational toys. We were recently introduced to BionicBlox and the boys have played with them every day since they arrived. It's been a great open-ended play activity to add to our toy rotation and this review fits in perfectly with our current blog series, 31 Days of Open-ended Play.

Benefits of Playing With BionicBlox
Encourages critical thinking skills related to geometry, spatial recognition, engineering, architecture, and more.
Independent building--Jonah has a hard time when building with Legos and always wants an adult to help. It is nice because he can do these himself if I need him to entertain himself.
Encourages creativity
Strengthens Fine Motor Skills
What I Love About BionicBlox
Sturdy & Durable--With a house of boys, that is important! My kids are rough on toys--these blocks passed the test!
Sanded Smooth Blocks & Larger Pieces--No worry of splinters or sharp edges. In my opinion, the blocks are large and do not pose a choking hazard.

Tight Fitting Connectors--Projects won't fall apart easily and cause frustration in my boy that is easily frustrated.
Made in the USA--Love things made in my own backyard and putting money into our own economy!
Endless Possibilities--I love that this is an open-ended toy and gives kids the freedom to create and learn through play.
Watch our video review for a good laugh and to see the cuteness that is Jonah unscripted.
Details about BionicBlox
BionicBlox come in a variety of sets, so you can pick and choose the amount that you need for your favorite little builder. For reference, the set used in the pictures in this post are the 100 Piece Visionary Set which includes 75 Wooden Foundation Beams and 26 BionicStar Connectors in a reusable tote bag.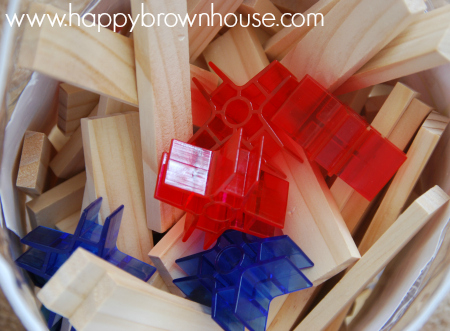 Interestingly, you can purchase just the BionicStar Connectors which are compatible with KAPLA Blocks, CITIBLOCS, or KEVA by Mindware. Great news if you already have some of these!

Connect With BionicBlox
Want to add these to your educational toy rotation? Go to BionicBlox and use the code HOMESCHOOL10 to receive 10% off your purchase. (Coupon Code expires November 10, 2013) These would make a great Christmas gift! 😉

This post is a part of the series,
31 Days of Open-Ended Play
. Be sure to read all the posts in the series for more great ideas for encouraging learning and creativity through open-ended play.