With this week's review of BionicBlox, our new favorite engineering toy, I thought it only appropriate that I share some of my favorite books about building with blocks, engineering, and architecture. Here is a list of 14 picture books about building with blocks, engineering, and architecture.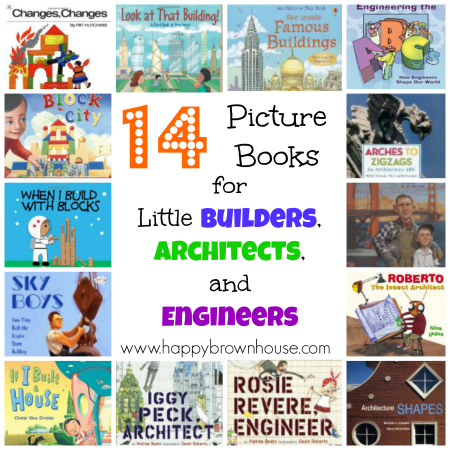 Changes, Changes
by Pat Hutchins is a wordless book about a wooden couple that changes their building block house into other objects when the house catches on fire. It's a clever little book that encourages children to tell the story in their own words.

Block City
by Robert Louis Stevenson is a book we were introduced to last year at our children's museum when they had a building exhibit. The illustrations are beautiful!

When I Build With Blocks
by Niki Alling is a cute little book that appeals to little ones. The illustrations give little builders ideas for building--everything from outer space to oceans.

If I Built a House
by Chris Van Dusen is a cute little book about the amazing things Jack would put in his dream house. I love the illustrations and there are plenty of blueprints and blocks throughout.

Iggy Peck, Architect
by Andrea Beaty is a funny little story of a budding architect. This one will make you and your kids giggle.

Rosie Revere, Engineer
by Andrea Beaty is about a little girl that secretly creates at night. Super cute! Perfect for girls!

Architecture Shapes
by Michael J. Crosbie is a counting book (1-10) that introduces preschoolers to shapes found in architecture.

Roberto, The Insect Architect
by Nina Laden is about a termite that wants to build with wood instead of eat it. Super cute with lots of puns for adults to enjoy while reading to kids.

Arches to Zigzags: An Architecture ABC
by Michael J. Crosbie is a great way to introduce architecture vocabulary in an ABC book format. Another thing that I like about this book is that it is real-life pictures.

Look at That Building: A First Book of Structures
by Scot Ritchie explores how a building is constructed, from foundations to roofing -- then has a practice building for kids to create themselves.

See Inside Famous Buildings (Usborne Flap Book)
by Rob Lloyd Jones lets you discover and explore some of the world's most famous buildings in a lift-the-flap book style. Super fun!

Engineering the ABC's: How Engineers Shape Our World
by Patty O'Brien Novak answers questions about how everyday things work and how engineering relates to so many parts of a child's daily life.

Sky Boys: How They Built the Empire State Building
by Deborah Hopkinson is a beautifully illustrated book about the men that built the Empire State Building in the Depression Era. I really, really like this one!

Pop's Bridge
by Eve Buntin is along the same lines as Sky Boys, but is about the building of the Golden Gate Bridge.

I hope this gives you some ideas for your little builder!
See our other book lists for kids
Rainforest Books for Kids
Canada Books for Kids
Mexico Books for Kids
Geography Books for Kids