On those chill-you-to-the-bone cold days, Broccoli Cheese Soup is my go-to soup recipe. Paired with a homemade loaf of bread, this quick and easy homemade Broccoli Cheese soup is a winter staple at our house. It is cold weather comfort food perfection. This homemade broccoli cheese soup recipe is very easy to whip up–even if you've never made homemade soup before! Eat your heart out Panera.


Homemade Broccoli Cheese Soup Recipe
The thing I like the most about this recipe is that there aren't any weird ingredients. I almost always have the ingredients on hand, and I can use the freshest ingredients available. According to a gluten free friend, she substituted a few ingredients and was still able to enjoy this recipe on the coldest of days. The ultimate test of this recipe is that my kids will even eat it! I'd say that makes this soup recipe a winner.
Ingredients:
One small onion, chopped finely
One stick of butter
1/2 cup Flour
2 cups Milk (can substitute with heavy creamy)
2- 32 oz cartons of Chicken Stock (or Homemade Chicken Stock if you have it)
2 Bags of Frozen Broccoli or Fresh Broccoli chopped
1/2 to 1 pound of Shredded Cheddar Cheese
Directions:
On medium heat, saute chopped onion in 1 stick of butter until onion is clear in a stock pot.
Add 1/2 cup flour and whisk continuously for about 2 minutes until golden brown.
Slowly add 2 cups of milk and whisk well. Once the lumps are dissolved in the milk, add 2 containers of chicken stock. Simmer about 20 minutes.
Add 2 bags of frozen broccoli or fresh chopped broccoli if you prefer. Simmer up to 20 minutes or until broccoli is soft.
If you need to thicken your soup, add a tablespoon of cornstarch and water in a bowl. Mix well and add it to the soup mixture. Boil for 1 minute.
Add 1/2 to 1 pound of shredded cheese, stirring until melted.
Serve with fresh bread.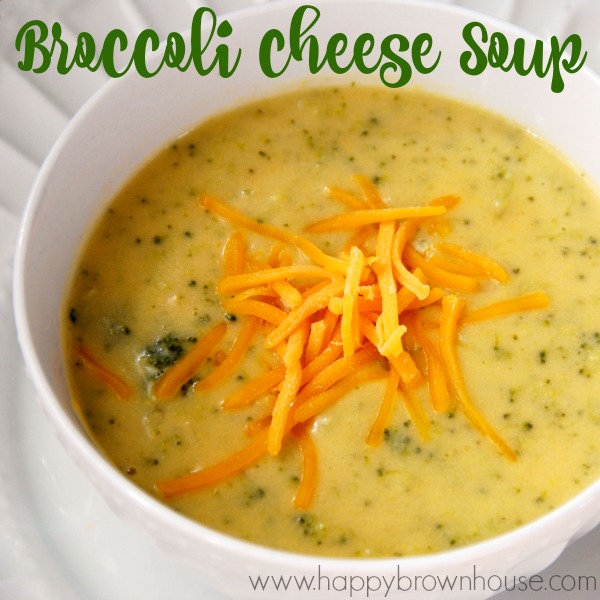 Our Other Soup Recipes:
Crockpot Chicken Tortilla Soup
Like this recipe? Subscribe to get more sent straight to your inbox!