These Christopher Columbus Activities for Kids are perfect ideas for teaching kids about Christopher Columbus. These hands-on history activities for kids are super fun ways to learn about the famous explorer. During our homeschool history lessons, we've looked at maps of Christopher Columbus' accidental voyage to North America, made our own versions of the Niña, Pinta, and Santa Maria, and so much more! I've pulled together all of the best Christopher Columbus Activities for Kids for inspiration and wanted to share them with you! This list would be perfect for your own Christopher Columbus unit study or for Columbus Day Activities for Kids in October.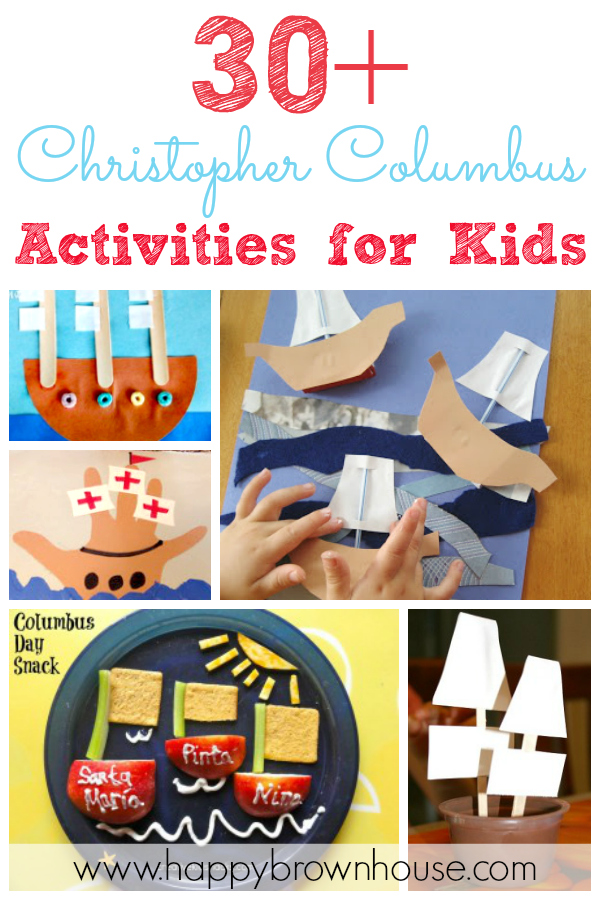 Christopher Columbus Activities for Kids
Have your little one practice cutting skills while making a Columbus Day Collage from Crayon Freckles. Isn't this one just adorable?
Make a Triple Sail Boat out of simple shapes, craft sticks, and cereal from Reel Mama.
Every explorer needs to know directions, so practice finding North, South, East, and West with this Compass Rose Craft from Kids Activities Blog.
Create a sensory experience with this Columbus Day Spice Painting. Kids will be sure to remember that Christopher Columbus was originally trying to find a western trade route to India and China with this activity!
Make an adorable handprint keepsake with a Handprint Columbus Boat Craft from The View from the Pew.
Follow along with the chalk pastel tutorial for Columbus' ship using the Classical Collection History Lessons from You Are An Artist. We had so much fun doing this one and it was a great addition to my kids' history notebook.
Give your kids an engineering challenge to design and build a boat that floats. This is a great STEM activity using recycle materials!
Recycle plastic fruit cups from your kids' lunch box to make some boats to float in the water table. Originally a Thanksgiving & Mayflower Craft, this would still work for Columbus and other explorers.
Dig in your recycle bin again and make Egg Carton Columbus Day Boats that really float!
Let your kids make this Cardboard Tube Telescope and then let them pretend to be Christopher Columbus looking for his first glimpse of the "New World".
Still want more boat ideas? Here is a round-up of 18 Boat Crafts for Kids to Make gathered by Kids Activities Blog.
Christopher Columbus Snacks for Kids
Make a healthy Columbus Day Snack with lots of fruits and veggies.
Serve miniature Nina, Pinta, and Santa Maria boats for a Columbus Day Muffin Tin Meal out of shrimp and cheese.
Create a Columbus Day Bento Lunch with an educational twist that is sure to please your little ones!
Christopher Columbus Printable Activities for Kids
3 Dinosaurs shares a Christopher Columbus Pack that has been updated to include 49 pages of fun! (Ages 2-8)
Royal Baloo has another great Free Christopher Columbus Printable Pack that includes different activities and super cute graphics! (school-age)
123Homeschool4Me has some super cute Columbus Day Coloring Sheets & Writing Prompts
In All You Do has a set of Free Columbus Day Coloring Activities with over 32 coloring pages.
Christopher Columbus Books for Kids
*affiliate links
Don't forget to pair these fun Christopher Columbus activities with a good book! Some of our favorites include:
Christopher Columbus (Step into Reading)
Who Was Christopher Columbus?
Christopher Columbus and the Age of Exploration for Kids: With 21 Activities (For Kids series)
A Picture Book of Christopher Columbus (Picture Book Biographies)
First Grade History: All About Christopher Columbus
My First Biography: Christopher Columbus
Christopher Columbus: Early America (Primary Source Readers)
Follow the Dream: The Story of Christopher Columbus
Explorers Who Got Lost
Columbus Day
Christopher Columbus for Kids: The Amazing Explorer Who Discovered a New World and Changed History Forever
101 Facts... Christopher Columbus Voyages!
Christopher Columbus : Explorer of The New World (A Short Biography for Children)
Christopher Columbus & Other Early Adventurers
Christopher Columbus: Great Explorer (First Biography)
Voyages of Columbus: Early America (Building Fluency Through Reader's Theater)
Columbus & the Renaissance Explorers
Where Do You Think You're Going, Christopher Columbus?
History for Kids: The Illustrated Life of Christopher Columbus
1492
You Wouldn't Want to Sail With Christopher Columbus!: Uncharted Waters You'd Rather Not Cross
First Voyage to America: From the Log of the Santa Maria
Columbus
Encounter