Using a Door Draft Stopper or a Draft Snake is a great way to help lower your heating bill and make sure your home is energy efficient. It also just so happens that a door draft stopper is also a very easy sewing project. With some scrap fabric and fifteen minutes, you can stop extra cold drafts in your house, too.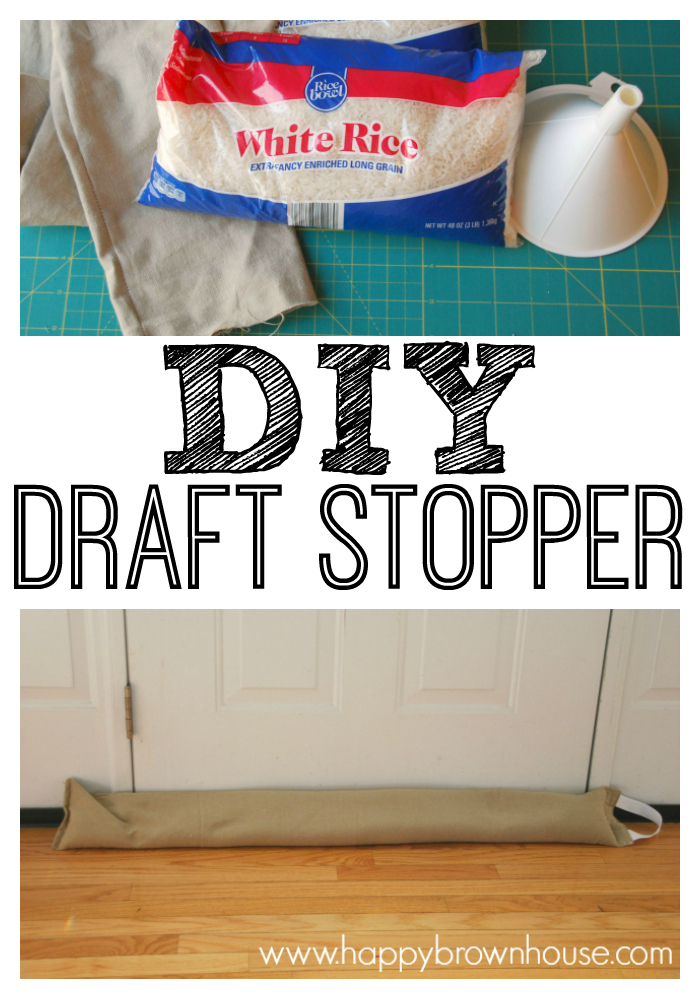 What is a draft stopper?
A draft stopper, also known as a draft snake, is a tube of fabric filled with materials such as rice or beans that can be placed in front of a door or window crack. It's a quick and easy fix for stopping cold air from coming in through cracks.
When should you use a draft stopper?
Winter is the ideal time to use your draft stopper to stop cold air from sneaking in from door cracks. However, draft stoppers used in the warmer months can also keep your cool air conditioned air inside instead of escaping out into the summer heat.
Do I need Draft Stoppers or Weather Stripping?
One important thing to note: A draft stopper is NOT a replacement for doing regular home maintenance needed to keep drafts out. Before using a draft stopper, you should definitely make sure that your weather stripping and caulk around exterior doors and windows is in good condition. This also includes any openings to the attic or other unconditioned spaces in your home.
However, there are times you might need an extra layer of draft protection based on your situation. For example, if you have an old, drafty house or if you are a renter who is at the mercy of a landlord's maintenance, a draft stopper can really help. Even newer houses with tall ceilings and open floor plans can be chilly in certain parts of the house.
DIY Door Draft Stopper/Draft Snake Tutorial
Sewing Level: Beginner
Time: 15 minutes
Cost: $0-$10
Materials Needed for a Door Draft Stopper:
Fabric (mine was from my extra fabric stash)
Thread
Sewing machine
Measuring Tape
Rice
Twill Tape (optional)
How to Make a DIY Door Draft Stopper/Draft Snake
Measure your door and add a few inches. This doesn't need to be super exact. Cut fabric to your measurement. I found a piece of fabric in my stash that was perfect, so I didn't even cut the length.

Fold in half lengthwise (hotdog fold). Pin the long edge and one short end closed.

Sew one short end. Lift your presser foot, turn, and sew all the way down the long side. Clip corners, being careful not to cut the seam.
Turn the tube inside out. Use a pencil to gently help you poke the corners out if you need to.

Fill ¾ of the way with rice. My husband helped me with this part. Pro Tip: Don't overfill the tube. If it's too full, it won't fit snugly against the door or window.

Fold the rough edges on the open end of the tube inside about an inch.
Optional: If you want to add a handle loop for easy storage when not in use, cut a piece of twill tape. Insert it in the opening to form a loop. Pin in place.

Sew shut. Reinforce the opening with more than one stitch. (I moved my sewing machine all the over to the edge of the table and asked my husband to hold the rice filled tube while I sewed the opening shut.)

Note: I store mine hanging on a hook in my laundry room when not in use.
I've made draft stoppers for all of our exterior doors in our house, especially the door between the garage and our new basement homeschool room. They keep the cold air out and the warm air in. I'd say that's a pretty fantastic frugal winter sewing project that will help keep you warm.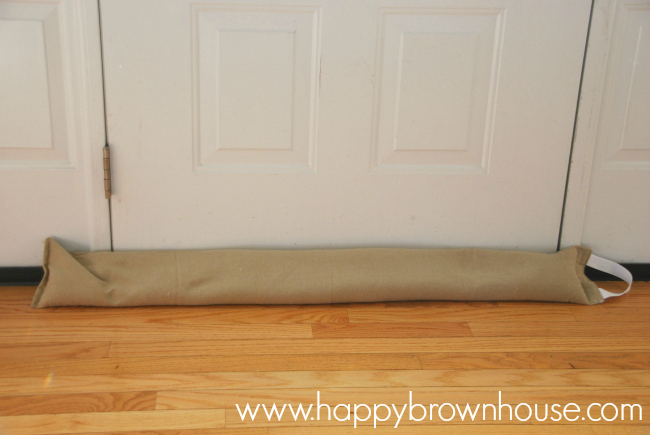 Other Beginner Sewing Projects You Might Like: