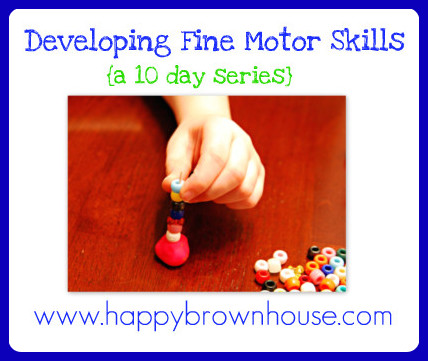 Lacing is a classic fine motor activity for preschoolers. Manipulating the string in and out of the holes takes a lot of effort for little fingers. It strengthens dexterity, hand-eye coordination, and the pincer grasp. Sometimes this activity can be frustrating for them when the string falls out of the hole before they can grab it with the other hand; it builds patience and perseverance.
Pool Noodle Lacing
Last summer I cut up pool noodles to make giant foam beads for Jonah to practice lacing. I added letters and numbers to the beads to help target certain learning skills we were focusing on during our school time. He had an easier time lacing with the larger pool noodle beads than the smaller beads we had tried in the past. If you have a young preschooler, the large beads may be a great starting place for your child. The foam beads are easier to manipulate because they don't roll around as much and the holes are larger for the string. (You can see the full tutorial I wrote over at Totally Tots.)
Ribbon Weaving
One of Jonah's favorite things to do when he was three years old was Ribbon Weaving with a cookie cooling rack. It was so easy to set up that he could set it up himself! We stored all of the ribbon pieces in a bag in the activity cabinet, so he could pull it out whenever he wanted. For older children, have them create a pattern with their ribbons.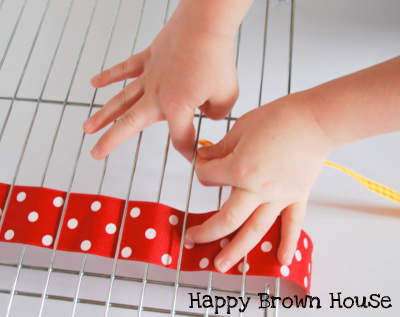 Lacing Cards
Lacing cards are easy to make. Basically, you need something with holes and a string. You can use toilet paper rolls, recycled cardboard or cereal boxes, plastic baskets with holes, and more to make free lacing activities. Use your imagination!
I made lacing cards using plastic canvas from the craft store. To make the activity a little more advanced, I introduced a plastic sewing needle for Jonah to explore "sewing" with yarn. He had fun with this, but also found it much more challenging.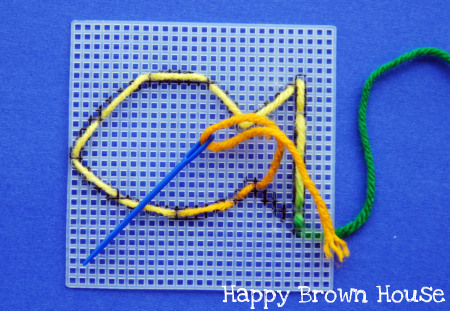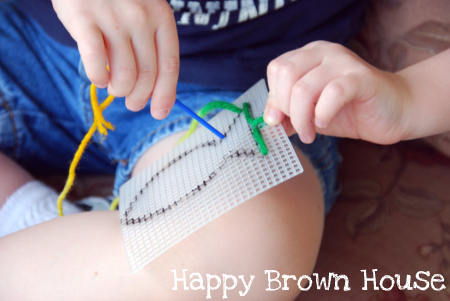 Other Lacing Tools We Use and Love

Melissa & Doug Primary Lacing Beads

Lauri Toys Dot-2-Dot Lacing Shapes

Lauri Toys Lace and Link Letters (Uppercase)

Lauri Toys Lace and Link Letters (lowercase)