Jonah's been sick the past few days, which means there's been a little too much television. While there's nothing wrong with a show here and there, I'm not a big fan of him sitting in front of the TV for hours on end. He's wanted to sit in my lap quite a bit, so I tried to sneak in a little learning fun on the laptop in between snuggles.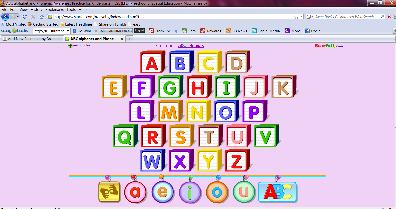 Our favorite website to visit is Starfall. I let Jonah explore the letters of his choice for as long as he was interested. Starfall captured his attention and we made it through the entire alphabet. There is a rhythm to Starfall, and Jonah caught on pretty quickly with repeating the letter sounds...it also probably helped that I was saying the sounds, too. 🙂
Jonah's well on his way to learning the alphabet and letter sounds due to our other regular alphabet activities, but it's always fun to add a little variety into the routine.
Do you use computer activities with your tots? What are your favorites?