Jonah and I have been slowly, but surely getting ready for my next post on Totally Tots. (It goes up on Thursday, but every day is full of pure preschool awesomeness around there!) One of the things we've been playing often is the Parking Lot Game! It's fairly simple, but Jonah loves it!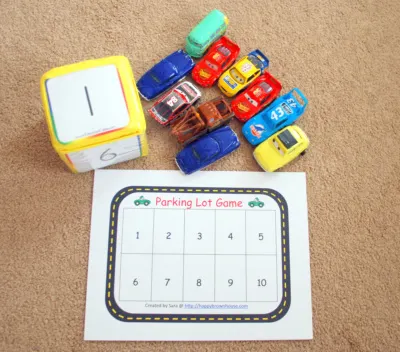 Parking Lot Game
Materials needed:
Dice (We used our new Education Cubes)
Ten Cars or other small space markers
Parking Lot Game Beginning Math Mat (click to download)

Directions:
Roll the dice
Count the dots on the dice or identify the number
Place a car in the correct "Parking Space"
The first person to fill up their parking lot wins!
It's a fairly simple game, but just hard enough for Jonah during this time of learning to identify numbers. Jonah's interest level with numbers is really low for some reason. He would much rather talk about the alphabet and their sounds. I've been trying to come up with some fun ways to get Jonah interested in learning numbers. Like most boys, using his cars was a sure fire way to get Jonah's interest!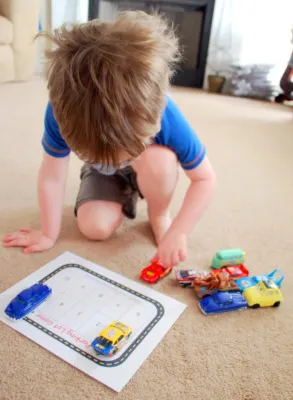 I've made a printable available for you and your little one to play the Parking Lot Game! Feel free to download it and use it over and over! I recommend printing the game mat on cardstock and laminating it for durability.