We love Eric Carle
books. Alot. They are the books that we return to over and over and over again.
One of the things that make Eric Carle
books so unique are the way he makes his illustrations. They are made from paper that he has painted and added texture to himself. (You can see more about his process by watching this video.) Once he paints his tissue paper, he uses it to create collages. (You can see more about his process by watching this video.) I think his process is fascinating.
Or, maybe I'm drawn to his creation process because it is attainable for even the youngest of artists...
Jonah and I had some fun during the "Plague of 2012". I mean, there are only so many movies a kid can watch when he is sick and it's raining outside, right?!?! As we were painting with watercolors, I took a white crayon and made a pattern on some paper when he wasn't looking. When he painted over the white crayon, he thought it was magic.
"Mommy, look! How did it do that?!?!?!"
I explained how, this time showing him the process. He painted over it again just as bright-eyed as before.
"Mommy, can we make more?"
And so it began...The Pretty Paper Factory.
The only problem with the Pretty Paper Factory is that eventually, papers are drying on every flat surface. And then, once they are dry, I have a stack of treasures that Jonah won't part with.
My solution: The Collage Box
Yes, I really cut up his watercolor pages into 4 smaller rectangles. I asked permission first.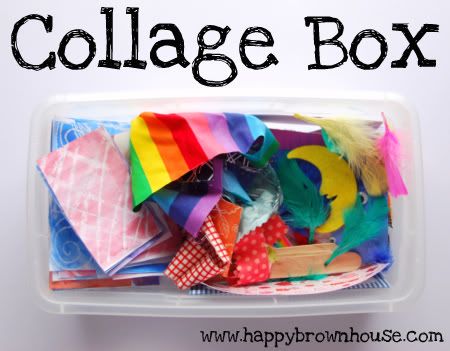 To read about the Collage Box, you'll have to visit Totally Tots. I'm sharing about The Collage Box over there today!
Want some other Pretty Paper Factory ideas? I'll be back with more! Subscribe so you don't miss them!