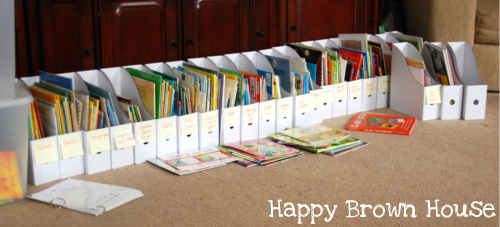 I have an insane amount of children's books. I think most former teachers do. Until recently, they were boxed up because we really didn't have the room for them. When I was looking for a specific book to use with Jonah, I would have to go digging and end up frustrated. It just wasn't working for me, especially as I planned out "Mommy's Official Preschool" and worked to transition us into a more structured learning time. Plus, the kid LOVES books and it was past time to rotate our book basket.
So, thanks to Ikea and their great prices, my books finally came out of hiding! This organization project was no small feat. I knew that it would drive me crazy if they weren't organized into categories. In my Kindergarten classroom, that was the way they were organized, and my brain still works that way when I try to find a book. So, I purchased several sets of the Ikea Flyt Magazine Holders and put each of the categories in a separate holder.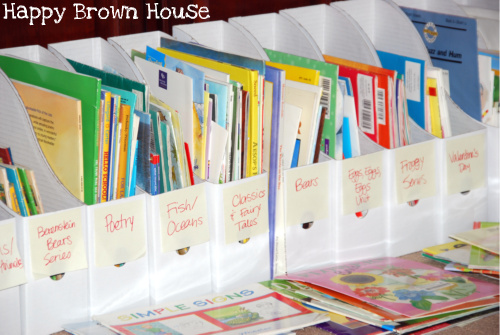 So I sorted...
and sorted...
and sorted some more.
My books that had been hiding in the basement thanked me for letting them come out to play.
I found two tall bookcases at a consignment sale for a great deal and it was a match made in heaven!