Ok, so I know that I have an embroidery machine to make most of my cute appliques for my Etsy Shop. However, I know not everyone has a fancy embroidery machine to do all the hard work. Fear not, my friends, you too can add a cute applique to clothing, pillows, or anything else you can think of that needs some extra cuteness without an embroidery machine!
How to Applique Without an Embroidery Machine:
Materials:
Shirt (or item you are adding an applique to)
Fabric for applique
Heat'n Bond Lite Iron-on Adhesive (says "sewable" on the package)
Pattern for Applique (mine is an outline of Africa straight off the internet)
Scissors
Sewing Machine
Thread
Directions:
1. Gather your materials (Forgive me, I switched shirt colors after I took this picture)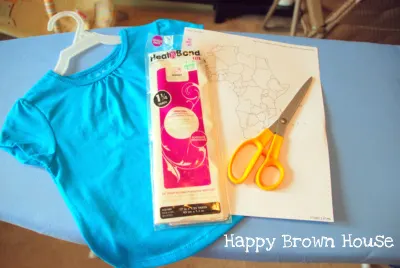 2. Iron the Heat-N-Bond Lite on the wrong side of the fabric. Make sure you are ironing the side with adhesive to the fabric...if not, you'll have a mess on your iron! The smooth paper side should be the part you are ironing. (A word about Heat-N-Bond Lite: There are different kinds. You want to make sure you get the kind that is sewable. If you don't, it will be really stiff and will get your needle all "gunked" up. Make sure it is the LITE version.) Read the directions if it's the first time you've used Heat-N-Bond.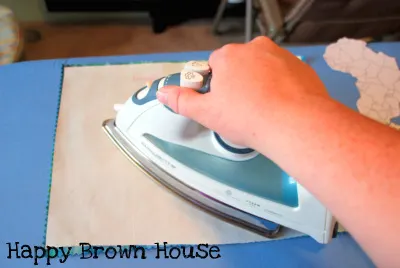 3. Cut out your pattern (if you haven't already). Flip your pattern and trace your pattern BACKWARDS on the paper of the Heat-N-Bond. If you trace your pattern right side up, your pattern will be backwards when it is time to place it on your clothing. Trust me.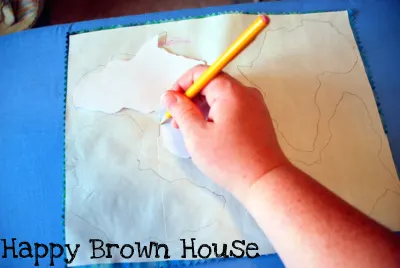 4. Cut out your applique. Flip it over...see, told you it would look right in the end. 🙂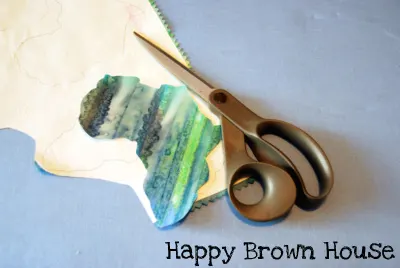 5. Peel the paper backing off the fabric. There will be a "sheen" from the adhesive that transferred to the fabric. Find the proper placing for your applique.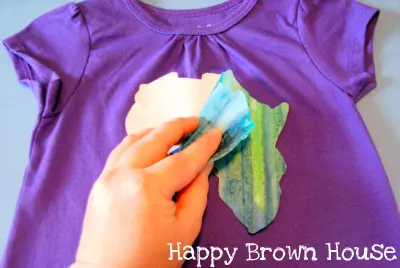 6. Using the proper heat settings (refer to the packaging), iron the applique in place.
**Oops! I missed this picture....imagine an iron 🙂
7. In order to make it easier to maneuver my shirt, I removed the bottom portion of my sewing machine. Now I can slide my shirt over the arm of the sewing machine.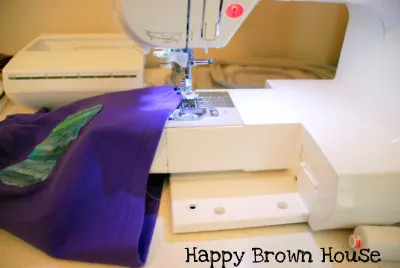 8. Topstich around the applique. Go slowly and stop as needed to turn your needle or adjust your shirt. I did a simple straight stitch, but you can get fancy if you'd like depending upon the stitches you have on your machine. Zig-zag is always fun, but might be hard to control the first time using this technique or if your applique is curvy...like my Africa shape.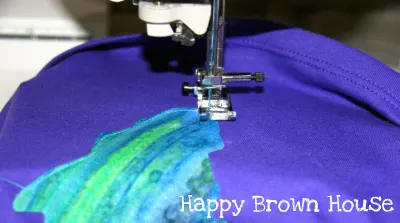 9. Voila!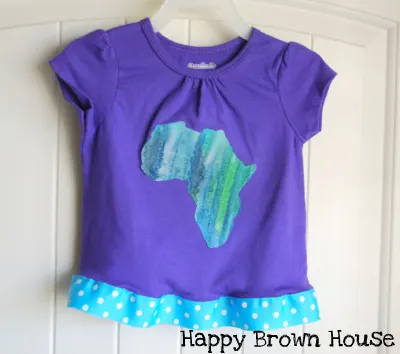 See, it is easy to applique without an embroidery machine!
Any questions? Ask it in the comments!