I wanted something unique for Jonah's Pirate Birthday Party invitations....and I think I was successful!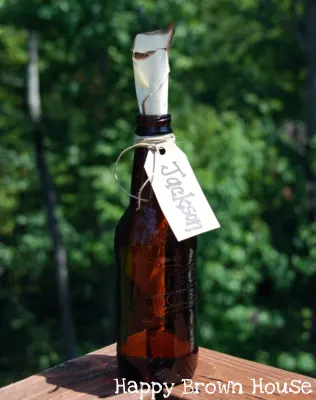 These Message-in-a-Bottle Invitations were easy. The part that took the longest was collecting the Root Beer bottles since I'm the only one that likes Root Beer at our house.
You will need:
Root Beer bottles
Invitation printed on 8 ½ X 11" paper
Lighter (optional for burned edges)
Small Twine
Brown Tags or cardstock to make your own
Marker
Directions:
Drink the root beer and clean the bottles. Let them dry. (Be the cool mom and serve Root Beer Floats for dessert to get this done quickly 🙂 )
Type your party details in a basic word processing program. Pick a "pirate-y" font and add in some pirate phrases for fun! (My example is below)
Print (I used cream printer paper left over from resumés.)
Optional: I chose to burn the edges to make it look old and worn. Go slow. I found a lighter worked better than a candle. Use caution and do this over a sink of water in case you get out of control. Please be careful!! Disclaimer: Do this at your own risk. I'm not held liable for any damage you incur.
Roll up the invitation tightly and place inside the empty bottle.
Make tags with names and attach to the bottle with twine.
Deliver! We snuck over to the houses and placed the bottles on everyone's porch. Luckily everyone lives close by!
Here is what our invitation said:
Arrrrrr you ready to party?

Captain Jonah is turning 4!

The ship sets sail: July 23, 2011 at 11:00 a.m.

X marks the Spot: Captain Jonah's backyard

Wear a bathing suit & bring a towel.

RSVP by July 16th or walk the plank
Come back tomorrow to see more of Jonah's Pirate Birthday Party!