What's a Pirate Birthday Party without a little danger & suspense? How about some "Shark-infested Waters" on the high seas?!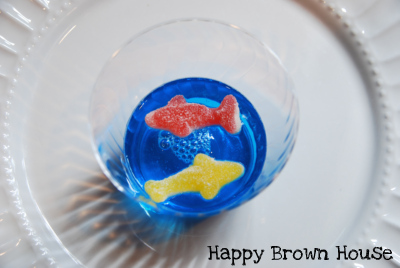 The "Shark-Infested Water" Jello Treats are super easy to make! This was one of Jonah's favorite parts of his party...probably because he helped make them!
You will need:
Blue Jello (This treat takes two steps, so you'll need atleast 2 packages depending on your desired servings.)
Gummy Sharks (I actually found these at the Dollar Tree in the candy section)
Clear cups (I used Chinet Cut Crystal 9 oz. cups)
Directions:
Make blue jello according to the package. I used the "quick-set" method since I wanted the first layer of the jello to finish quickly.
Pour jello into clear cups halfway to your desired serving size. Place in the refrigerator and wait until the jello layer is "set".
Once the first layer of the jello is set, place Gummy Sharks on top.
Prepare second layer of blue jello according to the package. Pour on top of the gummy sharks and first layer of jello. (I guess this part could be optional, but I wanted the sharks to be in the jello. You'll also notice, I forgot to take a picture of the final outcome. Sorry!)
Refrigerate overnight or until jello is "set".
Serve to the pirates!
A few tips:
A few of my gummy sharks kept wanting to flip over on their backs and float. To fix this, I let the jello start to set halfway and start to get thick. Then, I flipped them over to their belly. This seemed to do the trick and they finally stayed put.
Another thing to try to avoid the gummy sharks from moving too much is place the gummy sharks on top of the first layer of jello before it is completely set and hardened. This might have worked better than my method mentioned above, but I didn't think about it until after it was too late to fix.
Other Pirate Party Details: Message-In-A-Bottle Invitations