Description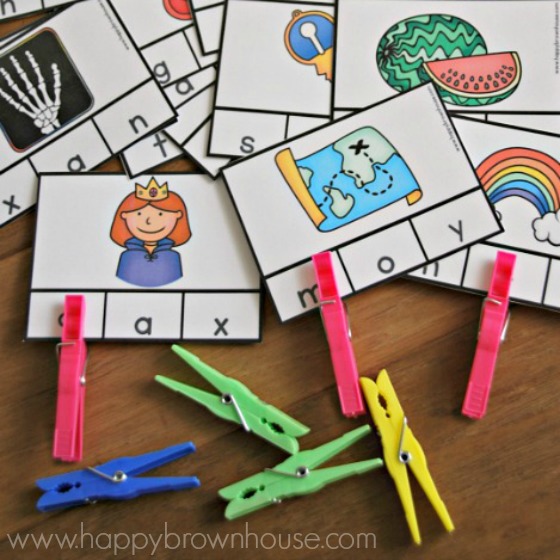 This set of printable Alphabet Beginning Sounds Clip Cards is a perfect way to practice beginning sounds with preschoolers or kindergartners. By combining the task of clipping clothespins to the cards with beginning sounds, children will strengthen their fine motor skills as well as their letter sound knowledge.
I hope your child has fun with these and they provide you with a quick preschool activity for busy bags, learning time with mom, or to keep your little one busy while you are homeschooling the older children. These would also be great to put in quiet boxes if your child no longer naps and you have a special quiet time each afternoon. Classroom teachers will also love these as an alphabet activity for a literacy center.
Each card has a picture of an item and below it there will be three boxes with letters--1 correct beginning letter and 2 incorrect beginning letters. Children will place a clothespin on the correct beginning sound.
For more information about how to use these with your children or students, please see the corresponding blog post that explains more details and teaching tips for the Alphabet Beginning Sounds Clip Cards. You'll find a brilliant tip for making these self-checking that will be a game-changer.
---
Please note that this is a digital file, so no physical product will be mailed to you. Per my terms of use, there are no refunds on digital products and when purchasing a product or requesting a free download, your email address will be added to my email list (Happy Brown House).
After your purchase is complete, your order (download link) will be available for immediate download on the completed order page. If you miss it, you will receive a confirmation email from me which will also contain the link for your download. If you somehow miss that one too, all your products/downloads (free and paid) will be in your account (found in the "my account" tab on my website under the "shop" tab).