My niece's birthday was last weekend. She's a huge fan of Jesse from Toy Story and I was inspired to make her an outfit. Since I don't have a girl of my own yet, I loved getting the chance to sew something extra girly for her present....I live vicariously through the little girls in my life.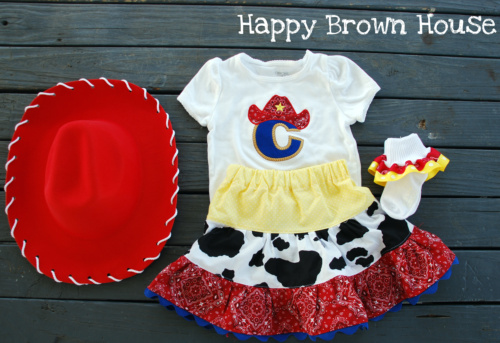 I embroidered the shirt using the Cowboy Applique Alphabet from Planet Applique. The skirt is a a three-tiered twirl skirt. I also made ribbon ruffle socks. The cowboy hat was a lucky find at the Dollar Tree! I used my hole punch to poke holes in the edge of the hat and added some white cording to mimic Jesse's hat. I can't wait to see her in her outfit!
*Tutorial for Ruffle Socks and a Three-tiered Twirl Skirt coming soon! (Taking pictures for tutorials is a lot of work!) Make sure to subscribe so you won't miss these adorable tutorials!
Linking up to:
A Crafty Soiree @ Katie's Nesting Spot, Feature Yourself Friday, Just Something I Whipped Up @The Girl Creative