One thing is for sure, Happy Brown House loves VeggieTales! Bob, Larry, Junior, Madame Blueberry....you name 'em, we love 'em!
One of the biggest surprises from my trip to Relevant was meeting Shannon from Big Idea and getting the chance to go see VeggieTales Live! We were so excited! I tried to keep it a secret from Jonah, but I'm weak and couldn't contain my excitement... besides, watching him get pumped up is part of the fun!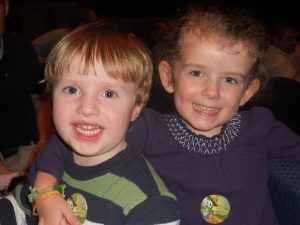 Jonah and his friend had such a good time dancing in the aisle and singing along with the words to our favorite VeggieTales songs. When I asked Jonah what part was his favorite, he said "Oh, Where is my Hairbrush? That was a really good one, Mommy." And well, I have to agree!
VeggieTales Live was full of energy and definitely a great show! In true VeggieTales manner, the characters learn about sharing as they go through the Silly Song Countdown...with a few 80's classics thrown in. Ahh, "Gourds Just Wanna Have Fun!"
The VeggieTales Live Tour is winding soon, but there is still time to see if they are coming to a town near you! I guarantee your little ones will love it!