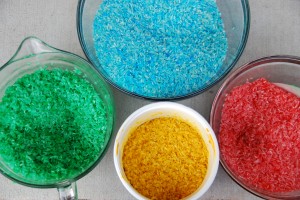 Jonah and I had some rainbow fun! We used the same method we used last year for dying pasta to mix up a batch of Rainbow Rice. Jonah has been having loads of fun moving rainbow rice with his little bulldozer from his Nana. We've even had a treasure hunt in the rice!
Why rainbow rice?
It's a Sensory Integration Activity. To put it plainly, it's using your senses to explore and help your brain process the world around you. This particular activity is a tactile activity because it involves textures. Some children have trouble processing in this area and need sensory integration therapy. I think most "normal" children (and adults, too!) fluctuate between different ends of the sensory processing spectrum depending on the day. I know I do!
It's fun!
It's soothing (kinda like letting sand pass through your fingers)
It's less messy than sand. (Plus, Jonah hates sand. I'm hoping we can work ourselves up to using sand eventually.)
It's exploring! Here are a handful of skills involved: Cause/Effect, pouring, scooping, using funnels, and many more!