My hydrangeas are starting to bloom and I've filled up my potted plants with my favorite annuals. I've had flowers on my mind lately. I've rounded up 10 Flower Fine Motor Skills Activities that are a perfect way to celebrate the spring and summer colors with a fine motor twist. You'll find flower crafts, flower learning activities, and other creative ideas with a fine motor focus in this list. You're sure to be inspired!
10 Flower Fine Motor Skills Activities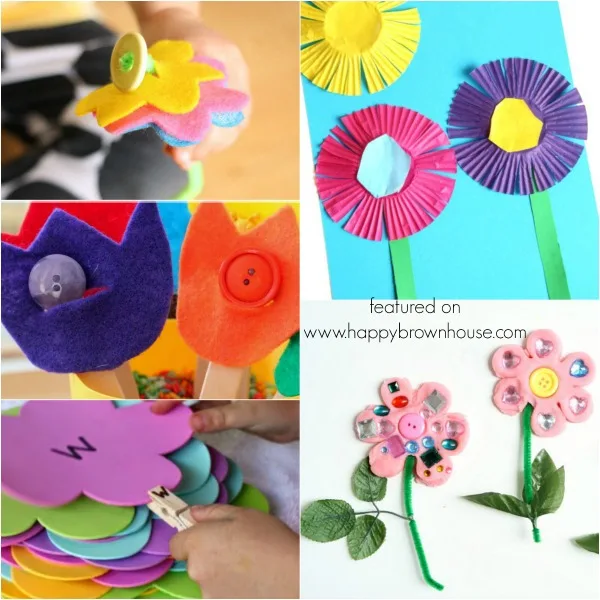 Add loose parts to your playdough and encourage your child to make flowers with this idea for Flower Garden Playdough from Fantastic Fun & Learning.
Practice buttoning with the Color Matching Flower Buttons from The Kavanaugh Report.
Practice buttoning and weaving with this Felt Flower Button Snake from Kids Activities Blog.
Practice cuttings skills with cupcakes liners with this Flower Scissors Skills Craft from Sugar Aunts.
Use foam flower shapes and clothespins for this Flower Fine Motor ABC Match from Learn~Play~Imagine.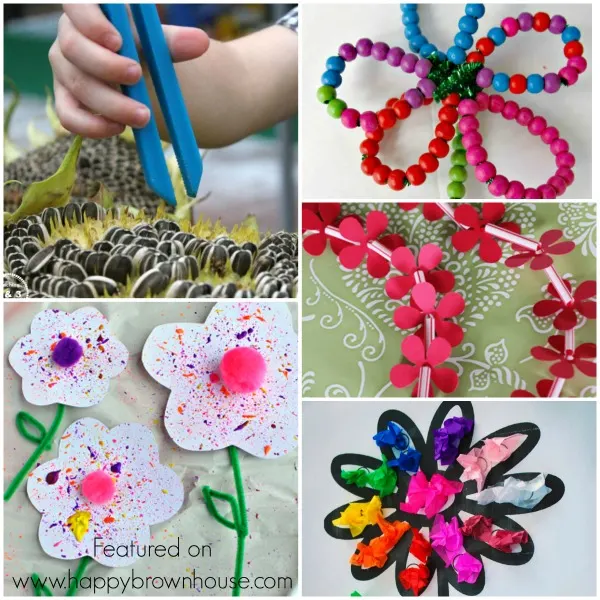 Use a toothbrush to splatter paint on flowers with this adorable Splatter Flower Craft from Crafty Morning.
Practice cutting and threading by making Homemade Hawaiian Leis from Crafting Chicks.
Practice threading with beads and pipe cleaners when you make this Fine Motor Skills Flower Craft from B-inspired Mama.
I love this idea for Fine Motor Fun with Sunflowers from Teaching 2 and 3 Year Olds where the kids use tweezers to pull out sunflower seeds.
Practice scrunching tissue paper with this Tissue Paper Flower Art Activity from Mess for Less.
Every month I'm partnering up with a group of kid bloggers to bring you over 100 ideas for crafts, learning, recipes, science, sensory and more! This month's theme is flowers. You're sure to find something you'll love in this fantastic list.
Top 10 Flower Sensory Play Ideas from Sugar, Spice & Glitter
Top 10 Flower Activities for Preschoolers from Living Life and Learning
Top 10 Flower Wreaths from Witty Hoots
Top 10 Flower Art Projects for Kids from Craftulate
Top 10 Flowers for Summer Color by Our Good Life
Top 10 Flower Recycled Crafts by Teach me Mommy
Top 10 Flower Petal Art Ideas from Our Whimsical Days
Top 10 Flower Sensory Bins from Adventures of Adam
Top 10 Flower Painting Ideas from Messy Little Monster
Top 10 Sunflower Activities for Preschool by Preschool Powol Packets
Top 10 Flower and Garden Themed Snacks from Something 2 Offer
Top 10 Flower Math Activities from Play & Learn Every Day
Top 10 Book-Inspired Flower Crafts for Kids from Playground Parkbench
Top 10 Flower Books for Kids from Sunny Day Family
Top 10 Flower Suncatchers from Rhythms of Play
Top 10 Magical Fairy Gardens from Crafty Kids at Home
Top 10 Ways to Study Flowers (with a giveaway!) by The Usual Mayhem
Top 10 Flower Projects to Eat, Wear, Decorate, or Gift by Words 'n' Needles