This Alphabet Dominoes Busy Bag is perfect for preschoolers learning to identify and match beginning sounds using pictures and letters. This is a great busy bag idea to use at home or would make a great literacy activity for a kindergarten classroom.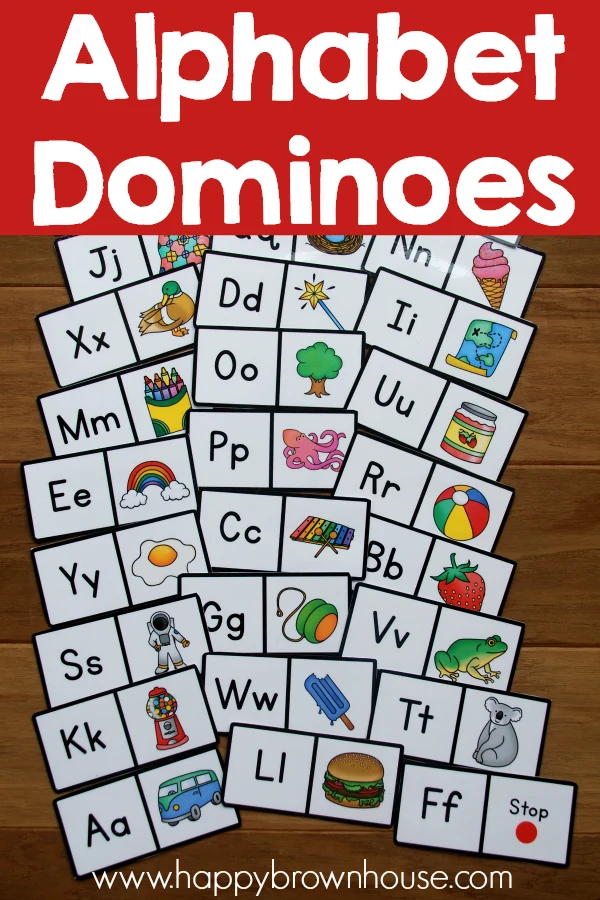 The game is easy to play and they'll be working on important literacy skills at the same time. My preschooler really likes to play this game and line them up all the way across the living room. It takes up some space when all lined up, but it could be modified for a smaller space by making a second or third row.
Alphabet Dominoes Busy Bag
You will need:
Directions:
Purchase and download the Alphabet Dominoes printable.
Print, laminate and cut the dominoes out.
Now it's time to play!
How to Play:
Find the "Start" domino with the green light.
Look at the picture on the right side of the domino.
Find another domino that has the beginning sound letter and place it next to the first domino. Repeat.
Children will place the Alphabet Dominoes in a straight line. (We usually play this in our living room floor where we have lots of space.)

When they have matched all the letters and pictures, they will come to the "Stop" domino with a red light.
I hope your child enjoys this game as much as we do. It's a great alphabet activity for preschoolers or kindergarten kids to learn their beginning letter sounds with a little fun attached.
These skills are some of the first steps to reading, so they are important for kids to master. As always, I like to make learning fun and inviting.
This game gave my preschooler a physical workout as he went back and forth between the domino line-up and the pile of dominoes waiting to be placed in the correct order. To add some movement with this game, have your child do different types of movements between the domino line and the pile--hopping like a bunny, slithering like a snake, galloping like a horse, or crawling like a bear are all favorites around our house.
Of course, this is also a great quiet time activity, too. To help you out, I've included an answer key in the download.
Buy this printable in my blog shop for instant access
*Please note: The free period for this printable is over.
Other Printable Busy Bags you might be interested in:
Alphabet Beginning Sounds Clip Cards Busy Bag
Block Shadows Busy Bag
Clock Puzzles Busy Bag
Tracing Lines Busy Bag