This is a sponsored post written by me on behalf of Clorox for IZEA. All opinions are 100% mine.
Teaching kids to clean the bathroom, and clean it well, is one of my ultimate goals as a mother, that's why I put together this Bathroom Cleaning Kit for Kids and attached a Bathroom Cleaning Checklist for Kids to ensure a job well done. I've always tried to involve my kids in cleaning from an early age. As preschoolers, they would help moving the laundry around, picking up toys, and even learning how to sweep up their crumbs from under the table after meals. As our oldest son has matured, his responsibilities around the house have grown, and he's finally ready to start cleaning the bathroom by himself. To make cleaning the bathroom easier for him, I made a Bathroom Cleaning Kit for him with a bathroom cleaning checklist in the form of flippable chore cards to help him remember the steps. I'm sharing the Free Printable Bathroom Cleaning Checklist for Kids below, so don't miss it! (UPDATE: I made some Editable Printable Chore Cards for Kids for the entire house!)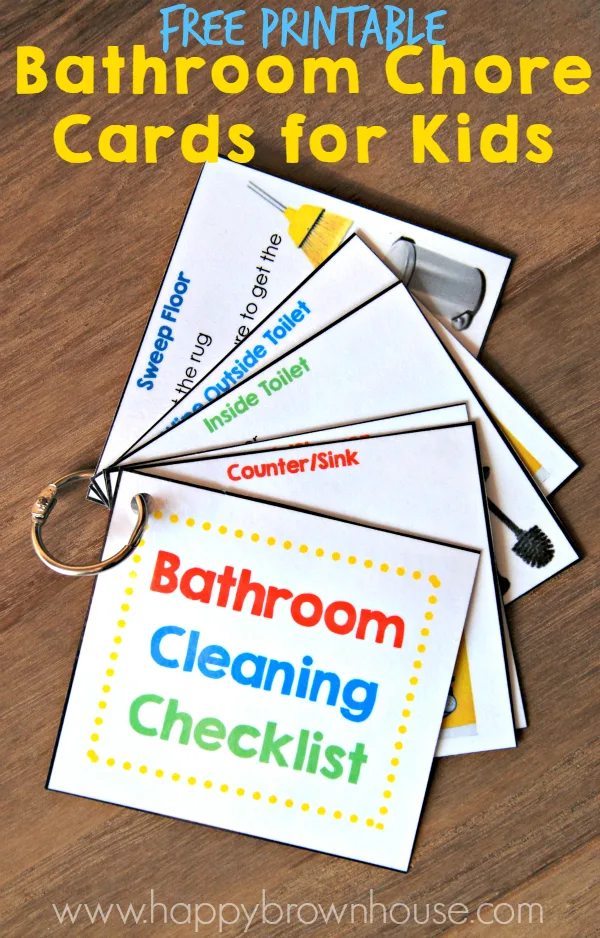 DIY Bathroom Cleaning Kit for Kids
To make our Bathroom Cleaning Kit, I gathered a few basic items that the kids could use and placed it in a plastic basket. I added a bathroom cleaning checklist to help the kids remember what to do when cleaning a bathroom correctly. Then, I placed the bathroom cleaning kit under the bathroom sink where the kids could easily grab it when it's chore time. Our Bathroom Cleaning Kit includes:
*Note: My kids are not ready to do the mirrors yet--they aren't tall enough and it is always streaky when they try, so that is my job after I go to the bathroom to inspect their finished chores.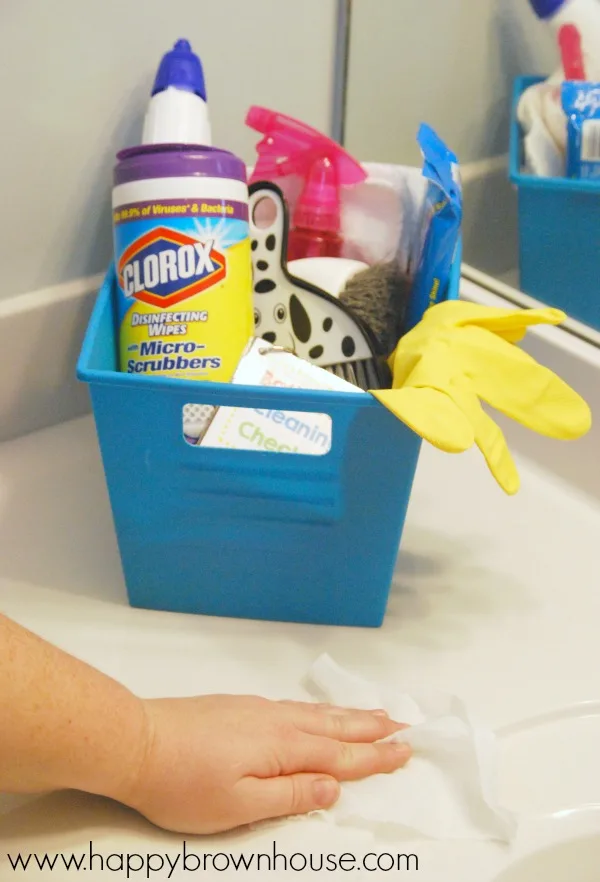 I love to let the kids use the Clorox® Disinfecting Wipes with Micro-scrubbers available at Target to clean the bathroom because I know they aren't spraying lots of chemicals in the air and I know the wipes are killing the germs. Clorox® Disinfecting Wipes with Micro-Scrubbers not only wipe out germs, dirt and grease, they're textured to scour away stubborn messes other wipes leave behind. We can clean and disinfect tough messes in one easy step--just wipe and go!
Kills 99.9% of germs that can live on surfaces for up to 48 hours
Kills 99.9% of Viruses* and Bacteria
Kills Staph†, E.Coli‡, Salmonella§, Strep**
*Human Coronavirus, Influenza A2 Virus; †Staphylococcus aureus; ‡Escherichia coli O157:H7; §Salmonella enterica; **Streptococcus pyogenes
There's something so easy about using the wipes that encourages my kids to clean every surface in sight, and well, during cold and flu season, I don't mind! The scrubby texture cleans tougher messes caused by soap scum and grease, disinfects 2x the surface area, and works on just about any surface. For my little boys that have trouble with "aiming" I have them wipe up the floor around the base of the toilet to keep their bathroom smelling fresh.
Printable Bathroom Cleaning Checklist for Kids
To help my oldest son remember the bathroom cleaning tasks for this kids chore, I made a Printable Bathroom Cleaning Checklist. I attached it to the Bathroom Cleaning Kit that I placed under the sink in the kids' bathroom. This will help him remember all the things I taught him about how to clean a bathroom to my standards and will lower the amount of reminders I will have to give for this kids chore.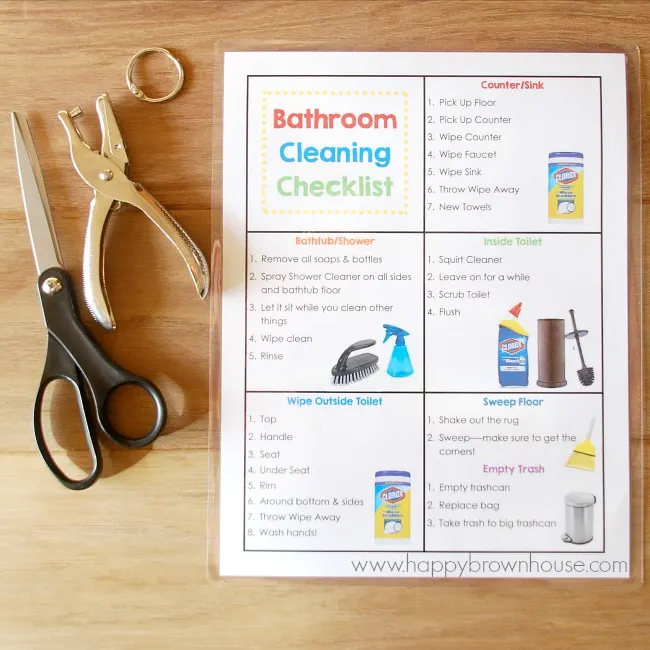 I am sharing this Free Printable Bathroom Cleaning Checklist for Kids with you, so feel free to download it below! Download: [Download not found]
Since this printable checklist will be in the bathroom with cleaners, water, and my children's germy hands, I laminated it, cut the chore cards apart, and placed them on a ring. This will help my kids from getting overwhelmed, so they can follow their bathroom cleaning routine step-by-step. Plus, if anything gets on the cards, we can wipe them with a Clorox wipe, too! It's a win-win.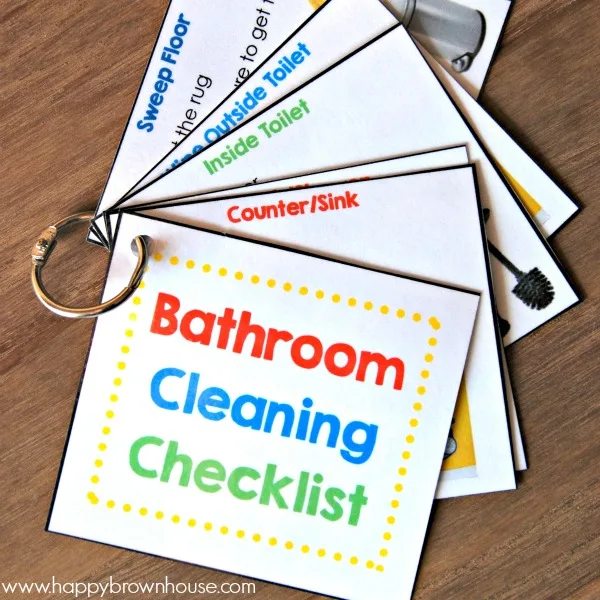 What are your favorite cleaning tips for kids?
Want to get EDITABLE cleaning chore cards for the entire house? I made a set just for you.