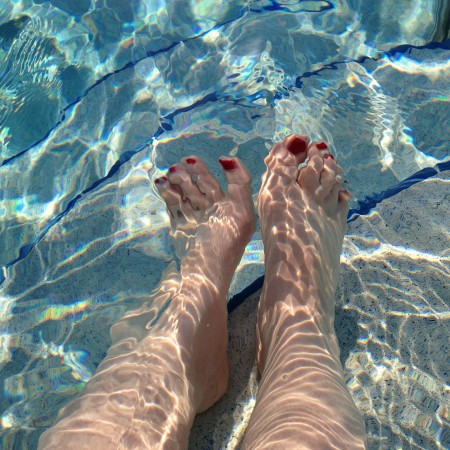 When I was a little girl, I would take a big, deep breath and sink to the bottom of the pool. I wondered just how long I could last before springing to the surface gasping for air. Truth be told, I'm an asthmatic, so it wasn't very long before my lungs felt like they were on fire and my heart was racing in my chest. It never failed that right as I was floating to the surface, a sense of panic would set in as I used up the last of my stored oxygen.
I need breathing room.
I feel it way down deep, this primal need for space and quiet and thinking and just...breathing. Funny thing is, I've been holding my breath for the past eight months...longer if you count my sickness during pregnancy.
I feel it. My chest is tight and my lungs are screaming for oxygen...for space...for quiet...for a full night's sleep or a date with my sewing machine. But, I just don't see these things anywhere in sight.
And I wonder...
Are we about to float to the surface?
Are we about to break through and catch a big breath?
Because I just don't feel like I can hold my breath an longer.
_________________________
As I shared some things on my heart last weekend at the 2:1 conference with Jodi, she asked my why I hadn't written about these things that I was feeling in this very tough time with Asher, the boy who never sleeps and prefers me over everyone. My answer, "It's just too raw. People are going to be concerned for my well-being or unsubscribe." She then reminded me that I might have someone reading who needed to hear the very thing I write. So, here I am, wearing my heart on my sleeve for you, reader, even if it means tearing down my wall of "fine" and revealing that I'm not always put together.
I don't know who you are. I don't know why you're holding your breath today. But I know this, He is able and He loves you. Whether He lifts you to the surface just in time to let you gasp for air, or He brings you a scuba mask and an oxygen tank below the surface, He is there.
Come to me, all who labor and are heavy laden, and I will give you rest.~Matthew 11:28