If you follow me on Facebook or Instagram, you saw that yesterday we received our box of curriculum from My Father's World. To say we were excited would be an understatement.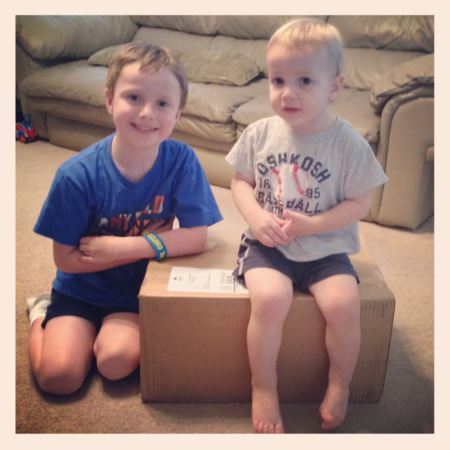 You would've thought it was Christmas morning as the boys pulled things out of the box to inspect them. Asher kept flipping through the books and pointing to pictures. Jonah settled in to read one of his science books and even asked, "Mom, can we do this experiment right now?"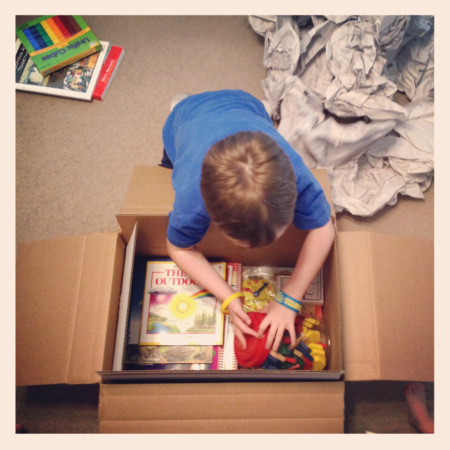 Their excitement for learning is contagious. I immediately started looking over my teacher's manual and making plans to gather materials. Up until this point, I've not been feeling ready to think about school. I've enjoyed the break we've taken. Yet, at the same time, I'm ready for routine and for the boys to be engaged in something besides jumping off the couches and ramming cars against the walls...because it's come to that at this point in the summer.
Now, I'll look at the calendar and map out our year a little to help us pace ourselves and stay on track. I'll organize materials and gather things for the first few weeks. My biggest job? Trying to figure out how to keep Asher entertained while we do school. He's bigger now, so I think he'll play better than last year, but I want to work on a plan for him to do some table time with me. He's ready to start some more formal Tot School Activities. Goodness, did I really just say that?!?!
The time goes by so fast, friends. How I'm a homeschool mom of a first grader and a 2 year old (in a few weeks) is beyond me. One thing's for sure...we'll have a fantastic year with My Father's World from the looks of this box! We love our curriculum!