Dress up and Dramatic Play are some of our favorite ways to play! My kids are always pretending and dressing up in costumes from our dress up corner and I'm so happy about that. You can tailor the play to any theme your child is interested in! We've created this dramatic play series to inspire you with pretend play ideas for each letter of the alphabet!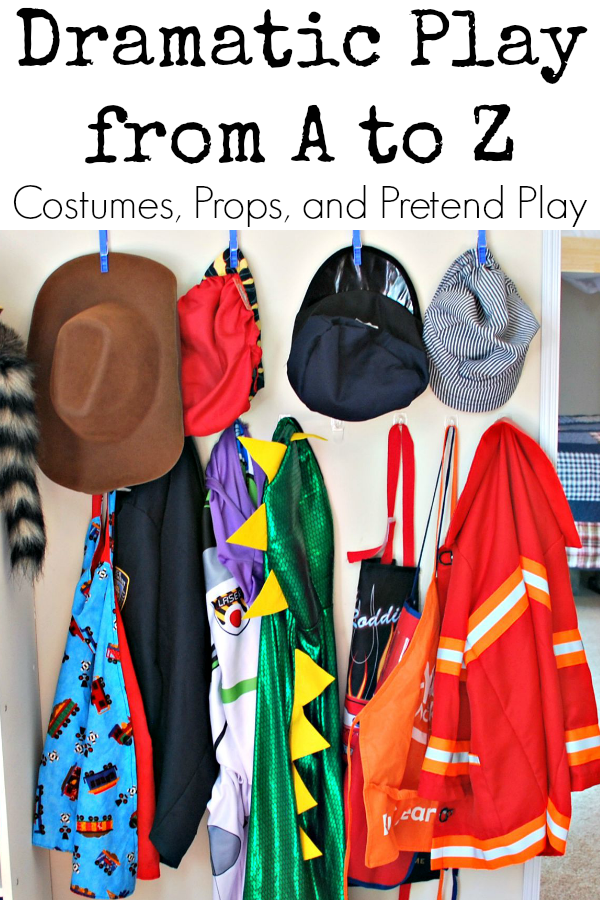 What is Dramatic Play?
Dramatic play, also called pretend play, is defined by experts as a type of play where children assign and accept roles and act them out. For example, a child who pretends to feed and rock a doll to sleep is engaging in dramatic play, or a child who pretends to fix dinner in the play kitchen is engaging in dramatic play. This is a time for a child to pretend to be someone or something else, and while pretending may just look like "playing", it is important to the developmental learning process. Simply put, dramatic play is the building block for so many skills, and is more than just walking around in a costume.
The Benefits of Dramatic Play
Social Skills/Interaction--Dramatic play promotes the development of social skills through interaction with others, peers or adults. Dramatic play with friends requires compromise when assigning roles, sharing, taking turns, and cooperation to make it all come together. It is a great way to practice to relationship roles!
Communication--Dramatic play promotes the use of speaking and listening skills. Children have to actively listen to the conversations and communicate in return. It is a great way to use and learn new vocabulary words!
Physical--Dramatic play helps children develop both gross and fine motor skills – fire fighters climb and parents dress their babies. And when children put their materials away, they practice eye-hand coordination and visual discrimination.
Emotional--Children who participate in dramatic play experiences are better able to show empathy for others because they have "tried out" being that someone else for a while. Dramatic play increases self esteem and gives children a sense of pride and accomplishment. Acting out roles and being in control of the outcomes increase feelings of safety and protection. Making choices in dramatic play helps children develop a sense of self, individuality, and feelings of purpose.
Literacy--Dramatic play is the perfect place to include a literacy rich environment and give children a chance to use their reading and writing skills. For example, reading menus in the pretend restaurant, pretending to be the waitress writing down the order, and the little chef reading the food labels in the pretend kitchen are natural opportunities for increasing literacy.
Math--Just like literacy, dramatic play is a great way to practice math skills. For example, counting money for the cash register, a waitress adding up the receipt, and following a "recipe" in the play kitchen are natural opportunities for developing math skills.

So, let the children pretend and encourage dramatic play! To help you out and give you ideas, we've teamed up with some of our favorite kid blogs to bring you at least one dramatic play idea to represent each letter of the alphabet! Every day in September we will update here to share a new idea! Pin this post and join us back here often to read them all!
Are you ready to be inspired?
A is for Archaeologist Pretend Play
by Happy Brown House
B is for Bakery Pretend Play
from P is for Preschooler
and Birthday Party Dramatic Play
from Play To Learn Preschool
C is for Coffee Shop Dramatic Play
from Where Imagination Grows
D is for Doctor Pretend Play
from Craftulate
E is for Explorers
from Witty Hoots
F is for Firefighters Dramatic Play
from Play & Learn Everyday
G is for Gingerbread Man Dramatic Play Activity
from Fun-A-Day
H is for...
I is for Ice Cream Shop Pretend Play
from The Resourceful Mama
J is for...
K is for King
from Teaching Mama
L is for Lollipop Shop
from Liz's Early Learning Spot
M is for Musician
from Peakle Pie
N is for Nursery with DIY Crib and Swing
from Play Dough & Popsicles
O is for Office Dramatic Play
from The Diary of a Real Housewife
P is for Photographer Dramatic Play
from Where imagination Grows
Q is for Queen
from The Resourceful Mama
R is for Restaurant Dramatic Play
from The Kindergarten Connection
S is for Spy Dramatic Play
from Umbrella Tree Cafe
T is for...
U is for...
V is for...
W is for...
X is for...
Y is for...
Z is for...