We recently took an end of the summer trip to Florida to visit family and have a little fun. While we were there, we took some time to visit Legoland and Disney World. We had a great time of connecting as a family, with a little learning sprinkled in. As I was sharing pictures of our trip over on Instagram, I had a few people asking questions. I promised I'd write a blog post sharing all the details about visiting Legoland as a homeschool family--because there are so many learning opportunities there! Also, Legoland has a special deal for homeschool families, making it a great homeschool field trip for your Lego loving kids if you'll be in the area.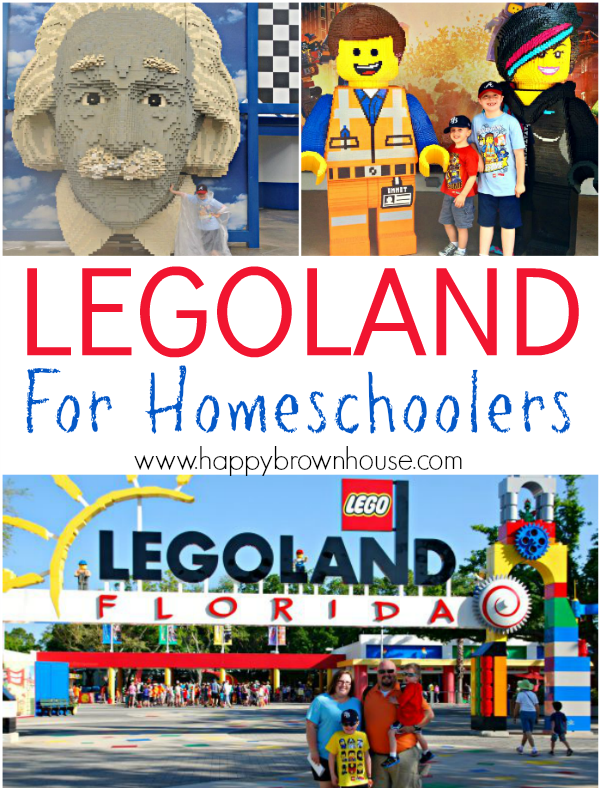 (Please Note: This post is NOT sponsored by Legoland. I paid for everything and was not asked to share our experience, but I am anyway...on my own dime.)
Discount Legoland Tickets
Homeschool Days--When I first looked at the Legoland prices, I was in shock at the price, but I did some digging on their website and found out that Legoland has special days on their calendar for Homeschool Days. If you reserve your tickets ahead of time and show them your homeschool documentation, you can purchase tickets MUCH cheaper than full price. They don't require much and I'm happy to jump through the hoops to save! We always plan our trip around the homeschool days to take advantage of the lower price.
Lego Club Magazine Coupons--If you're reading this and you aren't a homeschooler or you can't make it on a homeschool day, look for the coupons in the back of the Lego Club Magazines. This coupon (free child admission with full price adult ticket) won't get you in for as low as homeschool days, but will save you some money.
Florida Teacher Discount--We were so excited to find out that Florida teachers can get a yearly pass for free. Since my stepmom is a Florida educator, she got to come with us for a free day of fun!
Florida Residents Discounts--If you are a Florida resident, you can get annual passes at a discounted price. It might be worth it to spring for the mid-level pass to get the free parking.
Parking--If you pre-pay online, you can save a few dollars on parking. (It's a little hard to find this on their website, but ask for this when you call to reserve your spot for Homeschool Days.)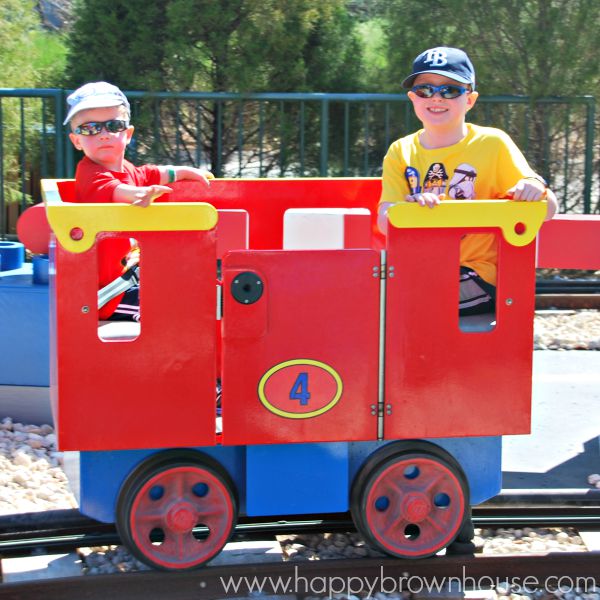 Food at Legoland
Since Legoland doesn't open until 10:00 AM, eat a big breakfast. There are plenty of places to buy lunch, but we always pack our own. Personally, I thought the food at Legoland was a little overpriced. Since you can take soft sided coolers into Legoland, we always pack sandwiches and our favorite easy, on-the-go snacks. Our cooler fits underneath our stroller, or there are lockers available.
Height Requirements
One tip I that will save you from having employees measuring your kid all day is to go to Guest Services immediately after entering. There, they will measure your child and give them a color coded armband with the appropriate height. This is all you'll need to show the ride attendants and they won't need to measure your child. Also, I suggest writing your phone number on the band just in case you get separated from your child. The color coded armband helped our preschooler know if he could ride it or not. It didn't always curb the disappointment, but it did help a little to have him look for rides with his color.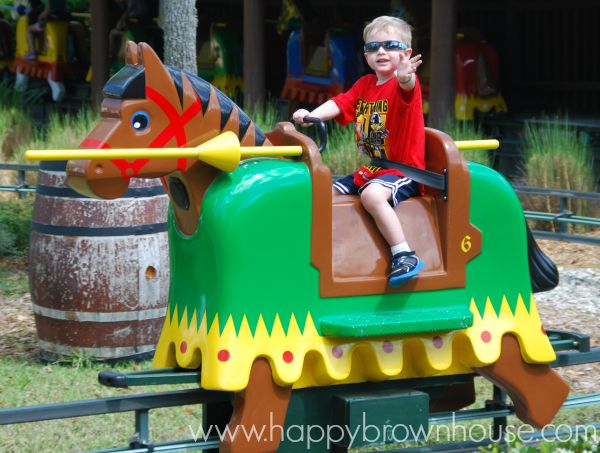 Kid-Centered
According to their website, Legoland is best for ages 2-12. Legoland is definitely kid-centered. Fair warning that you won't always get to ride with your child. On the other hand, you get to take a break and take pictures of them enjoying themselves and feeling like a "big kid." (If you are expecting Disney, you'll be disappointed--it definitely isn't Disney. Honestly, I don't know if anything can compare to Disney. It's smaller, but my little guys loved it.) Duplo Valley is adorable for the little ones. Also, there are Lego tables in the waiting area for some of the rides, so your little one can play while waiting. We didn't really use these, but they are there.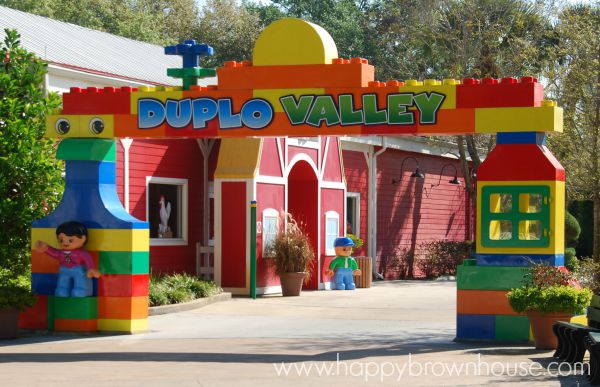 One thing I really appreciated about Legoland is that there were climbing structures/playgrounds if your active kids needed to take a break from rides and climb. This was also great to let mom and dad take a break from walking! Or, if you are purchasing lunch, let the kids play while one parent stands in line for food.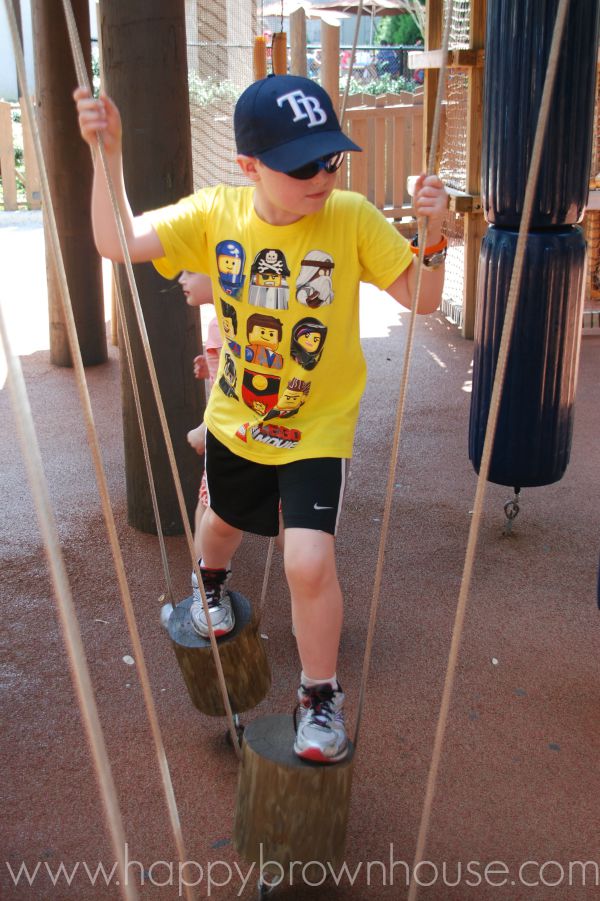 Another thing I liked about Legoland were the bathrooms. There are built-in stepstools for those independent little ones and to save a tired momma from breaking her back to pick up a heavy preschooler. Any place that makes taking kids to the bathroom easier gets a thumbs up from me! (I'm also giving you a thumbs up Disney and Ikea.)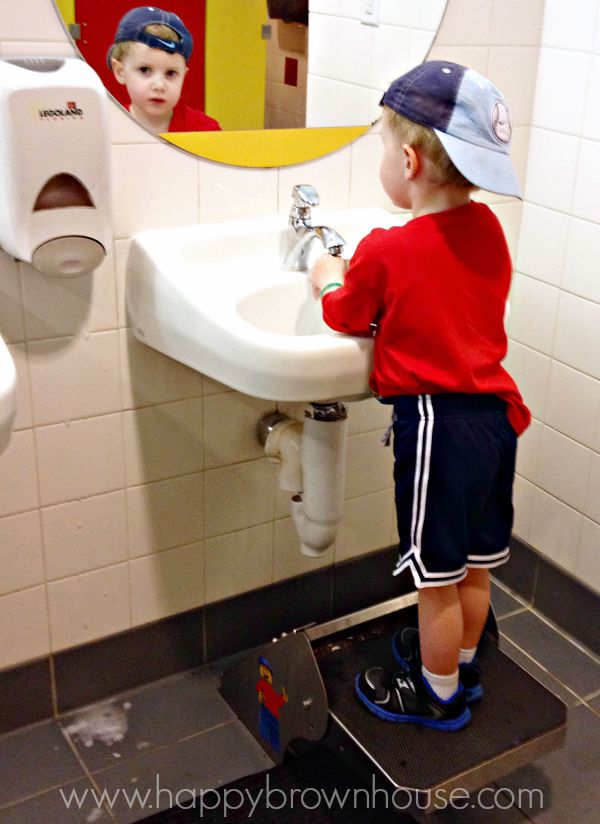 Staying Cool
Like any Florida theme park, you'll be in the hot sun. There aren't lots of indoor places to cool off, but a lot of the rides have covered areas for the lines. Personally, we took our misting fans on a lanyard for the kids. There is a splash & play area in Duplo Valley's Splash, Cragger's Swamp Splash & Play in the World of Chima area, and the Quest for Chi ride will get you completely SOAKED. If you're feeling hot, head over to those. There is a waterpark at Legoland, but it costs extra and we chose not to do that portion--we never have time. You could always try to go into a shop to cool off, but I try to limit time in the shops because my kids have a hard time looking at things when we aren't buying anything. And then there's always sitting in the front row at the Big Test Live show (fireman themed) in Lego City--you'll get wet!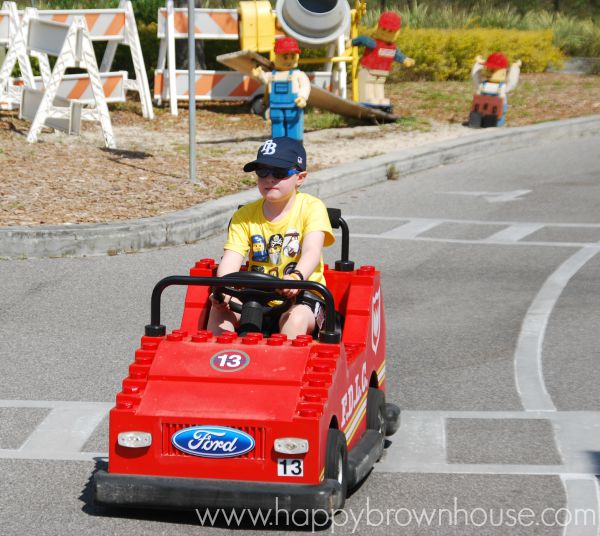 Shopping
There are several places to shop, but we try to stay out of the shops as much as possible. Legoland isn't where I'm going to purchase Lego sets due to pricing. Our kids save up to purchase their Lego sets, but we make a deal with them about not buying at the theme parks. They always take the bribe deal.
Minifigure Trading
You can trade minifigures at Legoland, so be prepared. The first time we went, I forgot them, so we bought some in the park...then my kids decided they wanted to keep them. Go figure.
Speaking of mini--Miniland USA is pretty fabulous. My oldest, our resident master builder, wanted to look at every single detail. He loved it! He loved finding things he recognized from our USA studies.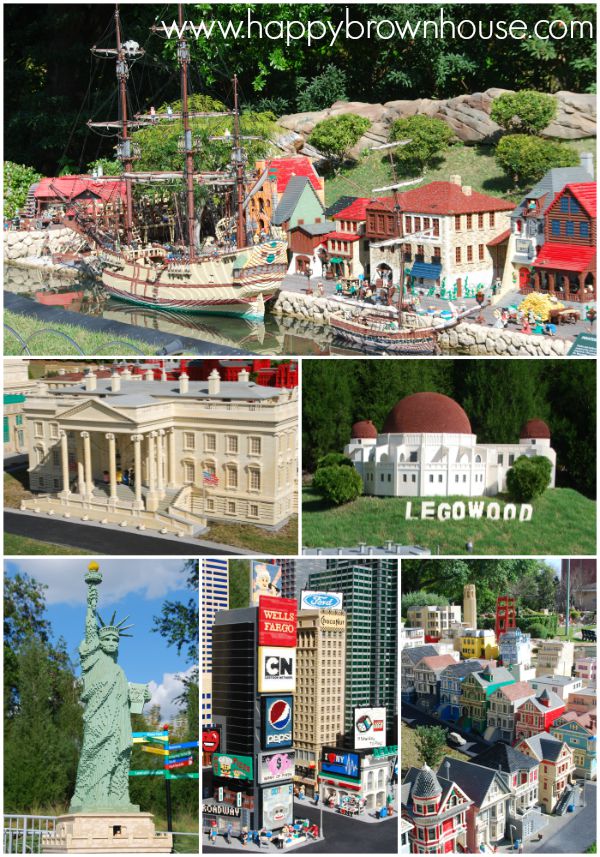 Educational Programs
Legoland has educational programs that you can sign up for, but we haven't participated in them yet. My kids also love to go to the Imagination Zone to build cars and race them down ramps or test their Lego towers on the earthquake panels. I love how interactive Legoland is--truly a hands-on experience. My boys are the kids that want to touch everything, so this is right up our alley.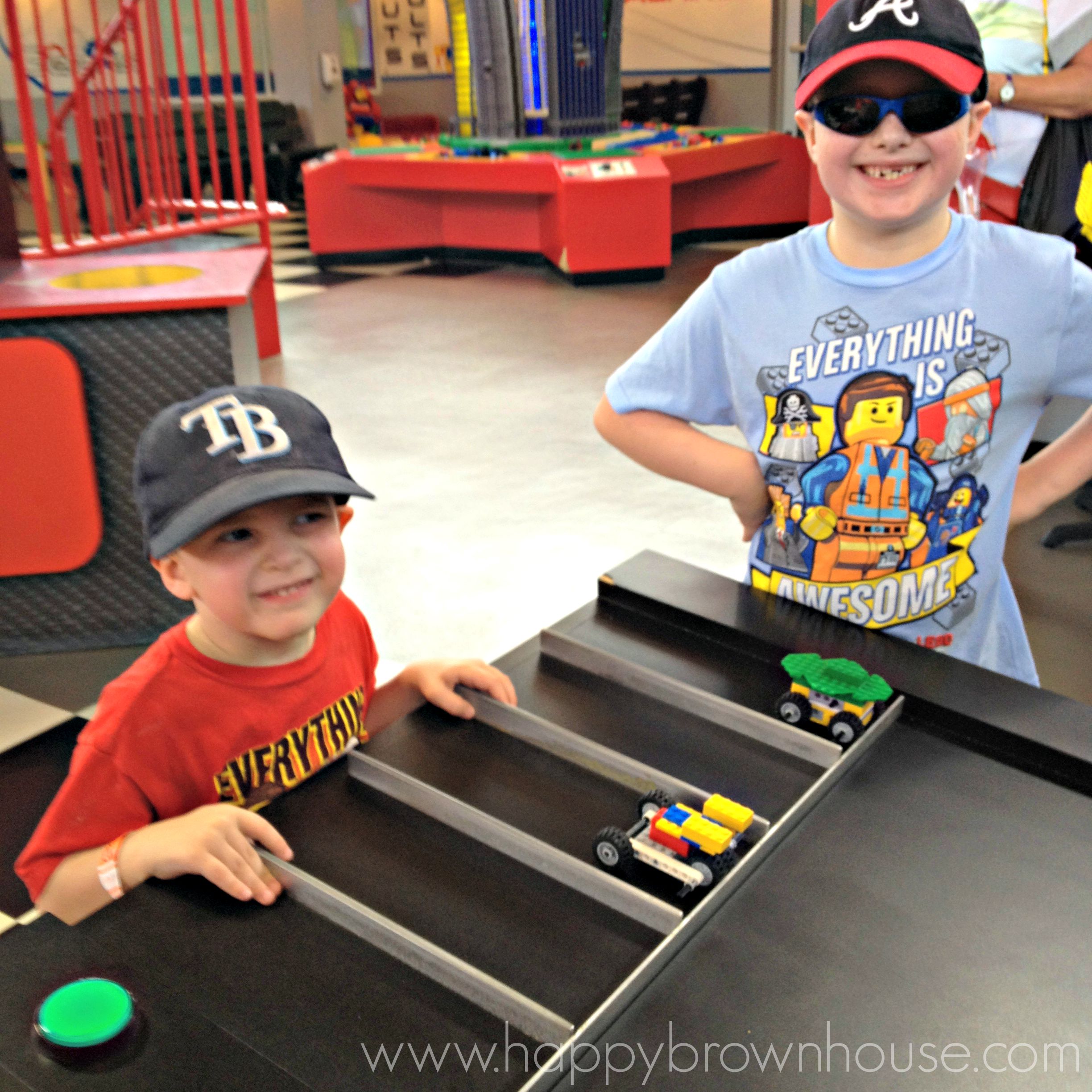 Other Educational Ideas
Even if you don't go to the official educational programs, you could come prepared with some educational things for them to do. Off the top of my head, you could...
have a simple machine scavenger hunt and look for ramps, pulleys, levers, etc in the rides
Graph the winners of the ramp races (because they'll do it over and over!)
have your preschooler look for community helpers in the Lego City area
have your preschooler go on a letter hunt and mark off the letters they find.
Mark a United States map in the Lego Miniland USA (Las Vegas, Daytona, Hollywood, Washington D.C, etc.)
Play I spy in Miniland USA
Practice reading a map and let them give you directions to the next ride
and so much more!
Think outside the box, friend. You can do it. I know you can.
Have you ever been to Legoland? What's your best tip?