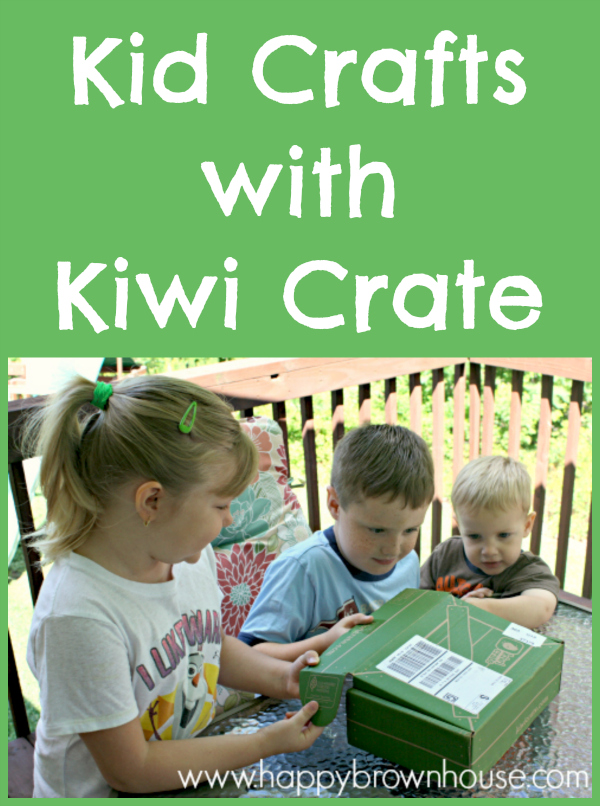 Disclosure: I received this product for free. I was compensated for my time. All opinions are honest and I was not required to post a positive review.
What is Kiwi Crate?
Kiwi Crate is a monthly kid crafts subscription. They deliver hands-on fun right to your mailbox. Designed for ages 3-8, projects can include arts and crafts, science activities, imaginative play, and more. Everything for 2-3 projects is included in the crate, and there are a variety of Kiwi Crate themes to choose from.

Our Kiwi Crate Experience
We received the "Around the World" Kiwi Crate. (I can't find a direct link for you on their site since their available themes rotate.) The kids were so excited to get a package just for them and immediately wanted to open it.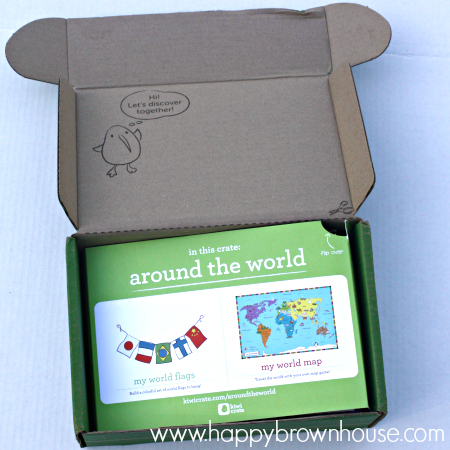 The main craft was a World Flag Banner and the main game was a World Map Game. We chose to make the flag banner on the back porch during a cool morning and waited to play the map game later that evening with daddy.The kids followed the directions for making the flag banner (written and picture directions) without much assistance from me.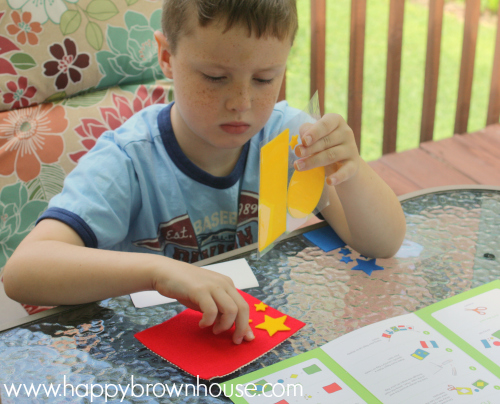 The flag banner was cute and we will hang it in our homeschool room above our world map. We looked at our map to find all the countries represented in our banner.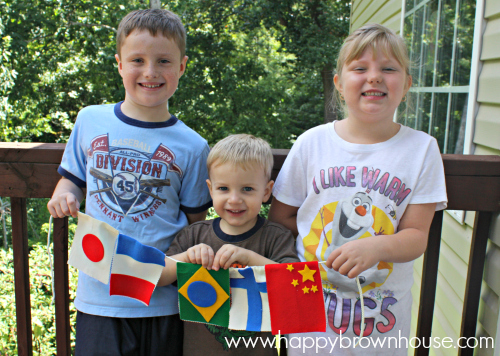 The World Map Game was a great introduction to continents and famous landmarks with a bingo twist. It was perfect for a family game night after dinner! The game was easy enough for our youngest to participate thanks to the color-coded cards, but it was still educational for our oldest who is reading well. He was able to read the quick facts about the landmarks for us. And yes, Asher is walking around saying "Machu Pichu" now. What 2 year old does that?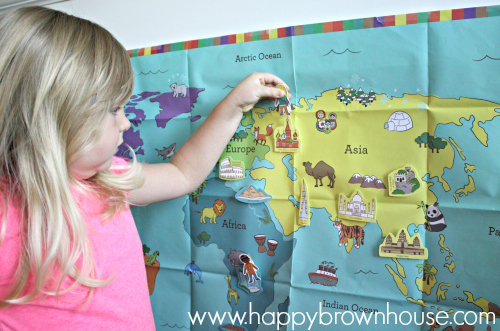 What I Thought of Kiwi Crate
As a naturally crafty mom, I was a bit skeptical of a kid crafts subscription. I wondered if it would be something I could've come up with on my own using materials I already had at home. However, Kiwi Crate totally knocked my socks off. Yes, I could've made up the craft with materials we already had, but the Kiwi Crate was so much more than just a craft. Our particular Kiwi Crate came with a craft, a game, and an activity book/magazine for further learning exploration, craft ideas, and games.

With three kids, homeschool, extracurricular activities, and just an overall crazy schedule, I appreciated the time Kiwi Crate gave back to me. All I had to do was open the box for the kids and interact. I didn't have to come up with an idea. I didn't have to gather or prepare materials. (Let's face it, that is half the battle!) Kiwi Crate was truly open and go. I was glad to put the time saved in gathering materials to use in other important areas, like prepping dinner.
On a personal note, I haven't had the time or the energy during the adoption attachment period to put together things like this, so I was excited to have an activity for the kids to do that didn't require much of me. I'm stretched too thin right now and Kiwi Crate was a lifesaver this month!
Some things I was really impressed with about Kiwi Crate
They thought of everything. Seriously. I was so impressed with everything: peel-and-stick felt, providing scissors, and even a special sticker to wrap around the end of the rope to make threading the rope through the flags easier.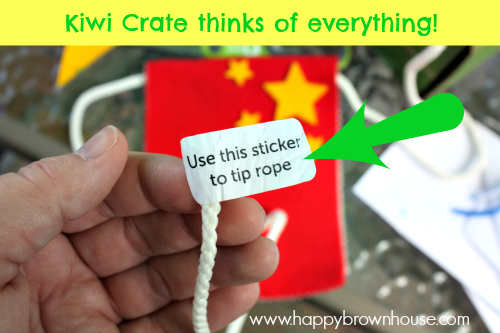 The activities were fun, engaging, and educational. You know how much that impresses this homeschool momma!
The packaging. Y'all, their packaging is so cute and creative! For example, you can even cut the box down and use it for play with the puppets printed on the packaging. They really pack a lot of fun into one little green box!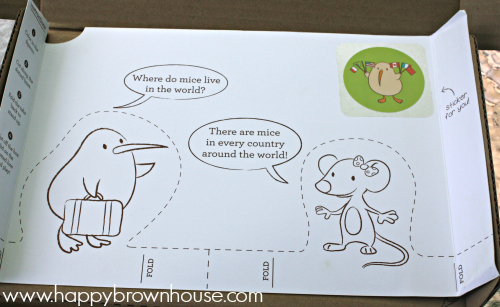 Some things I wish were a little different about Kiwi Crate
We had one meltdown over who was going to make a particular flag and I immediately wished we had more materials so the kids could each make their own flag buntings. After looking on the Kiwi Crate website, I found out there is an option to add-on a sibling set of materials for an extra fee. I am glad for that option, although I probably wouldn't spend an extra $10 on that option just to avoid a tantrum driven by selfishness.
I loved the clever world map game and wanted to use it over and over. I wish the game pieces were made of cardstock or thicker paper. The game cards were very thin and wouldn't handle a lot of wear and tear from children. I will laminate these to use in the future and modify the game pieces if needed.
What My Kids Thought of Kiwi Crate
Ultimately, the kids' opinions are what counts here since it was for them. I asked my kids to talk to me about Kiwi Crate.
What was your favorite thing about Kiwi Crate?
Jonah (7): I liked all of the activities. I can't pick a favorite!
Lily (5): I liked making the flags.
Asher (a week from 3): I like making da fwags, Momma.
What didn't you like about Kiwi Crate?
Jonah (7): I had to share it with the others.
Lily (5): I looooved everything! (insert dramatics and jazz hands here)
Asher (a week from 3): Huh? What momma?
Would you like to get another Kiwi Crate?
Jonah (7): YES! Can I have my own this time?
Lily (5): YES! Do they have a princess one?
Asher (a week from 3): YES! Again!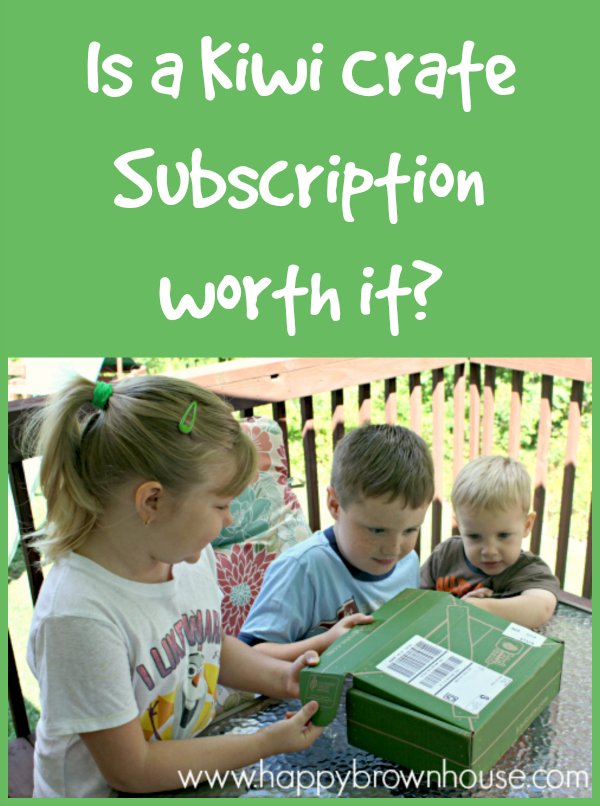 Is a Kiwi Crate Subscription Worth It?
I think Kiwi Crate is worth it. I really surprised myself with that statement since I'm such a DIY and frugal girl, but I think boxed craft/activity sets can be beneficial, too. Kiwi Crate is perfect for busy moms or moms that feel planning kid crafts is not their strength. The activities were top-notch and fun for my three kids. I think Kiwi Crate would make a perfect gift! If you like to give "experience gifts" instead of toys, Kiwi Crate would be a hit!
Want to try them yourself?
Join the Kiwi Crate family!
Kiwi Crate
is on
Facebook
,
Twitter
,
Pinterest
,
Instagram
,
YouTube
, and
Google+
. Be sure to follow them! They share great kid crafts ideas on their social media accounts and their newsletter.