I love the laid-back days of summer. Trips to the park and play dates with friends fill our days, but eventually they have to end. While I love homeschooling, I'm always sad to see the summer fun start to slow down. With back to school time right around the corner, I wanted to host a fun and easy back to school party with our friends before everyone's schedule gets complicated. Even though we homeschool and have a flexible schedule, not all of our friends do and we miss them during the school year. That's why when J.M. Smucker's asked us to share how we make any day a Sundae, we decided to plan an epic play date to celebrate going back to school and enjoy the last slice of summer with friends. Today I'm sharing our Kid-Planned Ice Cream Sundae Party.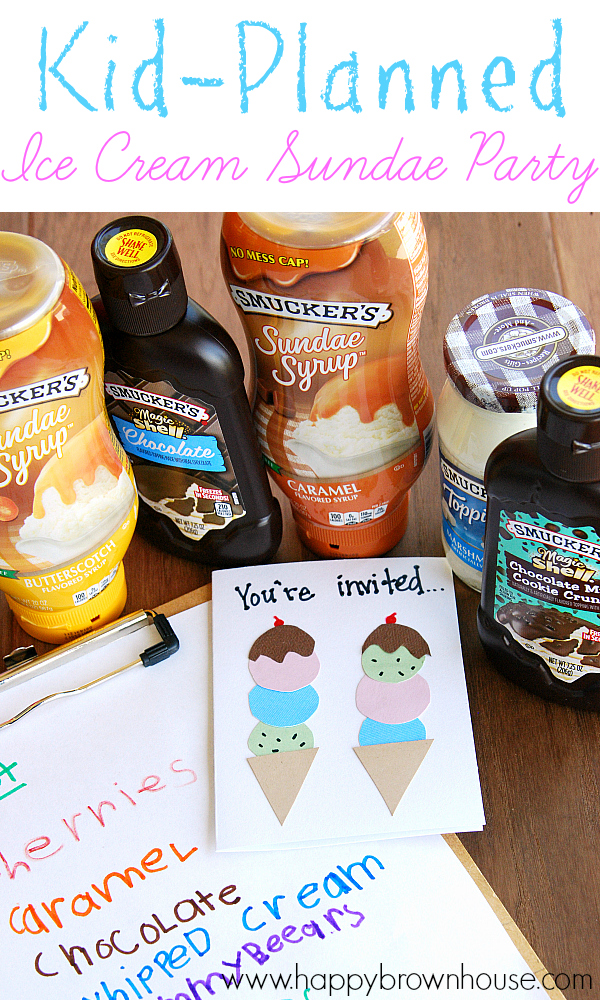 Swimming and ice cream sundaes just scream summer to me, so that's the theme I chose. I whipped up a quick invitation using basic shapes and the boys helped assemble them. We invited our friends to join us at the pool to swim the day away and to celebrate with us.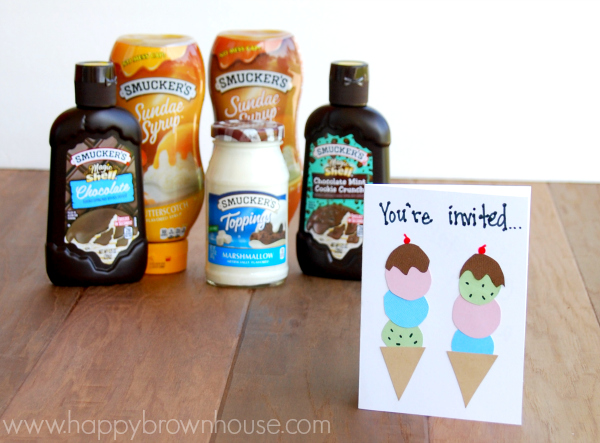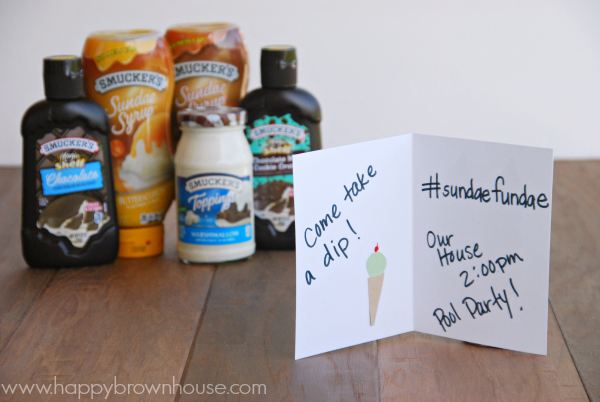 For a party snack, we chose an ice cream sundae bar where the kids could turn their bowl of ice cream into a masterpiece of their own. Since this will be a party for the kids, I asked the boys to help me make a list of ice cream toppings they wanted. My eight year old wrote the list for our trip to Walmart while we brainstormed. (See how I snuck in some writing practice there? I'm tricky like that.)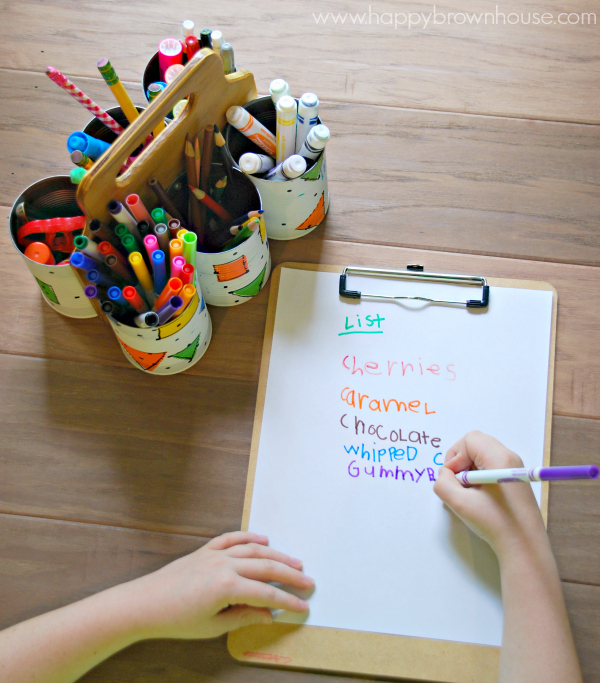 Armed with our shopping list, we headed for the ice cream topping aisle to load up on Smucker's® ice cream toppings--chocolate, caramel, and more, oh my! For the most part, I let the boys lead the way in the topping department. I love watching them gain independence, making decisions, and asking for compromises. They chose a variety of Smucker's squeezable ice cream toppings flavors--caramel syrup, chocolate syrup, several Magic Shell toppings, marshmallow topping, and a strawberry topping that we had left over from the Strawberry Shortcake Ice Cream Cake I recently shared.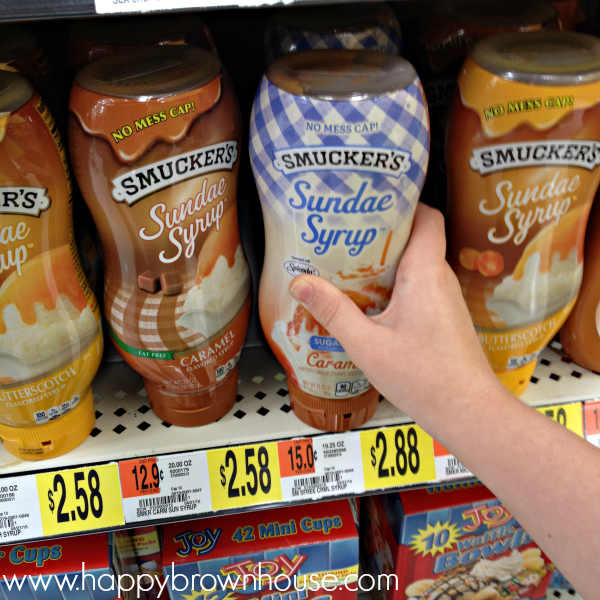 To complete our make-it-yourself sundae bar topping selections, they added mini marshmallows, chocolate chips, gummy bears, fun sprinkles, mini cookies, whipped cream, and maraschino cherries to the cart. We finished our shopping trip by picking out bowls, spoons, and a tablecloth.
The boys were so excited about our #SundaeFundae Party that they wanted to help carry the shopping bags out to the van.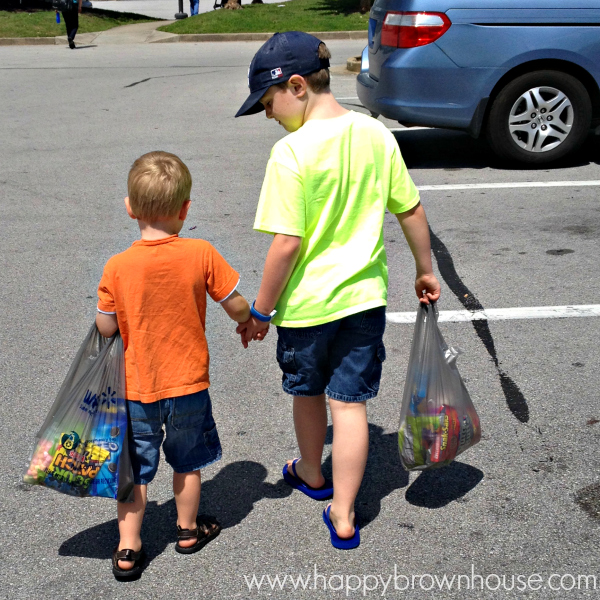 In typical three-year old fashion, Asher was ready to party as soon as we got home, so I set him up with a quick ice cream art activity. To help him wait for party day, I drew an ice cream cone on the calendar and counted. We'll countdown whenever he asks about the party.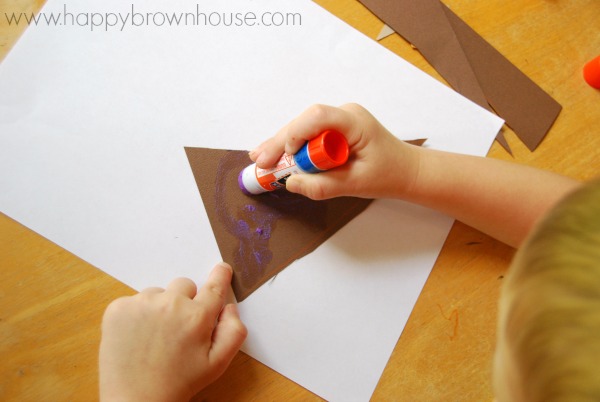 While waiting is hard, not eating the party food while we wait is going to be even harder!
What's your favorite ice cream sundae topping combination?