This shop has been compensated by Collective Bias, Inc. and its advertiser. All opinions are mine alone and I sure hope you give this Strawberry Shortcake Ice Cream Cake a try! #SunsOutSpoonsOut #CollectiveBias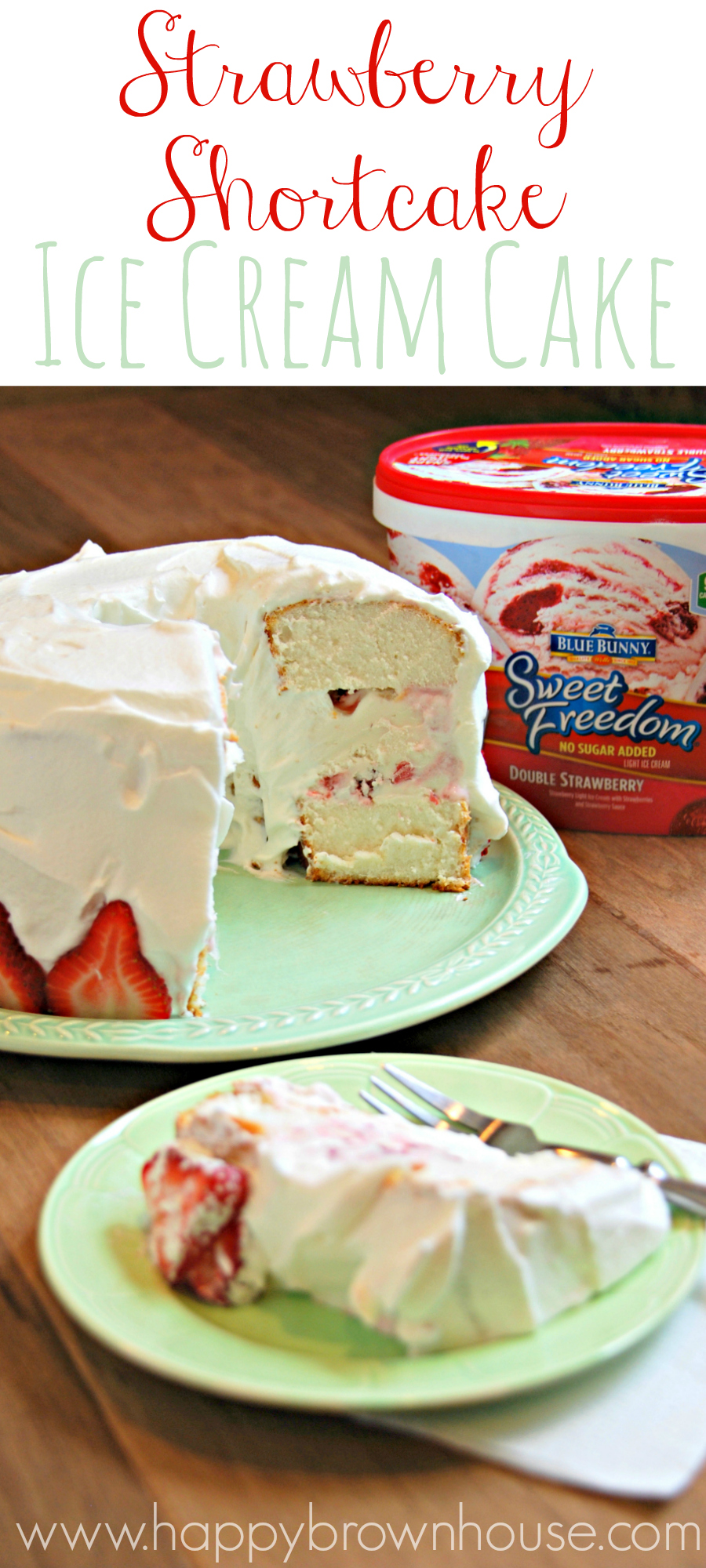 Last week I was reminded of the birthday cake my mom made for my surprise 16th birthday MANY years ago. The cake was a combination of strawberry shortcake and ice cream cake all rolled into one. It's been years since I've thought about that cake, and the second I remembered it, I had a craving. I had to make it! This Strawberry Shortcake Ice Cream Cake is one big mouthful of summer goodness. It's a perfect dessert for summer nights on the porch and can be made ahead of time for fun with friends.
With only four ingredients, it goes together quickly. I chose to use pre-made items, so I only had to assemble the ingredients and feed my craving, but you can make your own angel food cake and whipped cream if you want. Homemade whipped cream is my favorite. Oh, who am I kidding? Dessert is my favorite.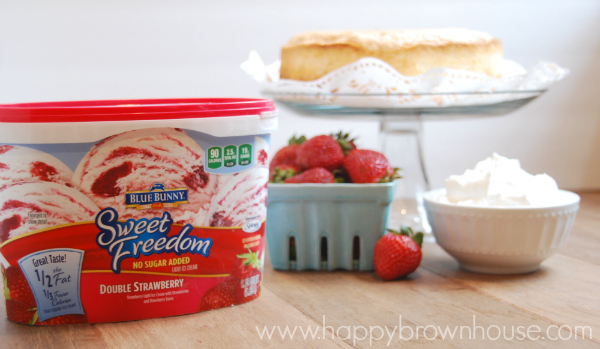 Strawberry Shortcake Ice Cream Cake Recipe
Ingredients:
Blue Bunny Double Strawberry Ice Cream (softened for about 10 minutes on the counter)
Angel Food Cake
Whipped Cream Topping
Fresh Strawberries
Directions: 
Cut the angel food cake in half, so you end up with two layers.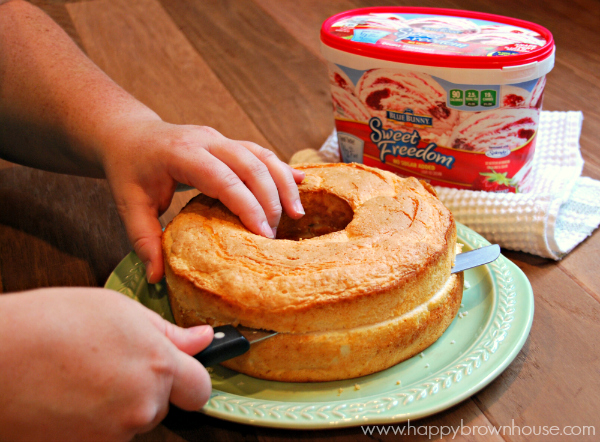 Place scoops of softened ice cream on the bottom layer of the angel food cake. After I got started, I decided to wrap a glass in parchment paper and place it inside the hole of the cake to keep the ice cream in place while I worked.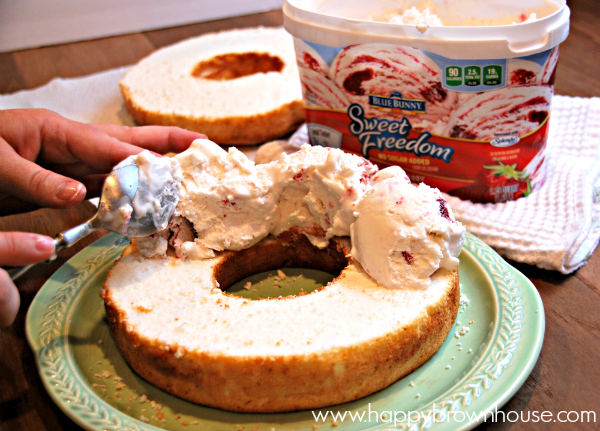 Once you have a layer of ice cream scoops, place the second layer of the angel food cake on top. (I didn't use all of the ice cream.) Fill in any cracks and smooth the ice cream layer.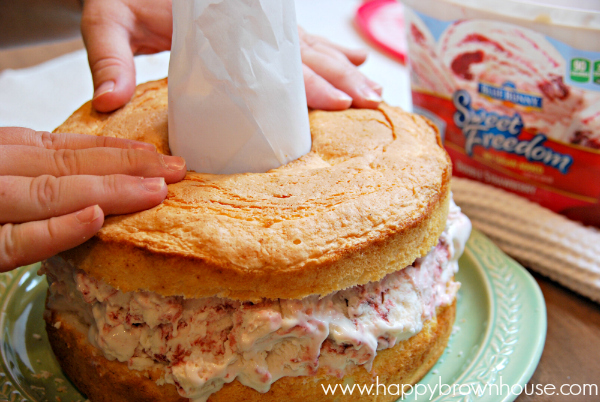 Wrap plastic wrap around the cake.
Place the entire thing in the freezer for a few hours or overnight.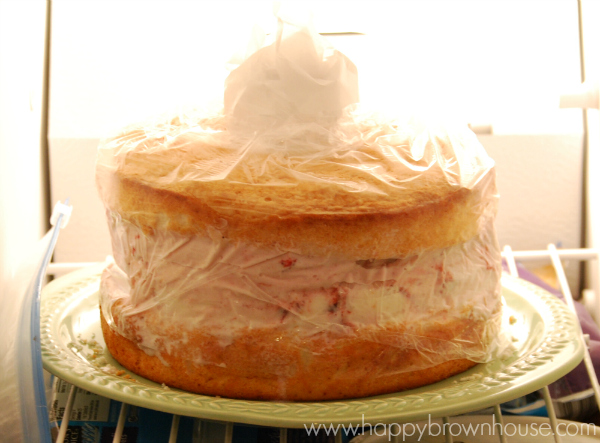 Once the ice cream is hard again, take the cake out of the freezer, remove the plastic wrap and the glass wrapped in parchment paper from the middle. This should be easy since it's frozen.
Spread the whipped cream topping around the cake.
Remove the stems and slice the strawberries. Decorate the cake with strawberries any way you wish. I placed strawberries on the bottom edge and had a bowl of extra sliced strawberries for my family to add more if they wanted more. I also had some strawberry ice cream topping available to drizzle on top, but you don't have to have that, the cake is good enough by itself.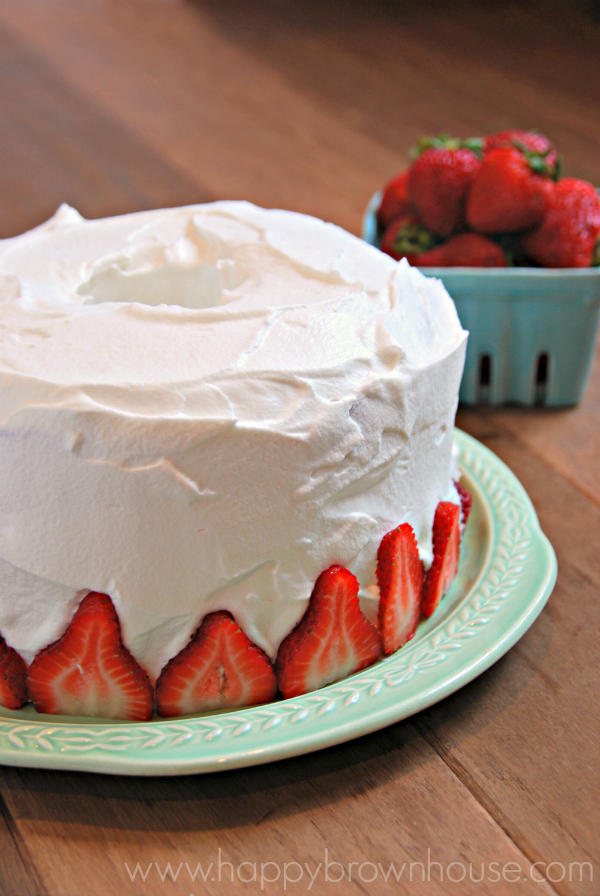 Serve and enjoy!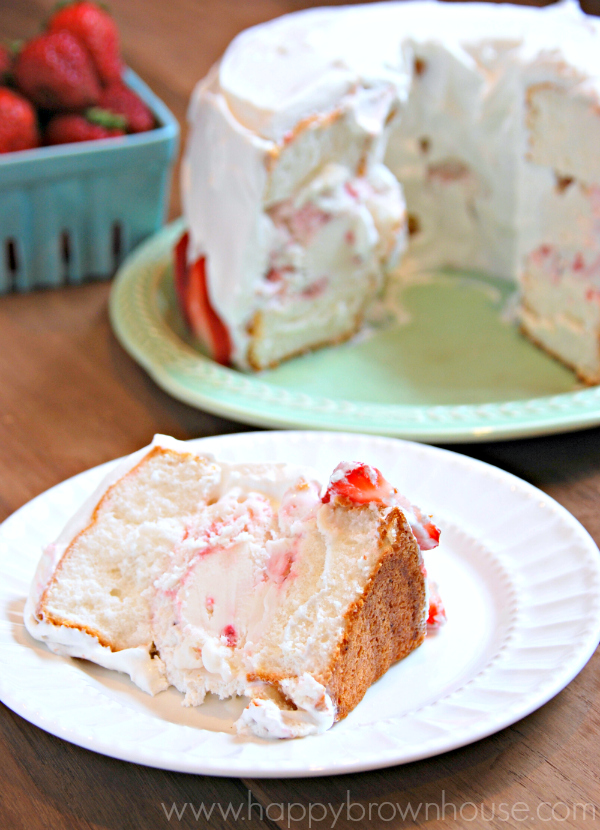 If you're a strawberry shortcake fan, you'll love this dessert! My family loved it and asked for more. Plus, it was even better than I remembered from my childhood. If there's any left, and that's a really big IF, just stick it back in the freezer. When you're ready for another piece, let the cake sit for a few minutes before cutting with a knife that's been held under hot water.
The craving for this dessert started when I spotted a Blue Bunny sample demo booth at Walmart. I met a friendly lady handing out samples of ice cream sandwiches made from Chips Ahoy cookies and Blue Bunny Mint Chocolate Chip ice cream. I couldn't resist stopping and trying it out.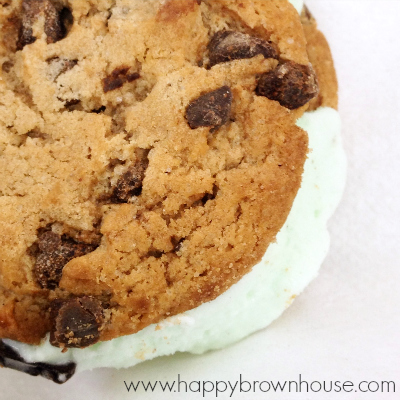 After one bite, I secretly wanted to shove her entire stack of coupons in my purse to support my ice cream habit for the remainder of the summer. The mint chocolate chip ice cream was so creamy that I thought about ice cream the remainder of my shopping trip, which is how I ended up staring at the ice cream freezer debating with myself on flavors. It's the demo lady's fault; she's an enabler.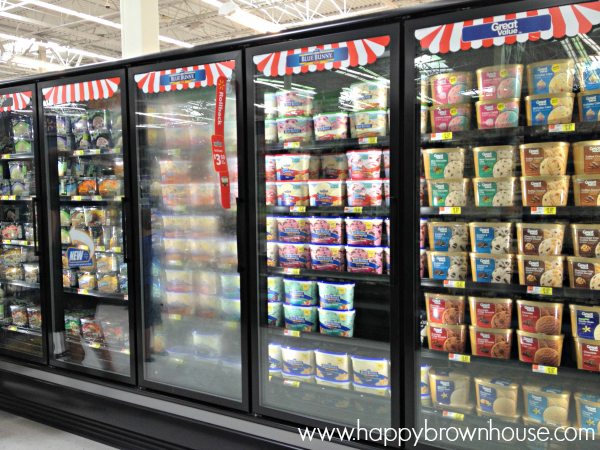 Blue Bunny will be hosting more demo booths at Walmart July 9-12 if you'd like to go taste their creamy ice cream and get a coupon. You can see if they will be at a store near you. Yay for free samples! I mean, who can resist free ice cream? Not me!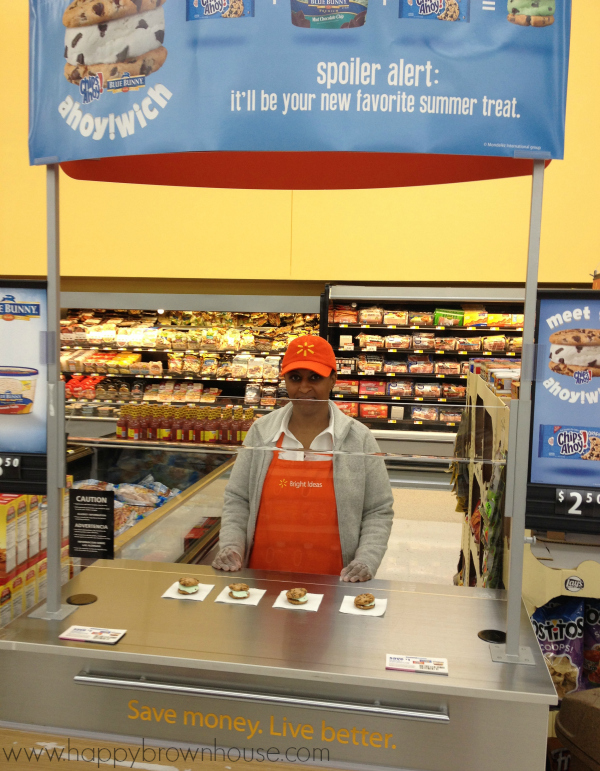 Be sure to check out the Suns Out Spoons Out site for other great ice cream recipe ideas! There's a couple that are drool worthy. The Blue Bunny Pinterest boards are pretty fabulous, too.
What other ice cream cake flavor combos can you think of? Help me brainstorm in the comments!