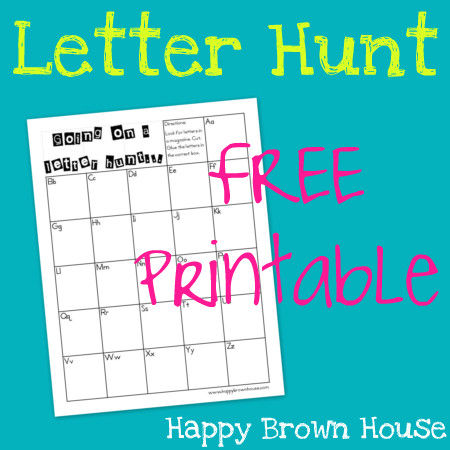 Using some of our old magazines, we went on a letter hunt the first week of homeschool. Since Jonah still really needs more practice cutting, I helped cut some of the words for him (maneuvering magazines and scissors was a little difficult and frustrating) and then he cut the letters apart. Other than my minimal cutting help, he did this activity independently.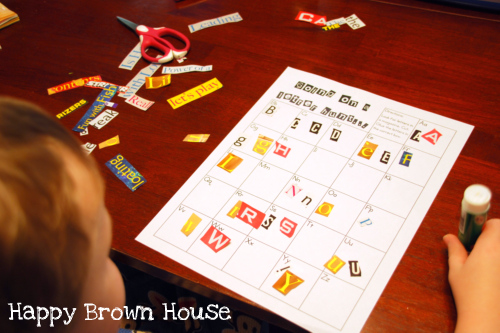 It was a good chance to talk about letters and different fonts. "Look at this funny A! It has a hook on the top and a big belly!" We also looked through The Funny Font Book that I made last year.
Since we had so much fun with this activity, I thought I'd share it with you! Grab an old magazine or newspaper and take your little one on a letter hunt!
Note: This printable is provided to you free of charge. While I am providing this material to you free of charge, there are a few things that I would ask from you in regards to the resources found here.
You are more than welcome to:
Save the files on your computer and print off copies for yourself (or classroom) whenever you would like.
Link directly to my site (or blog post) to share my files with others. Please do not link directly to the PDF file. (To link directly to the blog post, click on the post title. Then you can copy and paste the url from your browser.)
I would ask that you DO NOT:
Host any of my files on your own or other sites.
Alter or sell any of my file. The intention behind the files is to provide them free of charge to others.
Sell files to make a profit ~ i.e. print them off, laminate them and sell them to others.
Transmit or store any resources on any other website or other form of electronic retrieval system.
Thank you in advance for respecting my policies!