We've entered the world of "Sight Words" around here!
I've recently taken notice of some readiness for sight words with Jonah and decided to give it a try. I wasn't very scientific in choosing a word to start with, it sort of randomly happened one day as we were preparing dinner. Jonah was looking at a book called "My Cats"
(a repetitive High-Frequency Reader from Scholastic that I had just found at the local discount bookstore Clearance Sale). He wanted desperately to read it on his own.
I grabbed a piece of paper and a crayon and made a quick "rebus" style poster for him. (I know, I know...you're impressed with my 2-second drawing. Aren't you? Hey, it worked!)
We practiced a few times before dinner, but he didn't seem to show tons of interest. I hung it on the fridge at eye-level and later heard him practicing reading it. Success! It's still on our fridge and now we read it every time we pass it. He's confident now and has started going on a "word hunt" in other books.
While "my" is a common word in books, I wanted to extend the learning. There are lots of "sight word" books online to print, but I wanted to start with something more personal that he would be interested in. So, I whipped up a quick book in Microsoft Word, printed it out, and grabbed my favorite illustrator.
Here's a glimpse of our book....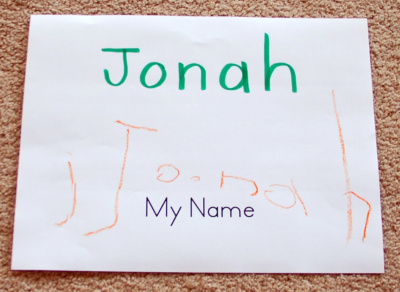 (Do you see the progress on writing his name?!?! So proud of that orange crayon writing!)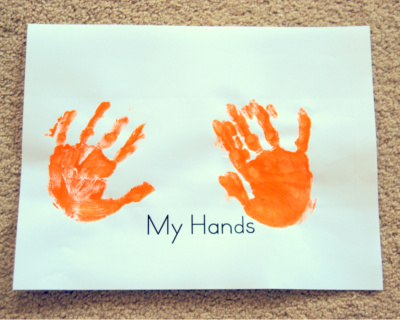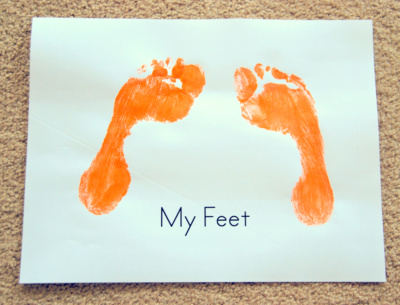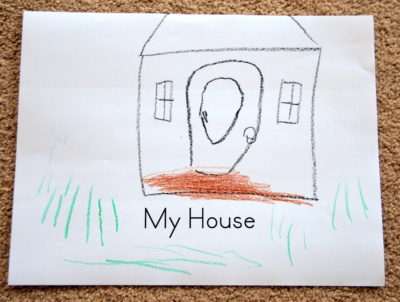 (Jonah started with the door and Mommy helped with the house outline)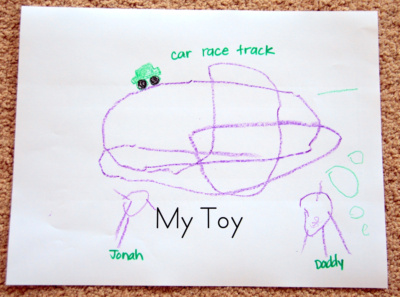 (Can you tell we're STILL obsessed with cars around here?)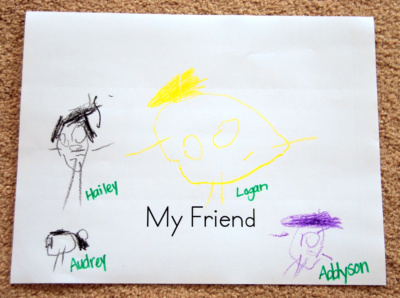 (Jonah added even more friends after I took a picture of this. )
After we were done assembling the book, we practiced reading it a few times and finding the word "my" throughout the pages. I showed Jonah how to use a highlighter to highlight the word "my" and he eagerly found them again.
Since I made the book, the least I can do is share...
Click to Download the "My" Sight Word Book Printable for FREE