Small World Play is something my boys are drawn to daily, chances are, yours kids are, too. Kids love using toys to act out familiar stories and make up new ones. This type of play is beneficial to children as they practice language, problem-solving, use their imagination, and more. While I love small world play to be open-ended, there are times when I like to guide the kids a little more based on what we're studying, or to go along with a book we've read. Small World Play is a great extension of so many things! Often, manipulating a small world can build new understanding for a tough topic. For example, when we were studying and listening to Prokofiev's Peter and the Wolf, we used small world play to act out the story while we listened to the orchestra on CD. This Peter and the Wolf Small World Play is easy to set up and will expose your kids to classical music.
Materials
Small plastic animals from Safari Ltd TOOBS
Small plastic people (you can use people from the TOOBS, Lego men, peg people, etc.)
Homemade Pipe Cleaner Tree
Lincoln Logs (for the house and fence)
large piece of green felt or fabric
Pond (small piece of blue felt)
Plastic rocks (from our dinosaur play set)
Lego flowers/plants
Peter and the Wolf Small World Play
To start, I had my oldest son make a log cabin house and fence out of Lincoln Logs for Peter and his grandfather.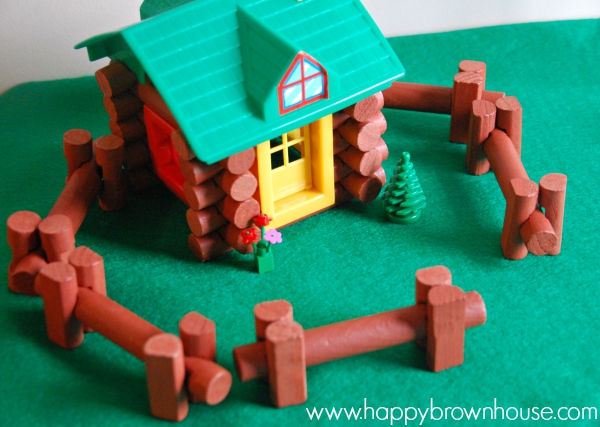 While he made those, I made a tree out of brown pipe cleaners. It was really easy--just twist a handful of pipe cleaners, leaving part of the bottom for "roots" and stability to stand and part of the top for branches. Then, I twisted smaller pieces of brown pipe cleaner to fill out the branches a little. I wrapped a branch around the base of the bird so it would look like it's sitting in the tree.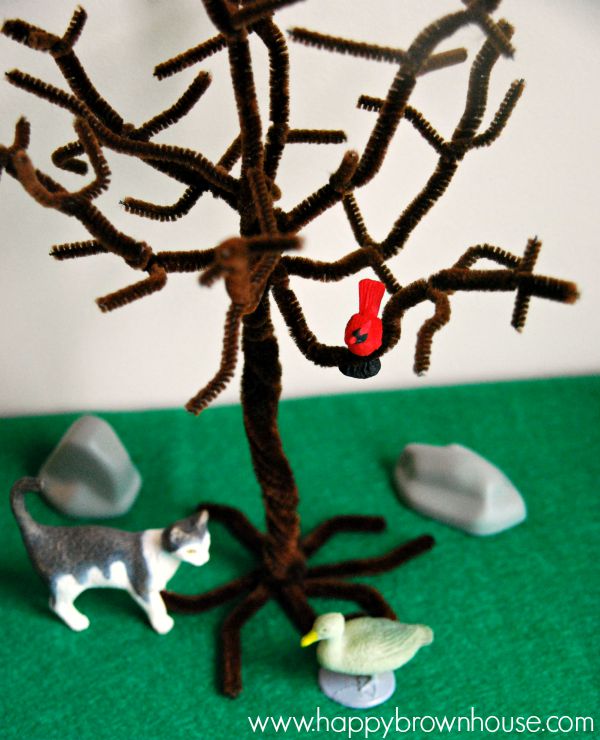 After gathering the rest of the materials, we were ready to play! The boys played with the animals, acting out the story along with the music.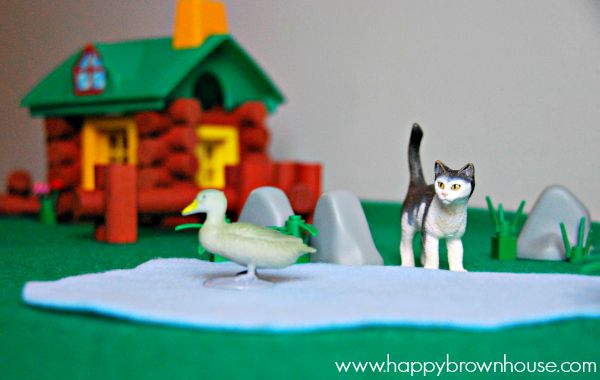 It was funny hearing the boys pretend to be the grumpy grandfather scolding Peter for leaving the gate open. If you ever want to hear what you sound like as a parent, listen to the kids play and pretend to be an adult.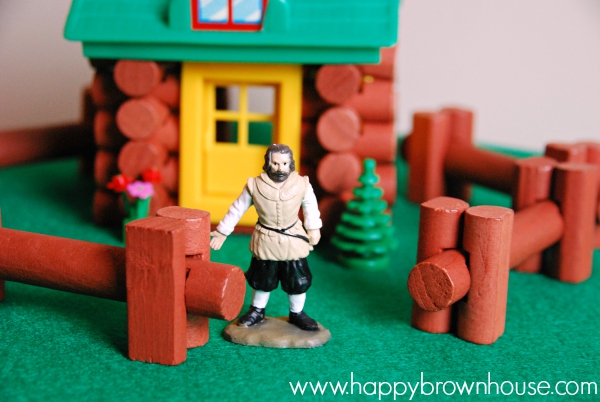 We listened to our CD of Peter and the Wolf with the story narration to help guide our play/story retelling at first, but after that, I let the boys play independently with the materials. This small world play activity was perfect for helping the boys understand the story of Peter and the Wolf. It also helped them stay interested while we listened to the music and identified the various instruments.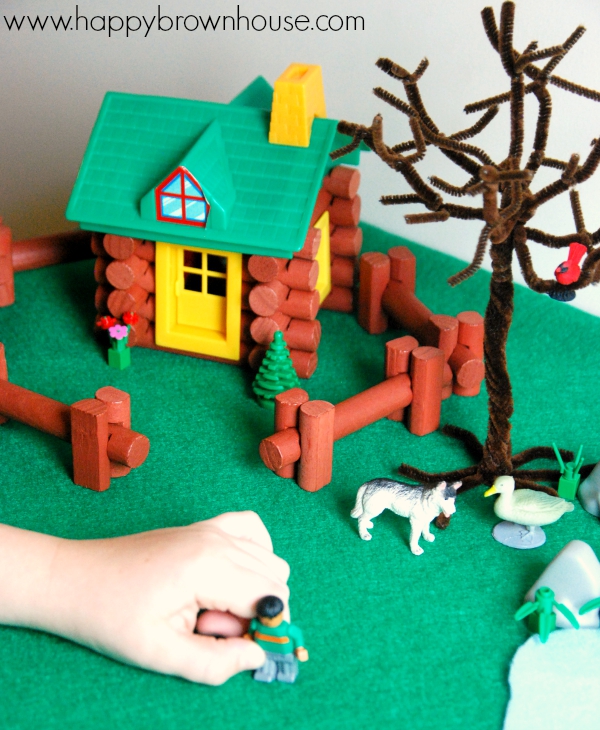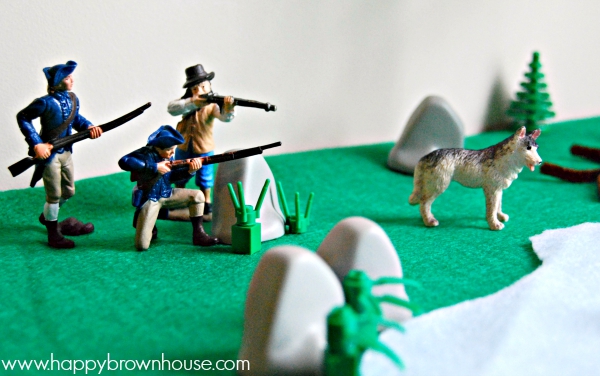 In the end, we all cheered when the wolf was caught.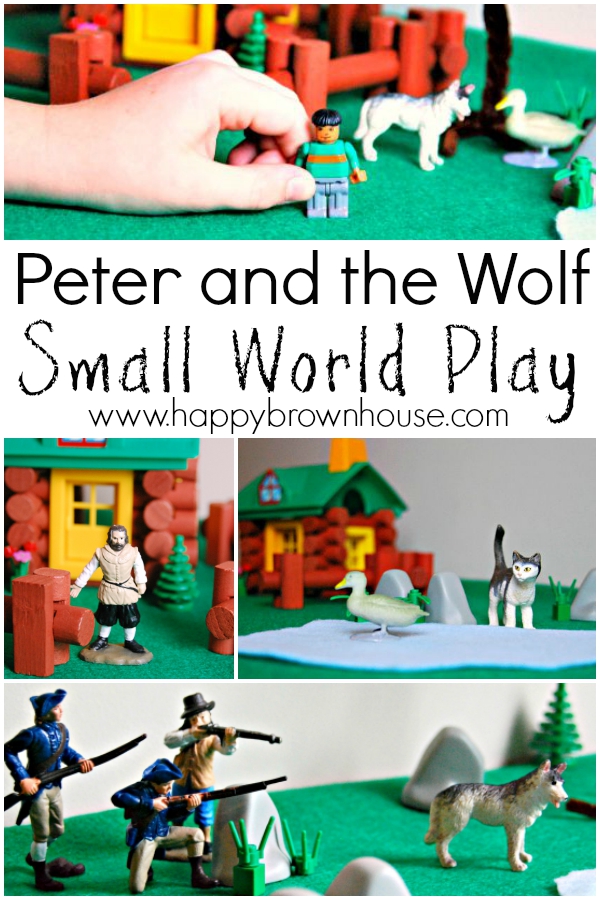 Peter and the Wolf Books and CDs
Follow Sara @ Happy Brown House's board Small World Play on Pinterest.
This post is part of the
Small World Pretend Play Ideas from A to Z series
hosted by Still Playing School. You can check out the other ideas by clicking the image below.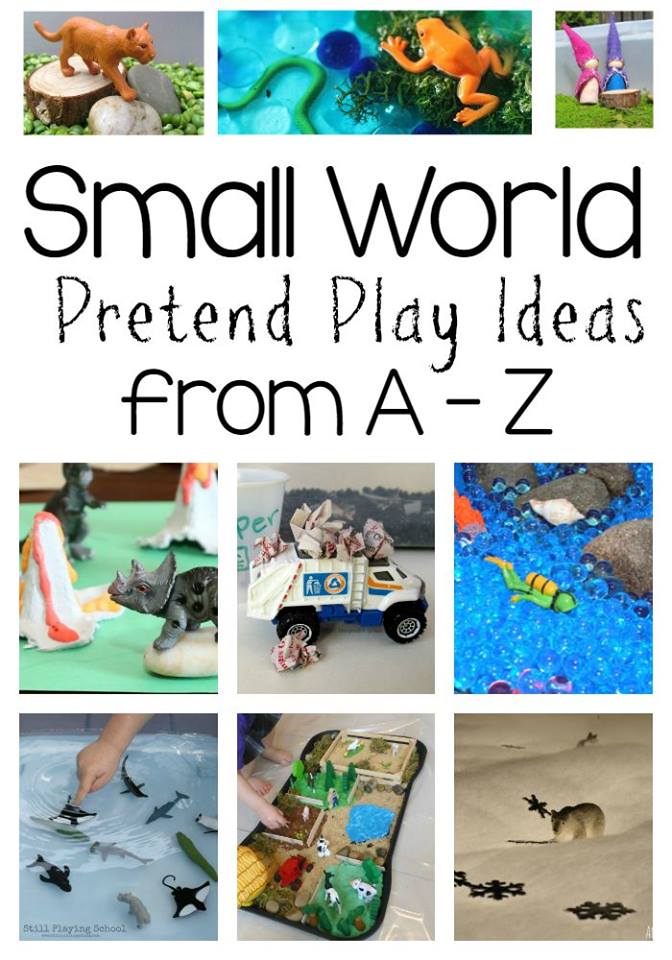 Which small world would you like to try?