Our Kid-Planned Ice Cream Sundae Party was so much fun! Letting the boys take ownership of the party planning was a great lesson in responsibility as they chose ice cream toppings, made invitations, and even helped set up for the party. I loved watching them make decisions and compromises with each other. But most of all, it was fun to get together with all of our friends and enjoy the last slice of summer before everyone starts their back-to-school routine. I'd say our Sundae Fundae Back-to-School Party was a hit! I'm so glad J.M. Smucker's asked us to host a party and share how we make any day a #SundaeFundae and give us a great excuse to swim and eat ice cream sundaes. (As if I really needed to be convinced...)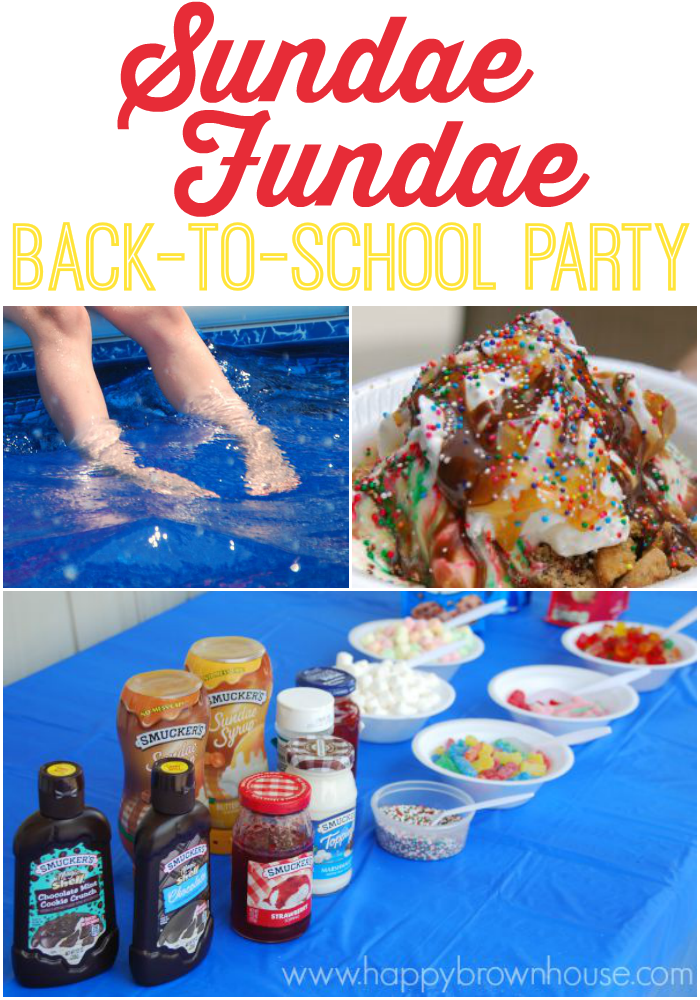 Our #Sundae Fundae Back-to-School Party was super easy to set up. We arrived at the pool a few minutes early to set up the ice cream sundae bar where everyone could pick their favorite ice cream toppings to make a personalized ice cream sundae. Honestly, since we used so many of the Smucker's® squeezable ice cream topping bottles, I didn't have too much to prep! To make clean up even easier for myself, I gave myself permission to forget about fancy tablescapes and just pour the candy toppings into disposable bowls. (Easiest party clean up ever!) The boys helped by placing spoons into each of the toppings and opening the table umbrellas. There were definitely some candy thieves during the prep time!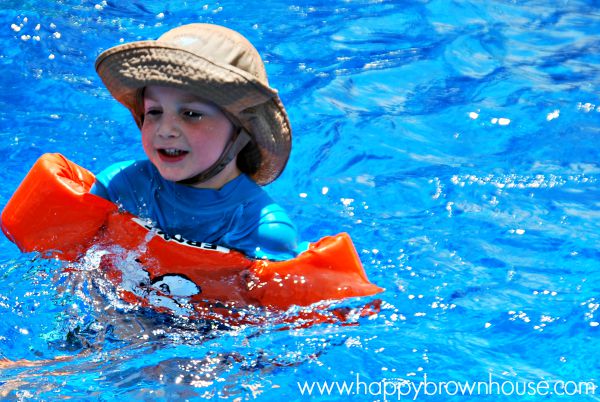 The kids were excited to swim with their friends--splashing, jumping off the diving board, and pretending the pool floats were their personal pirate ships. Pool parties in the summer are an instant crowd-pleaser and super easy, too!
When it was time to build their own ice cream sundae, the kids came running with excitement. I loved watching each person's ice cream sundae "personality" emerge. Some of the kids (and adults!) made it a point to pile every single ice cream topping high on their ice cream, while others only chose a few of their favorites to make the perfect flavor combo.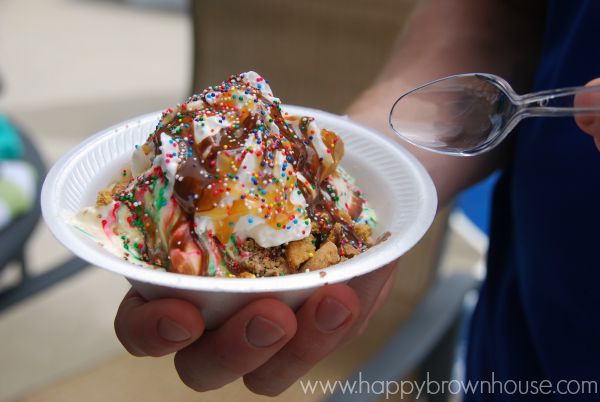 Sadly, we had to cut our swim time short as an unexpected thunderstorm rolled through, but while it was sunny, we played hard. While the ice cream was frozen, we ate to our heart's content. And while we were together, our hearts were full. I'd say that's the perfect way to spend an afternoon. Wouldn't you?
Tell me: What's your favorite ice cream topping for a #SundaeFundae Ice Cream Party?